Group Optimizer
Stand Out From the Crowd in Group Sales
Today, airlines find themselves constrained by group revenue management systems that consist of dated technology or manual processes to manage group requests. These methodologies require numerous manual touchpoints and overnight batch processing, resulting in slower decision-making turn-around times and time-to-value.
To manage increasing volumes of data and improve the efficiency of group bookings, airlines need a product that automatically standardizes pricing strategy, reduces errors, ensures compliance and handles both tracking and closure.
Optimize Group Revenue Opportunities
Group Optimizer is a cutting-edge sales optimization solution that helps airlines control group reservations more effectively. Not only does it help airlines determine if a group request is economically feasible, it quotes an appropriate fare to make the most revenue out of each sales opportunity.
Along the way, Group Optimizer also assists groups in creating and tracking their bookings. Using a self-service web portal integrated into the airline's website, travel agents, retail customers and corporations can easily manage their own travel.
Product features
Self-service web portal
Access the self-service web portal to improve customer satisfaction & reduce costs. Empower travel agents and retail customers to originate, complete and manage group fulfillment requests on their own.
Real-time integration
Integrate real-time fulfillment and inventory seamlessly for more accurate and timely decision-making.
Flexible payment options
Allow self-service online payments, ticketing and post-booking modifications for improved customer satisfaction and reduced personnel costs. Enable travel agencies and retail customers to accept and use multiple forms of payment.
Advanced reporting
Utilize business intelligence-based alerts and analytics for timely decision-making and increased revenues. Allow users to tailor and save reports by choosing data from tables and dropping them into custom subsets.
Increase Revenue and Reduce Group Processing Costs
Group Optimizer can boost group revenues up to 8 percent while decreasing group processing costs by an average of 10 percent. In fact, its success among airlines is well documented. For instance, a carrier in Southeast Asia, saw revenue from retail groups increase from zero to $1.5M in 3 months. An Indian airline saw the number of group requests per day increase from 800 to 4000 after just 3 months. And a Middle Eastern carrier was able to increase their group acceptance percentage from 8 to 29 percent after implementing the automated group evaluation and response.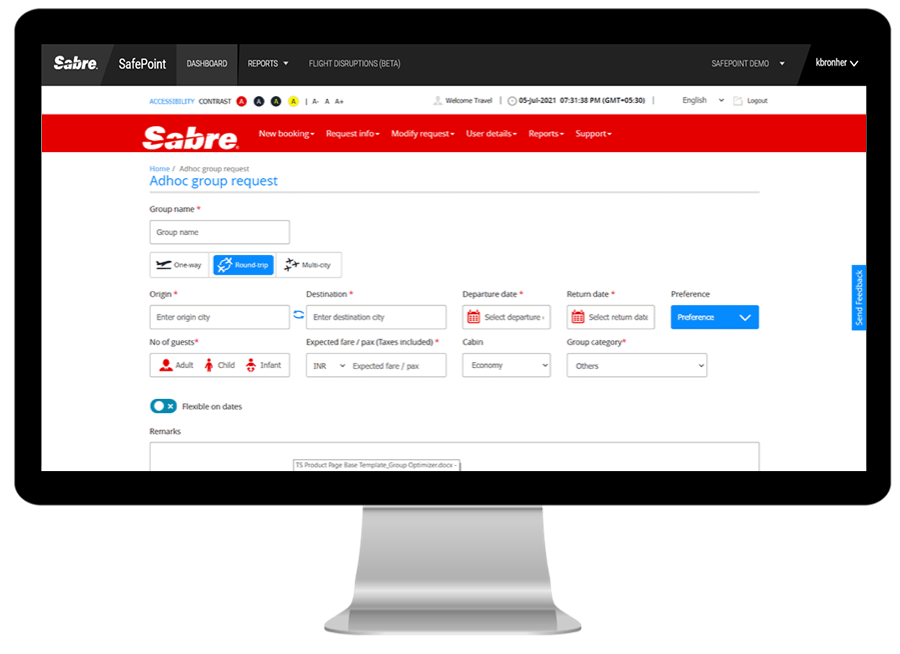 If you have additional questions about Group Optimizer or would like to learn more about Sabre, please contact us.
Recommended Content
End-to-end Pricing and Revenue Management Solutions, Fares Optimizer, Revenue Optimizer and Dynamic Availability work together to make intelligent retailing a reality.