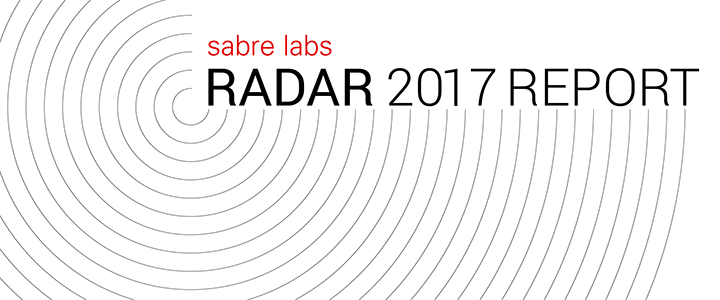 Sabre Labs is excited to share our Radar Report. It's a quick look at nine tech trends shaping the travel landscape. The Radar outlines the technologies themselves, what's happening, and the impact on the travel industry. Check out the report.
Overview
Sabre Labs is a travel and technology innovation lab that explores capabilities that will impact travel over the next decade. Through research, prototypes, and communication, Sabre Labs strives to make the future real for our businesses and customers.
Sabre Labs began in 1996 as the world's first travel focused innovation lab. While the objectives of the team have evolved over the years, the original intent of Sabre Labs was to be a new product incubator for Sabre. In fact, many products and solutions that are still available today originated from the lab, including: TripCase, Location Locator, Sabre Web Services, Intellisell, and Availability Proxy.
Research & Experiments
The Sabre Labs team researches and experiments with emerging capabilities to better understand the impact they will have on the travel industry. Join Sabre Labs on Twitter to find out the latest research and experiments — there's much more tinkering in the works!
Labs Insights
Sabre Labs is always thinking about how emerging technologies are impacting travel, both in the near-term and in the future. There's not always a clear path to a technology becoming essential in travel, so we work the angles to consider multiple outcomes. Here's a look into how we think on topics ranging from voice interfaces to virtual reality.
Press & News
Events
We love bringing our projects on the road! Join us at one of the events below, and keep track of the Labs team around the world on Twitter.
Want Labs at your event? Let's talk! Contact sabrelabs@sabre.com.
No events scheduled at this time.