Dynamic Retailer
Create Personalized Flight, Seat and Ancillary Offers
Faced with decreasing margins, airlines are seeking ways to optimize both existing and new revenue opportunities. There's a growing need to reach shoppers across multiple points of sale with personalized ancillary offers. However, advanced retailing technology is beyond the core competency of many airline IT departments.
Airlines are looking for simple, consistent solutions for managing ancillary retailing offers beyond their direct distribution channels. At the same time, they need help determining the most compelling products and pricing in order to maximize per-traveler revenue.
Increase Conversion Via Targeted Products and Services
Dynamic Retailer enables airlines to leverage actionable, data-driven customer insights so they can deliver the right products and services at the right time. Moreover, it helps generate retail bundles with dynamic, tailored offers and pricing across all points of sale to ensure a consistent customer experience.
Ultimately, Dynamic Retailer is a powerful tool for influencing customer behavior which can lead to increased ancillary sales conversions, improved traveler satisfaction and stronger brand loyalty.
Product features
Ancillary bundling
Increase conversion by dynamically creating flight and ancillary bundles in the moment.
Intuitive rules definition
Use drag-and-drop functionality to quickly configure and deploy rules based on market and customer insights.
Targeted pricing rules
Optimize pricing by enabling mark-up/mark-down rules and strikethrough pricing.
Omni-channel promotion
Control where promotions are displayed across direct and indirect channels.
Generate Incremental Revenue at Point of Sale
Dynamic Retailer can drive incremental revenue gains of more than USD $10 million year over year.* As a result of increased ancillary conversion rates and targeted bundling of ancillaries, airlines can seamlessly integrate product bundles into the booking flow at all points of sale.
*Based on an eight million PB airline with USD $1.4 billion annual revenue and three percent international travelers.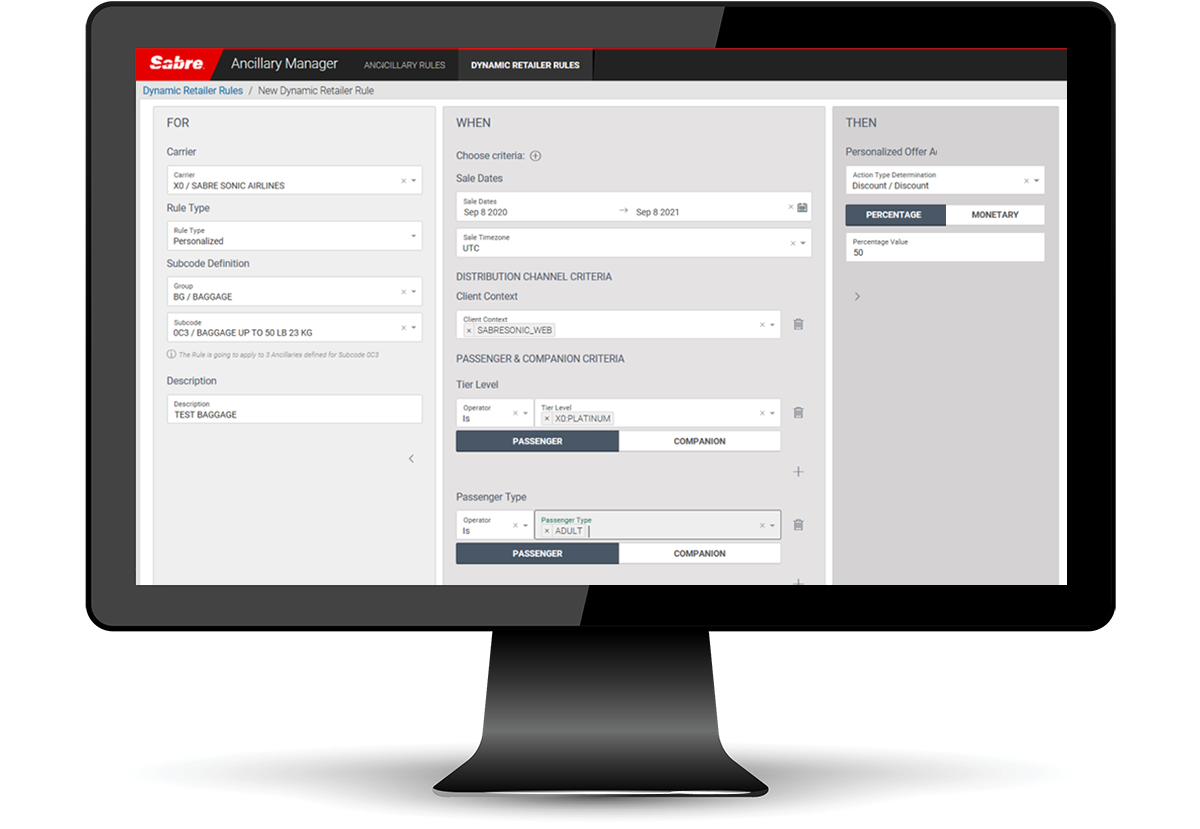 If you have additional questions about Dynamic Retailer or would like to learn more about Sabre, please contact us.