Throughout 2021, we've continued to make steady progress on our NDC agenda, fueling our corporate vision to create the leading marketplace for personalized travel.
NDC-enabled connections provide access to the sort of dynamic, personalized content that airlines want to sell—and travelers want to consume. Expanding Airline IT capabilities and engaging with partners across the ecosystem help to pave the way for innovations across the Sabre portfolio.
Sabre NDC Airline IT capabilities continue to expand
Ensuring support for end-to-end workflows has been a key tenet of Sabre's approach to going beyond NDC from the outset. Earlier this year, we achieved IATA NDC Level 4 Capable certification as an Airline IT provider. We introduced the ability for airline IT customers to refund NDC orders to our set of servicing capabilities last quarter, which also includes canceling unpaid orders and voiding orders. Enabling exchanges is in our roadmap for the coming months.
In addition to the prime booking flow, airline IT customers can shop for single and multi-passenger itineraries and code share flights. They can pay using credit card form of payment and enjoy support for 3D-secure transactions.
Our roadmap for the remainder of 2021 includes the activation of additional airlines and capabilities. Keep an eye out for news about exchange capabilities and advancements related to seat ancillaries.
Engagement from all sides of the marketplace
Our Beyond NDC Partner program is made up of 16 companies across the travel ecosystem—from leading agencies to airlines. More than 25 additional airlines are also in discussions with us about making NDC content available through the Sabre GDS, while agencies continue to express the necessity of ensuring their customers can access leading content. To date, more than 2,000 pseudo city codes (PCCs) globally have activated NDC through Sabre.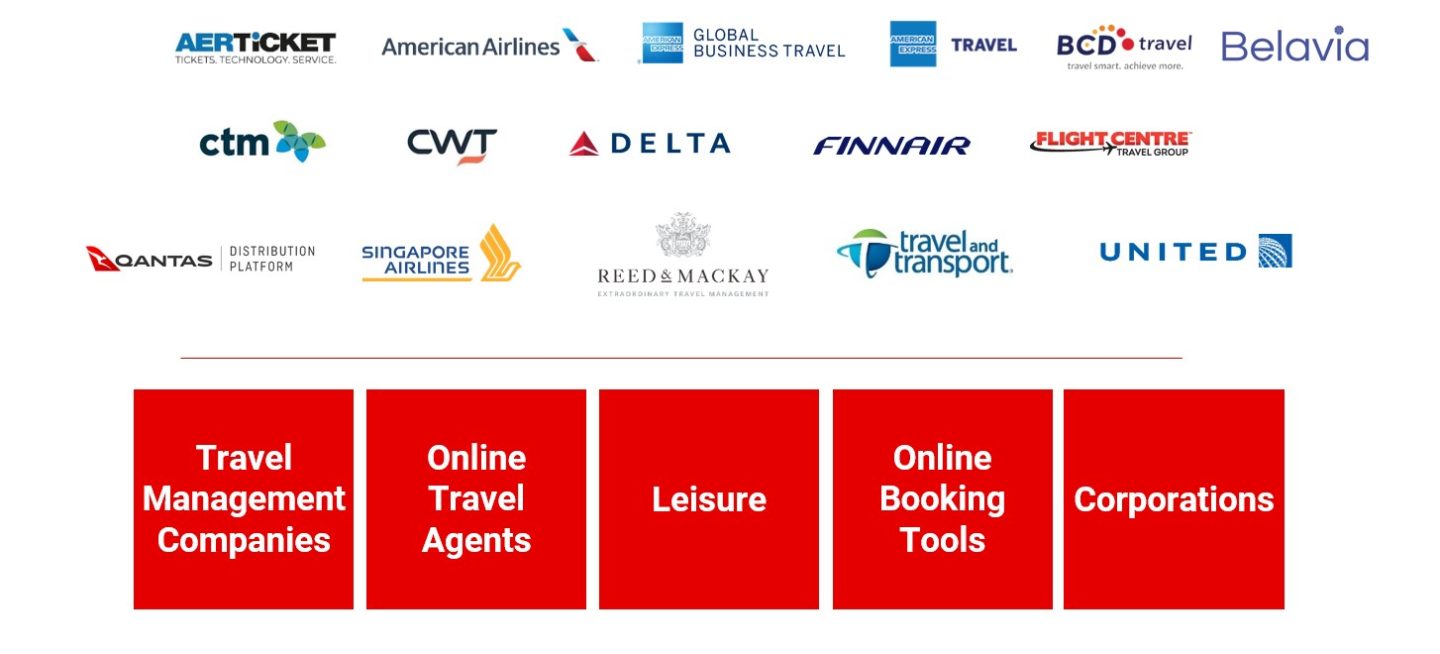 We're live with NDC offers from Qantas Airways (QF) in Australia and New Zealand: customers can shop, price, book and service single and multi-passenger NDC offers from the airline. Shopping by frequent flier number is also supported, permitting sellers to access more tailored content associated with Qantas' frequent flier rewards program.
In July 2021, we materially expanded the number of markets in which NDC offers from Singapore Airlines (SQ) are available. Sabre-connected agencies and API developer partners can shop, book and service NDC content from SQ in 47 markets, with more to come. Credit card form of payment is now also supported for Singapore Airlines, which is expected to drive additional bookings.
In Q2 2021, we delivered new capabilities for both Qantas and Singapore Airlines that will further support agency adoption. Customers can now shop by time window, meaning they can specify a time range for arrival and departure when shopping. In terms of servicing, when Singapore and Qantas make schedule changes, they can now notify Sabre of those changes, which means travel consultants will remain up to date on any potential order servicing needs to keep travelers moving.
On the European front, we look forward to launching a pilot of NDC offers from Finnair (AY) in the coming weeks. The pilot will provide an opportunity for the airline – a longstanding Beyond NDC partner – and Sabre to collect technical and operational feedback to fine-tune the solution in preparation for broader launch later this year.
Our pilots with American Airlines and United Airlines continue to generate valuable insights to help us optimize our offering in anticipation of broader availability in the coming months.
Corporations that rely on GetThere to help their employees book business travel can look forward to an expanded NDC offering later this year. The on-going pilot of NDC content in GetThere is helping to inform the product team's progress. Participants in the pilot are shopping NDC offers in GetThere and then testing fulfillment and servicing via Sabre Red 360.
Activate NDC today!
Agency and developer partner customers can visit Sabre Central Marketplace to place orders for NDC capabilities for Qantas and Singapore Airlines. You can place orders to access NDC via our REST/JSON Offer and Order APIs or Sabre Red 360.
SabreSonic passenger service system (PSS) customers interested Sabre's airline IT NDC offering should contact their account representatives to learn more.
Developers can access more details and API documentation by visiting the Sabre Dev Studio portal.