Going Beyond NDC in 2022: Completing the Foundation for Offer and Order-based Retailing
Since its inception, we've viewed our NDC program as a technical means to a more personalized retailing end.
We named our program "Beyond NDC," signaling a focus not only on ticking boxes on a technical capability checklist, but also on a longer-term retailing vision and the value that NDC contributes. This bi-focal approach – coupling a long-term vision with regular deliveries of working code – remains intact. Helping customers become better retailers is our mission, and it's accelerating.

Sabre has been focused on going Beyond NDC – on delivering smarter and more flexible retailing products – for some time. Sitting at the crossroads of travel, we listen to our customers on both the supply and demand sides of our travel marketplace, integrate their feedback, and innovate across our portfolio so that our products scale end-to-end, not just for one particular link in the travel value chain. As we have all seen with NDC, the travel retailing evolution is gradual. We understand that the pace of change can be frustrating—but the end state is a goal worth waiting for. To move forward faster, we need to double down on working together. At Sabre, we are positioned to foster collaboration, to advocate-for-all and rally different perspectives to take a seat at the innovation table.
IATA recently affirmed our strategy.
In its October 2021 whitepaper, IATA set an aspirational goal for the airline industry to adopt an offer and order-based retailing model by 2030. Additionally, IATA launched a new certification program, the Airline Retailing Maturity (ARM) index. The ARM index includes not only the NDC capabilities tracked in IATA's current NDC registry but also incorporates criteria to evaluate a broader set of retailing capabilities–as well as performance. IATA plans to retire the existing NDC Registry and NDC Airline Leaderboard by October 2022. We welcome this expanded focus on retailing efficacy.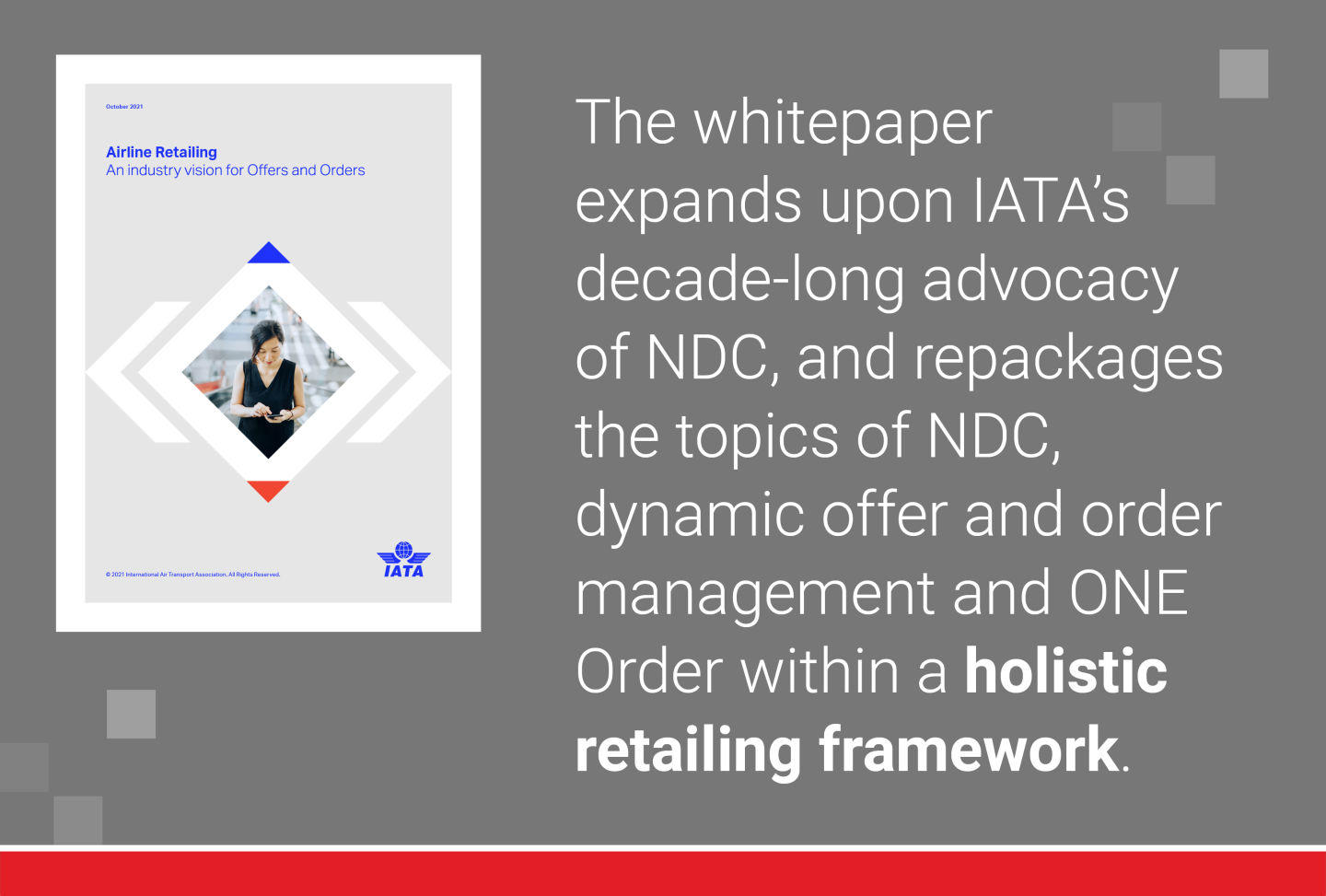 Our NDC capabilities are based on the Offer and Order retailing model. The "NDC pipes" connect to offer and order management systems, including offer and order stores and offer and order IDs, that house and identify the NDC content airlines create. Today, organizations that activate NDC capabilities through Sabre are already well on their way toward operating in the world of offers and orders that IATA describes in its whitepaper.
So, what's in store for NDC in 2022 at Sabre?
Airline IT
2021 was a busy year for the airline IT side of our NDC program. As a result of the team's efforts, airlines can use our NDC IT capabilities to support the shopping, booking and servicing of single and multi-passenger NDC offers that include seat ancillaries.
This year, we will continue to broaden our NDC IT capability set. We will enrich our offer capabilities to include flight promotions, corporate offers and loyalty pricing. Dynamic air pricing will come on-line as the team integrates with the recently launched Air Price IQ ™ product within the Sabre Retail Intelligence ™ suite. This integration will enable airlines to optimize offers in real-time with market-leading machine learning and data analytics capabilities. To further reduce technical barriers to adoption, we also will bring to market a graphical agency point of sale. As travel plans continue to be in flux with the ebbs and flows of COVID-19, robust servicing capabilities are important for travel sellers. We will enhance our current cancel, void and refund capabilities by adding support for exchanges.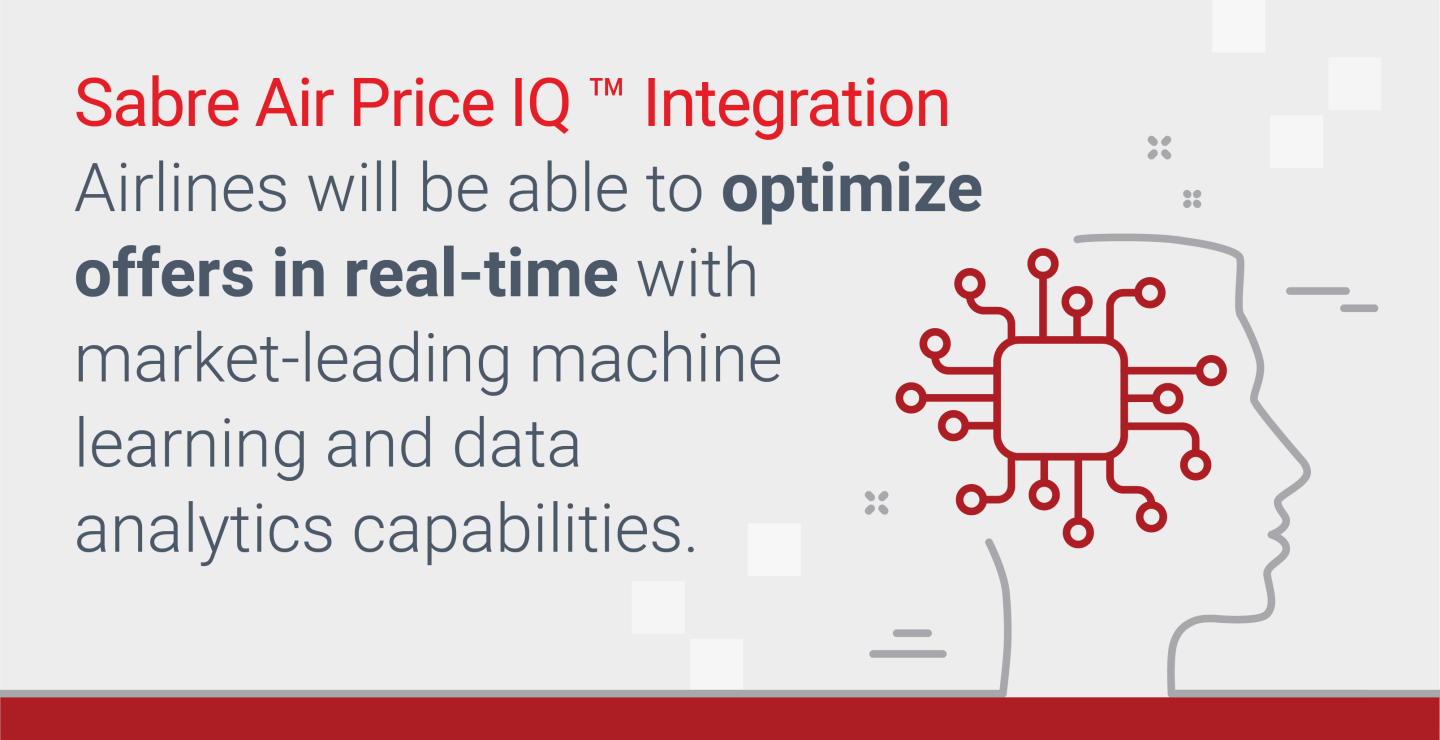 Distribution
Content
During the last quarter of 2021, as major travel conferences resumed, we heard a collective call from various mainstages, education sessions, and industry publications for airlines to bring more unique content to market. Agencies and corporations were particularly vocal. In December 2021, the British Travel Association (BTA) published a 5-year assessment of NDC, which minced no words in communicating its members' frustration about the pace of change.
Understanding that the promise of NDC piping is the distribution of innovative content, the Sabre team continues to expand its stable of NDC airlines. We are in discussions with more than 25 leading airlines about distributing their NDC offers through the Sabre marketplace. In addition to Singapore Airlines and Qantas, which combined are active in more than 47 markets and counting, we look forward to activating additional airlines this year. Highlights include work with the airlines of the Lufthansa Group, (which includes Austrian Airlines, Brussels Airlines, Lufthansa and SWISS), Emirates, Qatar and United Airlines, among many others. NDC offers from these airlines will be available in the coming months through our Offer and Order APIs, agency point of sale, Sabre Red 360 and online booking tool, GetThere.
Capabilities
The foundational NDC shopping, booking and servicing capabilities are nearly complete. Today, more than 3,000 agency pseudo city codes (PCCs) are making NDC bookings through Sabre. Our customers appreciate that Sabre's NDC capabilities work as expected and support important business use cases, not just technical "happy path" scenarios.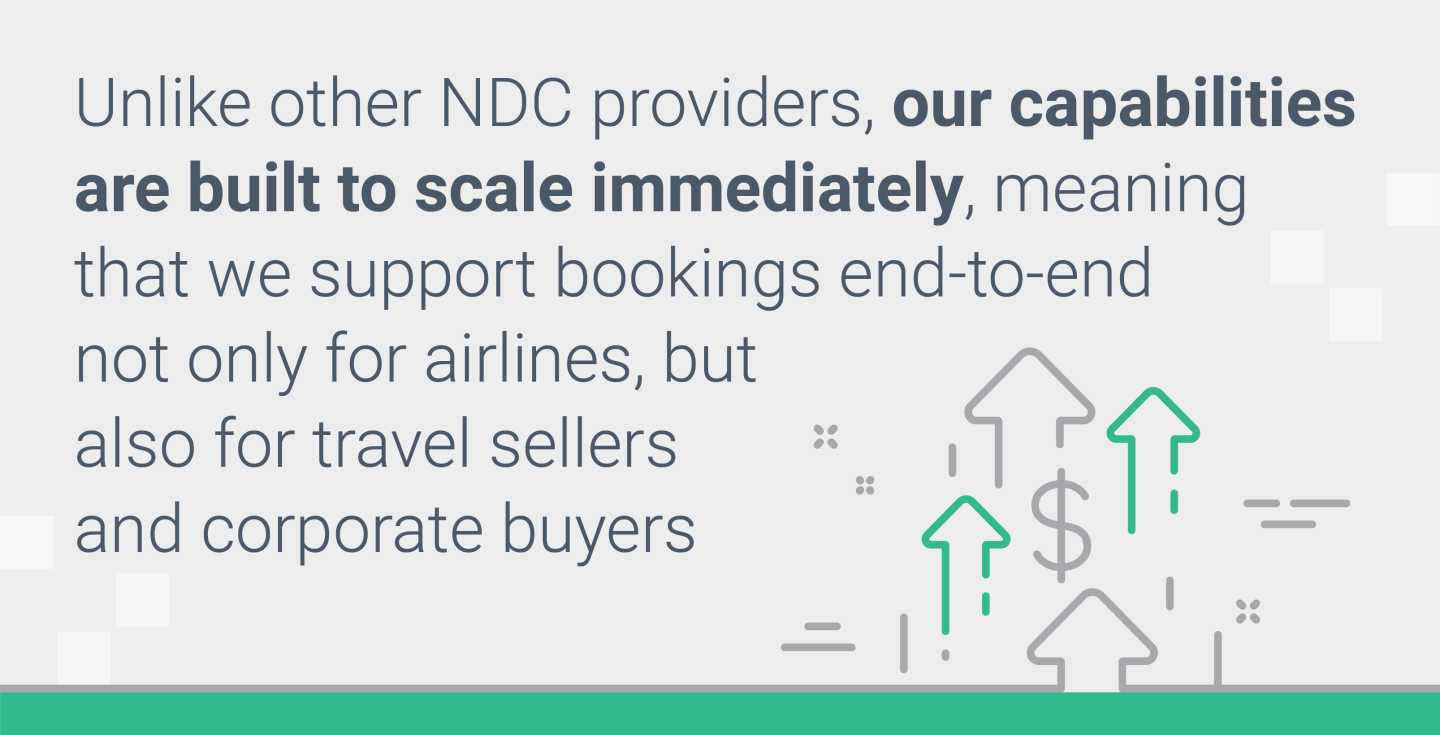 As widely reported in industry publications, leisure travel is leading the recovery of travel demand. Leisure trips typically include multiple passengers – couples, families and groups of friends – eager to relax and unwind together. To support these types of trips, we look forward to deploying support for multi-passenger tickets this year.
Whether travelers take to the skies for business or leisure, they will also be able to shop and book seat ancillaries by the end of the year. Agency customers will be pleased to know that we will activate exchange capabilities in our integrated solution in the coming months so that they can keep travelers moving efficiently and confidently.
Additionally, frequent travelers will be eager to know that they will be able to shop using their frequent flyer numbers to access distinctive offers, which airlines are increasingly making available to their most loyal customers. The types of trips travelers can shop for within the NDC capability set will also expand to include open jaw, multi-city and circle trip itineraries.
Beyond the NDC foundation
As we lay the final NDC foundation stones during 2022, we're beginning to see elements of the "beyond" part of our strategy come to life. Examples include machine-learning driven insights from Sabre Travel AI ™; real-time offer creation and optimization capabilities enabled by the Retail Intelligence product suite; more flexible order fulfillment and servicing capabilities stemming from our IATA ONE Order certification; and a scalable, highly secure technical infrastructure powered by Google Cloud.
NDC enhances distribution consistency. Using NDC capabilities, airlines ensure that dynamic offers are not only available via their own websites and direct sales channels, but also through third party sellers. But, the vision doesn't stop at distribution. It also involves upstream retailing capabilities and downstream fulfillment and servicing actions. Together, these parts sum up to a retailing vision for travel that is personalized, flexible and scalable. It's a vision that Sabre is committed to and making a reality.