Agency Retailer
Make the Most of Every Fare
Within the highly competitive travel industry, agencies have had to rethink how they can remain profitable. To optimize revenues, many have found it's vital to take advantage of smarter retailing.
Rather than generating as many bookings as possible, successful agencies embrace a strategy that maximizes the profits from each transaction.
Sell More of Your Most Profitable Content
Agency Retailer allows agencies to manage costs and generate greater revenue. By accessing multiple Sabre products with easy-to-use dashboards, it's simple to adjust the selling level of any fare and focus on the most valuable options. Agents can mark up fares, highlight optimal sales and suppress content.
In this way, Agency Retailer enables agencies to boost margins, promote preferred carriers, sell their most profitable products and be more price competitive. At the same time, they gain valuable insights into sales and mark-up performance.
Product features
Value-focused selling
Filter out specific fares (e.g., basic economy) to focus on selling the most profitable content through Fare Focus.
Fare mark-up
Create selling levels and re-distribute authorized negotiated fares with Fare Retailer.
Real-time data
Access real-time views of authorized Category 35 net fares with Net Fare Panorama.
Inventory filtering
Zero out or inhibit flight booking classes with Availability Display Manager.
Preferred fares promotion
Highlight preferred carriers or fares in Sabre Red 360. Influence shopping order with Tagging Rules.
Robust business analytics
Access customizable dashboards to track mark-up performance with Retailing Analytics.
Track Performance with Retailing Analytics
Create and adjust optimal selling levels for Category 35 net fares with Agency Retailer.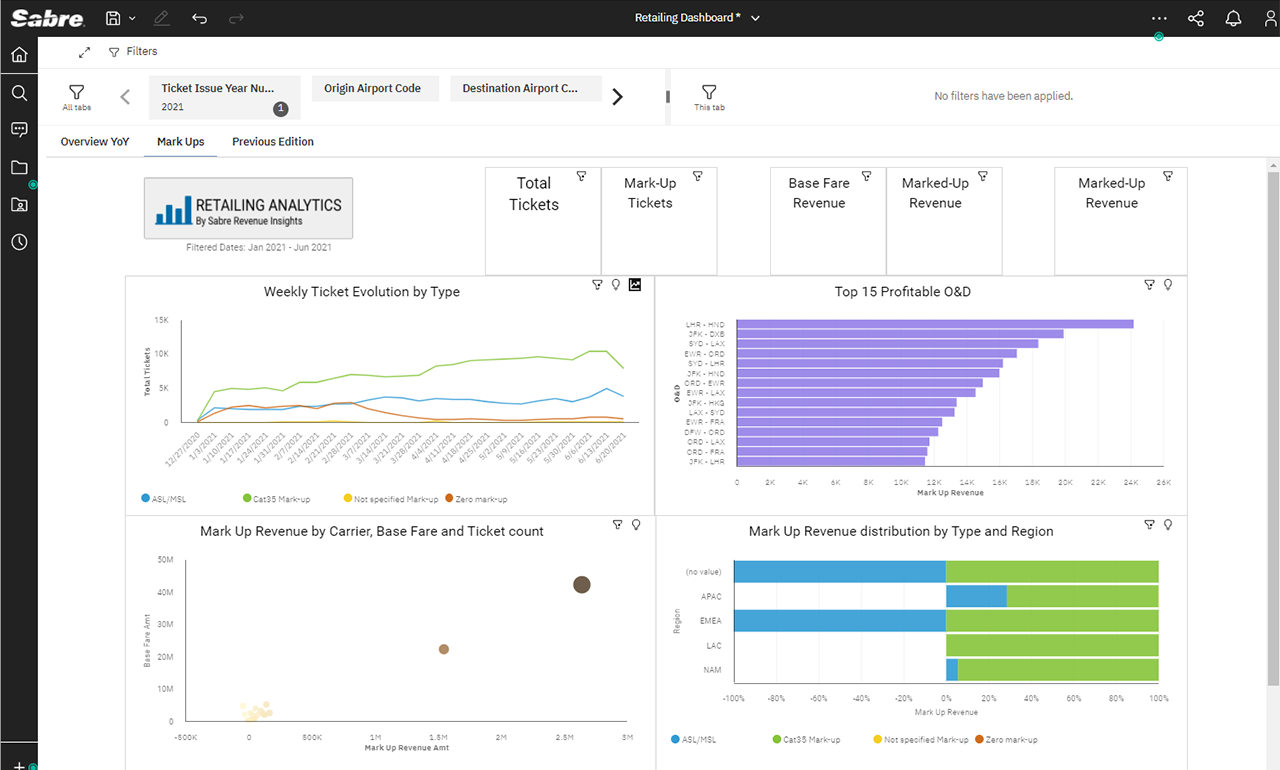 If you have additional questions about Agency Retailer or would like to learn more about Sabre, please contact us.