by Pete Newell and Santiago Nauffal-Monsalve, Sabre Consulting
For decades, airlines have built and developed refined robust procedures that were repeated season after season as part of their playbook for commercial planning. All of those became completely inadequate in early 2020 as demand plummeted and thousands of aircraft had to be grounded. The immediate responses to the deteriorating situation focused primarily on short-term and day-to-day objectives. As it became clear that a profound change to the airline industry had happened, that initial temporary response and the lessons learned from it, solidified into a new, modern approach to network planning.
With the existing commercial planning playbook gathering dust on the shelf, it is clear that if airlines are going to be resilient in the future, they need to be part of a dynamic evolution rather than dusting off old practices that will fail at the next major hurdle.
Air travel is evolving towards a new era and network planning, at its core, has unprecedented challenges and remarkable new opportunities to deliver ideas, schedules, forecasts, and plans that will fully maximize efficiencies and optimize revenue and profitability in the long run.
Forecasting demand in the old playbook
Traditionally, airlines have relied on passenger demand estimations such as Sabre Global Demand Data (GDD) to forecast performance of their planned network and future schedules. This allowed airlines to develop bottom-up network forecasts of alternative schedule scenarios and implement a schedule that maximized profitability. This approach usually produced network-level forecast results within an acceptable level of error.
For over a year now, governments' measures have resulted in a complex and moving patchwork of travel restrictions globally, families and individuals have skipped their traditional vacations and corporations have cancelled their conventions. Levels of demand such as the ones seen in 2019 aren't going to be on the horizon until at least 2023, according to IATA, and demand will remain uneven and volatile beyond this. How do airlines navigate through a world of demand uncertainty and regulation hurdles to plan their networks?
The traditional Origin & Destination (O&D) market sizing method is showing limitations. Demand has dropped significantly, and the approximate 50% capacity cut seen in most regions during 2020 reflects that, but this percentage is not uniform to all countries or O&Ds. One cannot expect Paris-Kinshasa demand influenced by the mining industry traffic to be impacted at the same rate as New York-Cancun or London-Phuket passengers who seek a beach vacation.
Leveraging segmentation and new data sources
Moving forward, demand will need to be understood through market and passenger segmentation. And it will no longer be sufficient to define segmentation in the traditional 3 big buckets that airline sales are used to – business, leisure, and visit-friends-and-relatives (VFR). Airlines need to go a step further and understand each customer needs and travel patterns, their motives, price elasticity and potential deterrents in case of problems. The complicated part for network planners will be matching clusters of passengers that have potential demand for travel with an adequate supply of seats, frequency, and timings to match their needs. An airline that uniformly drops capacity on various segments and entities at the same rate will likely have too much capacity in routes that don't need it and too little capacity in routes that could use additional lift.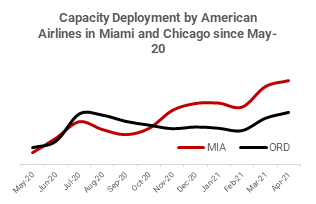 In this new planning environment, understanding market segmentation and appropriately deploying capacity is crucial for airlines to succeed. After the impact caused by the pandemic in 2020, some analysts predicted VFR and leisure demand would recover first. Indeed, as airlines reinstated capacity from the lowest point in May 2020, leisure and VFR- driven markets took the lead while business-oriented markets continued to struggle.
American Airlines, with hubs in Miami and Chicago, a leisure and business market respectively, initially saw the capacity for both grow equally, but Chicago plateaued, while Miami continued growing.
This more granular understanding of the demand requires new sources of data. Today airline analysts are forced to utilize more qualitative analysis to complement their quantitative work. However, there are new quantitative approaches being developed that leverage technical advances. Those approaches were already underway before the pandemic, but now become more important in the planning processes. It is now possible to utilize shopping data at an O&D level to get a picture of demand in the short to medium-term. Sabre is pioneering new methodologies that can leverage its GDS shopping and booking data in conjunction with Global Demand Data to predict demand in a manner that works effectively even when prior year results become less representative. Part of our Market Intelligence product offering, Global Demand Data connects airlines to robust market data and provides advanced data-analysis.
In addition to this, there are opportunities to explore new sources of data such as internet search data to help understand traveler's intent prior to the shopping and booking process. Sabre's long-term partnership with Google Cloud presents exciting opportunities in this field. Sabre and Google Cloud recently announced Sabre Travel AI ™. Created as part of a strategic innovation framework, Sabre Travel AI ™ combines Sabre's travel expertise with Google Cloud's infrastructure and AI capabilities, allowing machine learning models to be integrated into existing and future Sabre products faster, and with more scalability, than ever before. The upcoming release of Market Intelligence will be one of the first Sabre products to use the new intelligent power source of Sabre Travel AI TM, providing greater ability to predict future demand with enhanced market demand forecast for 12 months in the future. By leveraging shopping data, as well as travel trends, the machine learning algorithms within the new Market Intelligence release, can help airlines create more customer-centric schedules from the outset.
Better understanding demand with new sources of data will enable more frequent calibrations of the forecasting models, by using more recent data instead of relying on outdated stale data.
Moving fast to match capacity to demand
This dynamic scheduling will help airlines be more agile and flexible in the future and adapt quickly to the changing environment. They will be able to quickly deploy the appropriate aircraft according to the demand profile, to right size capacity or to make sound strategic decisions in a landscape of uncertainty. In some regards, airlines have already been forced to be more agile during the crisis, by necessity rather than by choice, and have constantly adjusted their capacity to match the uncontrollable market dynamics. This crisis-induced agility must become a standard operating procedure.
A simplified fleet will help. We saw many airlines reduce fleet complexity and retire large, less efficient aircraft as they redefined their fleet strategy to be as cost conscious as possible. This leaner operating model utilizing smaller, more efficient, and cheaper aircraft provides airlines more opportunities to optimize capacity based on the demand. Continued fleet optimization will help airlines further improve profitability and cash burn as they become more agile.
Airlines can take advantage of opportunities in this new era of aviation by reacting fast to changing conditions. Historically, slots at London Heathrow (LHR) had been scarce and extremely valuable. In the current environment, there is excess capacity and slot availability at LHR, providing unique opportunities for carriers that have previously been excluded from this exclusive market. Carriers such as JetBlue1 and Vistara2 have successfully applied for slots under a temporary allocation. In the short term, this provides added diversity to their route network, in the long run this gamble may pay off and temporary might become permanent.
Finally, some full-service carriers have recently shown their willingness to deviate from their "comfort zone" in an attempt to chase demand where it is. American Airlines has recently launched nonstop services from Austin, Texas to 10 destinations3. United Airlines launched 26 new nonstop routes to leisure destinations from several Midwest cities.4 All these routes could have been routed through their existing hubs, but nonstop services allowed them to tap into additional demand as other holiday destinations remained restricted. In Europe, Lufthansa, an airline that largely focused on business passengers, has announced its largest leisure expansion ever, with 33 new destinations to be served from Frankfurt and Munich.5
Conclusion
Airlines are experiencing a drastically changed landscape that has necessitated new approaches and mindsets. Network planning departments specifically must adapt and apply modified procedures with new data to sufficiently perform its role going forward. While some traditional network planning methods might still be valid, they need to be reviewed in the light of the changed market environment.
All airlines should conduct a comprehensive review of their network, fleet and schedule that incorporates innovative elements such as segmentation analysis, new sources of data to supplement existing ones, and fleet and network optimization. Likewise, a revision of involved timelines and processes to account for market disruption and to better prepare for all situations is needed to create a leaner and more efficient, agile and flexible airline.
Sabre technology portfolio provides airlines with comprehensive solutions to optimize their network planning, and our consulting team works with them, aligning, advising and innovating with our strengthened methodology – that innovates on customer segmentation, demand, and industry capacity – to achieve a more robust form of forecasting for the next decade.
Please visit our webpage to know more and join us on the journey to reimagine the future of travel.