by Lydia Webb & Peter Plutecki

Not only do airlines need to fulfil the demand for personalization coming from their consumers, but they need to do it faster and better than their competition, in a more unpredictable, constrained, and complex world. In this post, we will explore the impact of Covid-19 on the industry margins and competitive landscape, and how technology can help address new challenges with more agility.
Taking stock: what we left behind
Although there are some signs of recovery, the airline industry is still far from being out of the woods. As Covid cases continue to fluctuate, the slow and vulnerable recovery will continue to negatively impact revenue and inflate the industry's debt burden which had already increased by over 50% to $651 billion last year. An analysis by IATA shows that the industry is expected to remain cash negative through 2021 with a projected loss of $47.7 billion in revenue. In 2020, more than 40 commercial airlines have suspended or ceased operations. There is no doubt that the industry will emerge from this crisis with fewer players.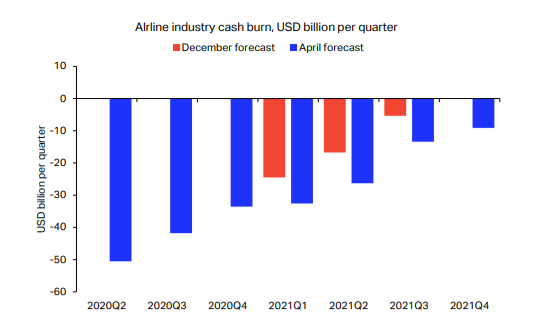 Source: IATA, Outlook for the global industry recovery, April 2021, page 5
As the industry navigates this harsh and uncertain reality, cashflow protection will continue to be key to the survival of most airlines throughout the year and to deleverage post crisis. Cost-efficient measures must be applied to every aspect of the business. In addition to capital expenditure cuts or reduction, airlines must also be strategic in identifying areas of their business where operations can be optimized to reduce costs without damage to their competitive advantage in this recovery period.
Blurred lines: evolving business models
It is a fierce competitive market out there. Further increasing the competitive pressure is the continued hybridization of traditional FSC and LCC business models. The erosion of fare prices and yields have pushed FSCs to follow their LCC counterparts, evolve their model and limit free onboard service, unbundle fares and increasingly focus on ancillary sales. The ancillary revenue potential is huge. While the global ancillary revenue accounted for 12.1% of the total airline revenue in 2019, it was close to half of the revenue of some LCCs and hybrids like Spirit, Allegiant, Wizz Air, Viva Aerobus and Frontier1. FSCs will want to catch up quickly to capture the incremental revenue that is now critical to their survival.
Another trait adopted by FSCs to attract the current leisure and VFR demand is point-to-point service. United, American Airlines and Lufthansa have now launched nonstop services from/to non-hub locations, where all these routes could have been routed through their existing hubs. Point-to-point services have allowed them to tap into existing demand as other holiday destinations remained restricted.
Also, the pandemic and the long periods of inactivity have accelerated FSCs fleet standardization and simplification efforts, which allows for greater flexibility and efficiency. In some cases, this means the permanent retirement of old and large aircraft from service. American Airlines, as part of their Project Oasis, kicked into high gear last year and now operates 4 aircraft families down from 8. Simplified fleet is more closely associated with LCCs who can operate a fleet of just one or two aircraft types. Take Southwest for example that operates an all B-737 fleet.
On the reverse, some LCCs are also blurring the lines by adopting characteristics more commonly associated with FSCs. To maintain their growth trajectory, LCCs are tapping into the traditional FSC customer segments by using primary airports, frequent flyer programs and GDS distribution.In March 2021, JetBlue announced its plans to begin flying to Heathrow (LHR), London's most coveted airport, during summer 2021 featuring an all new Mint business class product. Heathrow was long considered as an "out of bounds" airport for LCCs. But this is a new dawn and a new era for aviation. Mint product features are also similar to that of FSCs such as cooked dining experience and lie-flat beds.
This undisputedly more competitive landscape drives a need for airlines to anticipate market changes and move faster to gain share.
Spread your wings: Alliances, Partnerships and Diversification
Finally, alliances, partnerships, and diversification can now be the silver lining that some airlines need to get to the other side of this turbulence.
Traditional alliances have always shielded FSC fares from LCC competition in their predominant markets. In 2019, they accounted for 71% of the overall global capacity. With domestic traffic leading the recovery, and higher market consolidation, the alliance landscape is evolving. We are witnessing FSC and LCC partnerships such as codeshare agreements that complement traditional alliances and consolidate domestic/intra-regional traffic towards hubs. Recent announcements include American Airlines and JetSMART on minority ownership, loyal program and codeshare in July 2021. According to a 2020 Cirium report, each of the top 100 Full-Service Carriers has now an average of 28 codeshare partners.
We are also seeing partnerships and expansions beyond air. For example, Azul has expanded into a logistics business to handle individual packages door to door. United Airlines has also partnered with Archer, a startup mobility company to provide shuttle services to its customers to and from its hub airports. The parent company of Allegiant Air is also developing a 22-acre resort in Port Charlotte, Florida and JetBlue is planning to enter the short-term rental business.
This new era of airline partnerships increases the operational complexity and drives a need for flexibility for airlines.
Technology is your biggest enabler
Our airline partners are looking to us to help them transform as they are rethinking their economic engine and want to reduce costs, outpace their competition and reevaluate partner approaches. Airlines want to accelerate digital transformation not only to deliver on customer demands for personalization, but also to ensure more efficient and flexible operations and data driven decisioning to manage the complexity and move faster, ahead of the competition. They want to become more agile.
For airlines, migration to cloud-based architectures enables the technological capabilities needed to respond efficiently to demand while providing the seamless experience that travelers expect as they venture out again. Sabre is accelerating its multi-year technology transformation with cloud migration and mainframe offload, moving our products, systems and clients to Sabre's new platform running on Google Cloud's highly available and secure services. Today, ~65% of our total compute footprint is now in the cloud, which includes key Operations and Commercial Planning solutions: Planning and Scheduling, Revenue Optimizer, Distributed Availability, Digital Experience, Movement Manager, and next-gen Crew Management solutions are in the cloud. This also includes modernizing Sabre's IT infrastructure and creating the Google Cloud (GCP) foundations, global cloud infrastructure and new data centers to host our products, platform and disaster recovery.
A new emphasis has also been placed on new sources of data, combined with Artificial Intelligence (AI) and Machine Learning (ML) technology to increase customer value, accelerate go-to-market and power automation. Sabre's 10-year partnership with Google includes the Sabre + Google Innovation Framework, pairing Sabre's travel industry experience with Google's advanced artificial intelligence and machine learning capabilities. Google Cloud's data analytics tools – including their best-in-class AI/ML functionality – will enhance the capabilities of current and future products, help improve operational efficiency and create and optimize travel options. Created as part of the Sabre + Google Innovation framework, Sabre Travel AI™, makes scalable, practical artificial intelligence real for the travel industry. We already discussed the potential of Sabre Travel AI ™ to enable dynamic pricing of air and ancillaries. Another example of this is the upcoming release of Market Intelligence that enhances market demand forecast for 12 months in the future, powering next gen network planning and scheduling. The AI-and ML-based services created as part of Sabre Travel AI ™ have broad applicability across retailing, distribution and fulfillment.  Stay tuned!
Sources:
1 – The 2020 CarTrawler Yearbook of Ancillary revenue, Sep 2020