As traveler needs and expectations have evolved, there's a need for airlines to identify smarter ways of working that increase profitability. The answer: a more modern airline retailing model enabled by offers and orders. To achieve its vision, the airline industry must undergo extensive transformation, so what exactly is modern airline retailing? 
Modern airline retailing refers to selling and servicing customer experiences that meet and exceed the expectations of today's travelers. It involves frictionless, intuitive, and personalized shopping, booking, and servicing with…
Personalized product bundles tailored with contextual information
More relevant search results based on traveler profile or persona
New products and extras beyond traditional ancillaries (such as car hire, accommodation, excursions and events)
Improved self-service and automated order management
Google Cloud: Enabling modern airline retailing and delivering value for airlines and travelers
The benefits of transitioning towards a retailing model are clear. Sabre is harnessing the power of the Google Cloud Platform (GCP) toolset to help airlines break the status quo and turn the industry vision of airline retailing into reality.
Google created the GCP tools to work well together, delivering optimal performance and maximizing value for airlines and travelers. Google's shared ambitions within the travel vertical, comprehensive global network, leading tech algorithms and vast expertise when it comes to understanding consumer behavior make them a great fit for Sabre. The Google Cloud Platform toolset is the right equipment for delivering the industry-leading technology solutions our airline partners have come to expect.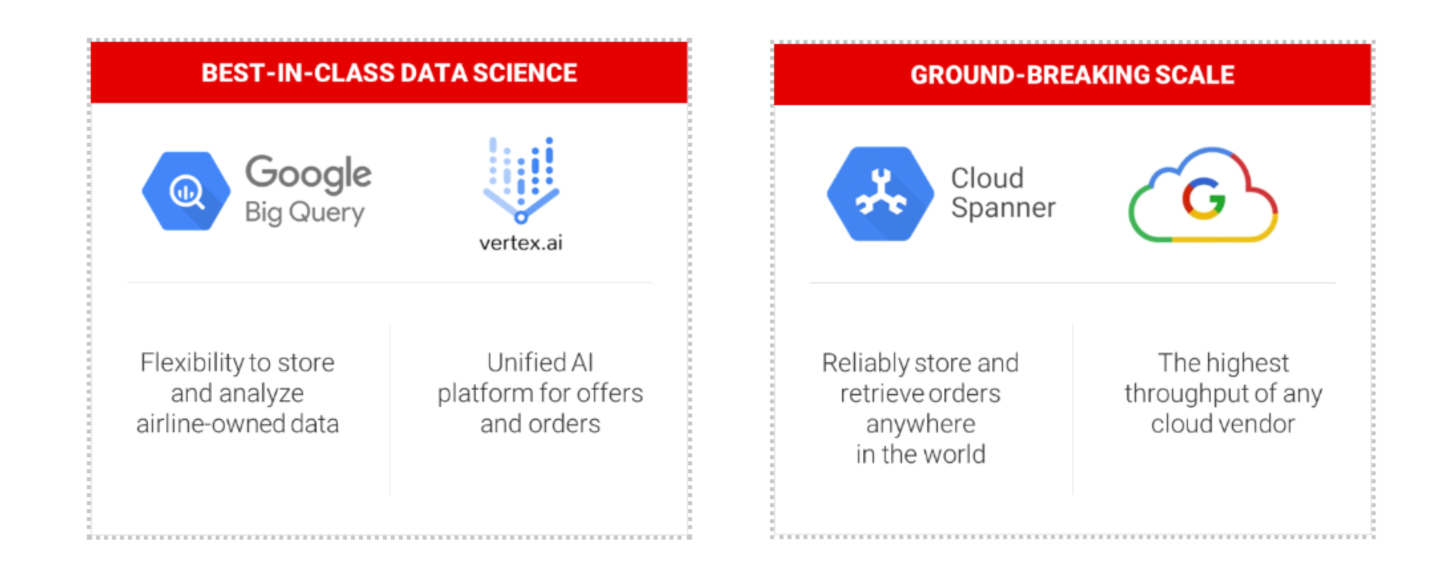 BigQuery
Airlines likely collect more data than any other supplier in the travel ecosystem. Capturing, analyzing, interpreting and applying data in a meaningful way to anticipate the needs of customers and drive competitive advantage is critical.
The latest technology we're building – powered by Google Cloud's BigQuery – enables customers to ingest, store, analyze and visualize vast quantities of data from a wide range of sources with ease. It then uses features like machine learning and business intelligence to algorithmically refine it down to create highly personalized and contextualized offers that maximize conversion. As a business, we've already made big strides in this arena with our Beyond NDC and Retail Intelligence product suites. Our partnership with Google, combined with the high volume of shopping requests in our own GDS, ensures that Sabre has the breadth and depth of data on which to train class-leading AI/ML applications, resulting in better outcomes for our customers.
Vertex AI
Experimentation sits at the intersection of science and technology and can play a vital role for airlines in becoming more customer-centric and meeting the needs of travelers in a modern retailing world. Today, experimentation is manually intensive for airlines – prohibitively so – and the ability to implement the results of experiments in real time is extremely limited, leaving airlines hamstrung in their efforts to recognize and react to consumer behavior.
In the airline industry, making the right decisions in real-time could mean the difference between an offer converting into revenue or not, and now there's a solution: multi-armed bandit testing (MAB) with Google Cloud's Vertex AI.
In basic terms, MAB experimentation uses machine learning algorithms to dynamically allocate more traffic to variations that are performing well, while allocating less traffic to variations that are underperforming. As a result, experimentation is faster and more efficient, and helps maximize conversion. Experiments are automated, adaptive, can include periods of exploration and optimization at the same time, and can include multiple variables.
Price optimization/conversion maximization is perhaps the most obvious application, but we're building a retailing solution that will enable airlines to define for themselves what the different 'arms' (variables) of the experiments should be. Examples could include air price, bundle price, bundle components and special offers, but this technology can accommodate whatever testing variables and success criteria (e.g. conversion percentage, revenue lift, attach rate, etc.) an airline defines.
Google global network
While creating compelling offers is crucial for success, it's equally important to ensure that airlines present those offers quickly to travelers. Speed matters, and the Google global network has been shown to have the highest throughput available from any cloud vendor*. Put simply, throughput refers to how much data can be transferred from source (airline) to destination (agency or traveler) within a given timeframe. When fractions of a second define the difference between conversions and abandoned searches, network speed and scalability are crucial for maintaining optimal performance, particularly during peak volume periods.
* 2021 Cockroach Labs Cloud Report
Cloud Spanner
Airlines must be able to manage orders on a global scale. Google Cloud Spanner can store and retrieve orders automatically in any region with total record integrity. It supports future multi-source content order management use cases without needing to make compromises between scalability, consistency and latency.
Keep the lines of communication open
Be the first to know when we release new information on emerging technology, upgrading of existing systems, or updates to our point of view on the future of travel retail.