Revenue Integrity
Resolve Fraud and Reduce Revenue Leakage
Throughout the world, airlines are facing a rise in problem bookings and fraud. Without technology and integrated systems, they're ill equipped to manage and troubleshoot these issues on-the-fly. The resulting revenue losses threaten both airlines and potential ancillary revenue as well.
To combat the challenge, there's a growing need for an automated solution that can be tailored to each airline.
Catch Problem Bookings in Real Time and Restore Inventory
Revenue Integrity simplifies and expedites the process of spotting fraudulent bookings, improving the accuracy of revenue forecasts along the way. By returning seats to inventory as quickly as possible, it ensures that airlines have a clean inventory to meet customer demand while driving higher yields and load factors.
As a proven, secure SaaS cloud platform, Revenue Integrity is proven to deliver strong ROI in months and is designed to be scalable going forward. A true end-to-end solution, it provides seamless turnkey configuration, process verification and analyst training via a simplified interface that encourages faster user adoption and rapid deployment of future innovations.
Product features
Real-time, end-to-end solution
Access a flexible solution that identifies, analyzes and resolves problems in real time, quickly returning seats to inventory and minimizing revenue leakage.
Complete analyst control
Give analysts total control to manage problem bookings without IT or vendor intervention. Automate rules-driven resolution processes, requiring little manual intervention by analysts so they can achieve higher productivity.
Robust, actionable reporting
Apply advanced reporting capabilities to identify the causes and impacts of problem bookings, so airlines can stay a step ahead and optimize overall performance.
Detect and Remedy Issues Earlier and Quicker
Thanks to its real-time processing capabilities, Revenue Integrity can identify problems sooner than any other solution. At the same time, it resolves them more quickly, releasing seats for resale at the moment of demand.
The black line illustrates seat demand. The red line depicts seat availability beforehand. The green line shows seat availability after an airline implemented Revenue Integrity. The change is quite dramatic with the potential for a significant improvement in revenue.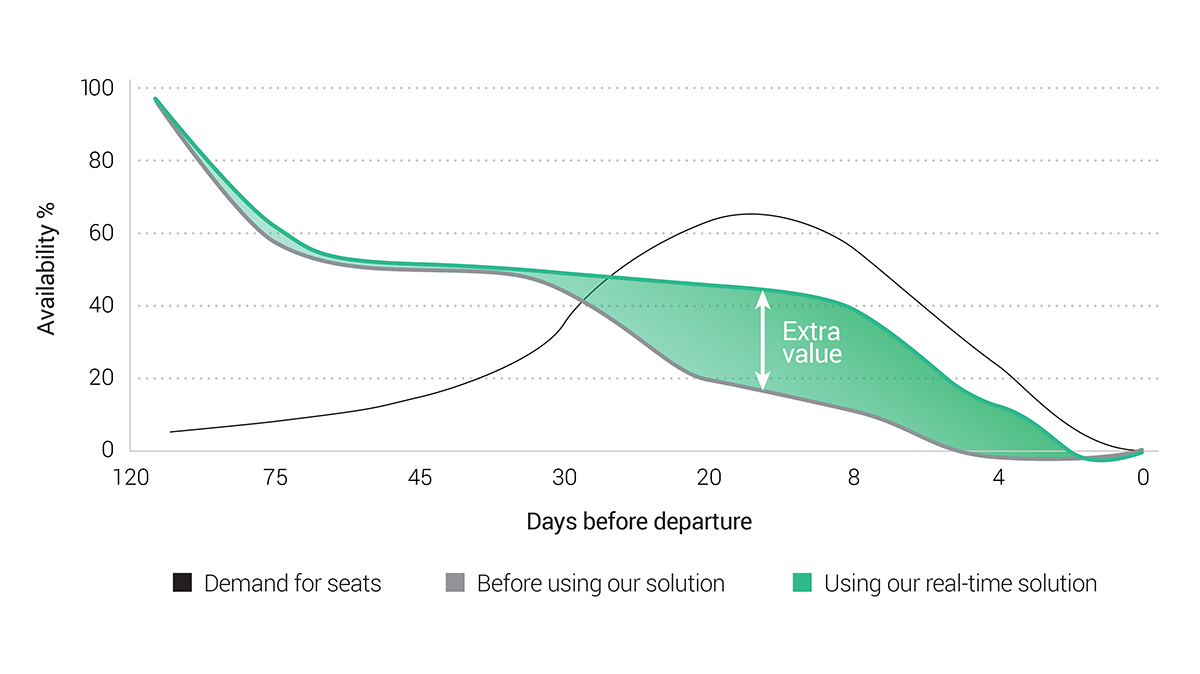 If you have additional questions about Revenue Integrity or would like to learn more about Sabre, please contact us.