Sabre Ancillary IQ™
Deep Dive
Deliver tailored ancillary offers and increase conversions
Airlines are gradually moving away from traditional one-size-fits-all merchandising to personalized product offerings driven by consumer demand and pressure from other carriers. To stay competitive, airlines need to pay attention to this emerging trend to deliver revenue growth. One way this can be achieved is through targeted ancillary offers.
For airlines such as Wizz Air, Frontier and Spirit, ancillary revenue accounted for over 50% of their total revenue in 2021*. And as we look at the industry as a whole, ancillary revenue as a percentage of total revenue is on the rise. Travelers increasingly expect ancillary offers that match their needs, and while some airlines are starting to build in-house machine learning models to enable this level of targeting, they face challenges in deploying them at full scale to maximize potential benefits. This is where Sabre can help.
Introducing Sabre Ancillary IQ™
Sabre Ancillary IQ™, part of Sabre's Retail Intelligence suite, dynamically optimizes ancillary offers to give customers more personalized options. Rather than traditional static offers based on manual rules, airlines can use Ancillary IQ to create personalized ancillary offers in real time, optimizing conversion and revenue opportunity on every purchase.
Ancillary IQ is powered by Sabre Travel AI™ technology and uses advanced machine learning models to test, learn and deliver recommendations in real time. Built on Google Cloud, Sabre Travel AI is fully scalable so airlines don't have to worry about peaks in traffic and associated infrastructure costs. Airlines can also easily plug in their data and models to Sabre's system to effortlessly improve pricing strategies and unlock opportunities for incremental revenue growth.
This technology is a building block to a future powered by offers and orders which will see the concept of fare filing and static fares become obsolete in favor of dynamic pricing and greater personalization across the airline ecosystem.
How does Sabre Ancillary IQ work?
Ancillary IQ supports airline revenue management strategies by dynamically optimizing individual ancillaries across the direct channel. Using Sabre's machine learning framework, Ancillary IQ looks at passenger segmentation (including business vs. leisure traveler and frequent flyer status), journey details and equipment details (including aircraft family and seating options), to determine value to traveler and generate real time offer optimizations. 
Example A
A single business traveler booking close to departure date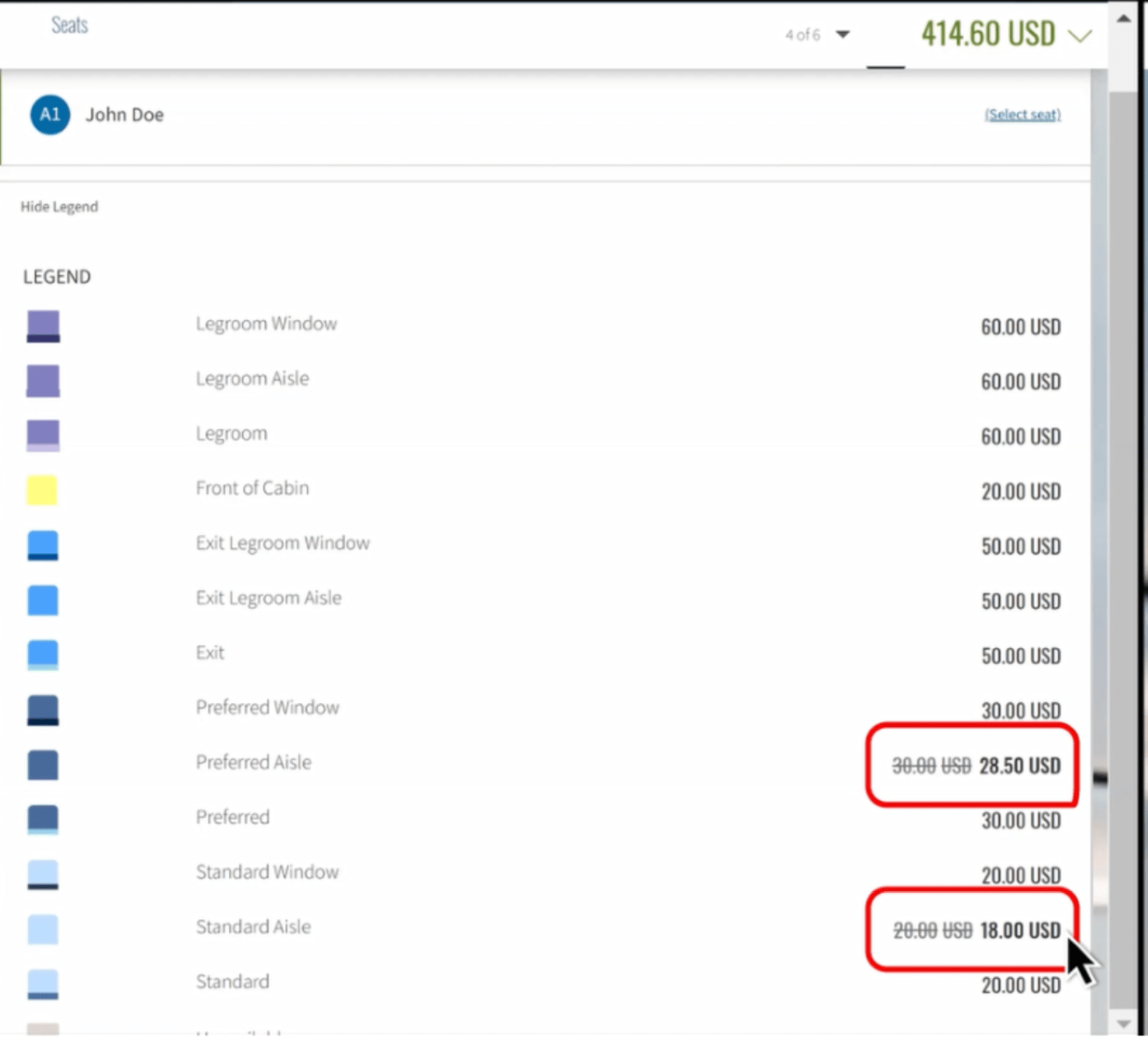 Example B
A couple booking flights far from their departure date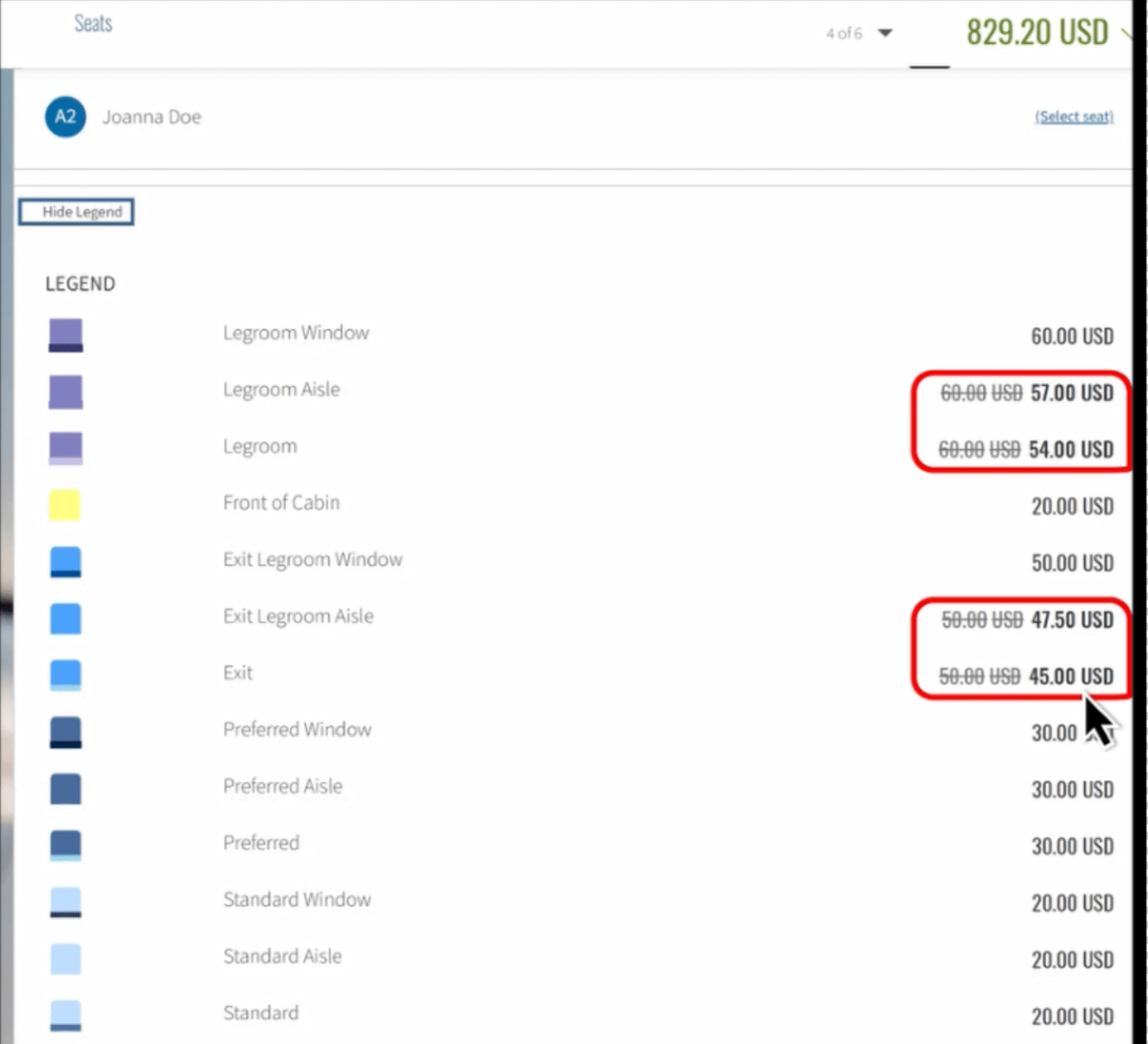 Both receive unique seat offer adjustments that are tailored to their circumstance and the value to the traveler.
The move away from
static rules-based pricing
Today, most merchandizing engines in the market follow a sequential way of filing ancillary fares inspired by the traditional way of filing airfares through ATPCO (The Airline Tariff Publishing Company). This isn't efficient for modern retailing where ancillary prices are influenced by multiple evolving criteria including domestic/international routes, booking classes and promotional offers.
Ancillary IQ moves away from this static rules-based pricing, which is time consuming to set up and manage and prone to human error. Instead, the tool makes it simpler for airline revenue management to set up pricing projects based on each airline's bespoke strategy. It also enables more flexibility in terms of rule creation and price application. 
Ancillary IQ is 100% integrated with our merchandizing system, ensuring the end-to-end efficiencies from shopping through to fulfilment and beyond.
Increase revenue
up to 10% revenue uplift**
in incremental ancillary revenue opportunities created by Ancillary IQ
**Results are based on production implementation of partner airline customers
and vary, depending on price sensitivity in the market.
Increase efficiency
By eliminating traditional rules-based pricing and leveraging continuous machine learning, Ancillary IQ makes delivering pricing strategies by carrier simpler than ever. This level of hyper-personalization cannot be achieved manually. And with the offers being adjusted and delivered in real time, airlines can significantly reduce the risk of human errors. It also means airline revenue management analysts can focus their time on more valuable activities rather than on manual tasks. 
What does the future look like?
The Retail Intelligence suite is a priority for Sabre in helping to deliver an Offer Order model for intelligent travel retailing.
In the near future Ancillary IQ will support offers beyond bags and seats, to include airline ancillaries like Wi-Fi, lounge passes and pets. It will also support ancillary bundles to consider the propensity to purchase extras together, for example, Wi-Fi and lounge pass for a business traveler.  
Another key release for Ancillary IQ will support indirect channels through New Distribution Capability or NDC to create revenue opportunities by presenting the same targeted ancillary offers in the indirect channel.
Sabre Air Price IQ™ is another product in the Retail Intelligence suite that uses advanced machine learning models to help airlines optimize conversions through more relevant airfare offers.
To learn more about Sabre Retail Intelligence, visit sabre.com/retail-intelligence
or talk to your account manager to see how Retail Intelligence can help your airline.
Want to take this offline? Download the PDF version to read anytime.