Sabre has examined how new ways of working are impacting the world of business travel. Our data reveals that companies and travelers are taking a more deliberate approach to business travel than ever before.
A pivotal moment for business travel
A new era in corporate travel is emerging post-pandemic to adapt to new ways of working around the world. Globally, more than 40% of employees work from home or in a hybrid model.i And, companies are increasingly laser-focused on how travel can deliver maximum business value in this new ecosystem.
So now, more than ever, it's essential to fully understand how the corporate travel environment is changing and what we, as an industry, must continue to focus on.
At this pivotal moment for business travel, Sabre has taken a dive into our own corporate travel data to identify some of the trends we are seeing in the business travel sphere; finding that corporate travelers are:
Taking longer business trips to maximize the value of each journey
Planning further ahead for business travel
Taking more opportunities to upgrade to a higher cabin class
The shape of corporate travel recovery
What is clear is that business travel is coming back. But it's coming back differently. We're not where we were pre-pandemic in terms of the quantity of corporate travel, but the signs are positive. Industry surveys indicate that corporate demand is expected to be healthy in the coming quarters.
According to data analytics from ForwardKeysii , for example, business travel recovery is set to overtake leisure bookings recovery this year. Meanwhile Deloitte research in the US and Europe suggests corporate travel may make a full recovery in 2024iii . In addition, Delta Air Lines said its own recent corporate survey showed 93% of businesses expect to increase travel in the second half of 2023, with several of the so-far least-recovered sectors conveying optimism for increased travel.iv
More long-stay trips
Corporate travelers appear to be staying longer when they make a business trip.
The data indicates that they want to ensure they can make the most of their trip whenever they decide the time is right to make one. As a result, they appear to want to pack in as much as possible during their stay.
It seems corporate travelers are also thinking carefully about what is just right in terms of length of stay. They appear to want to take the optimal length of trip to fit in everything they can, without overstaying.
The sweet spot for most corporate travelers, according to our Sabre analysis, is a stay of two to three days, although there have also been slight increases in the four-to-seven-day stay ranges.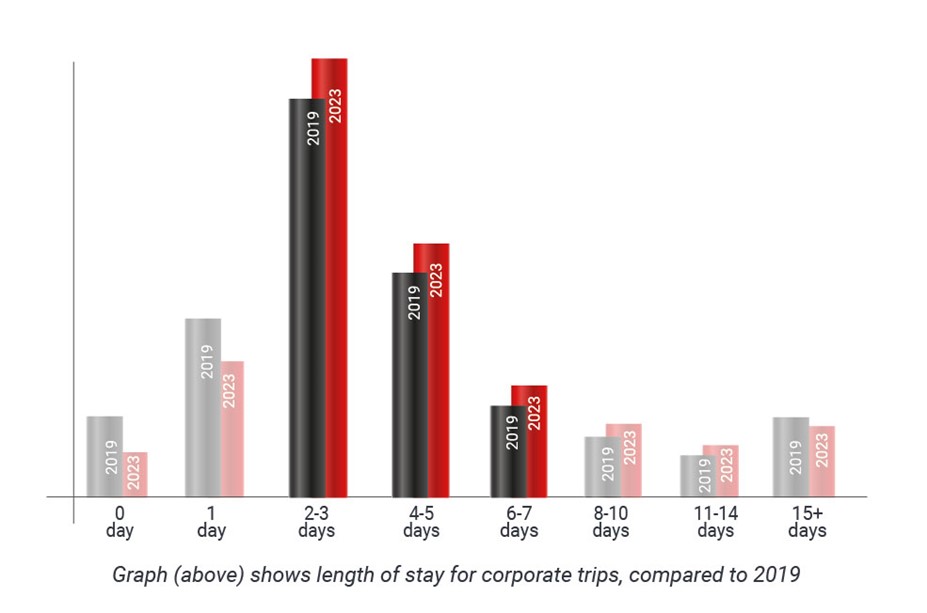 Planning ahead
During the pandemic, it was close to impossible to make travel plans, whether leisure or corporate.
However, our analysis indicates that corporations and their travelers are now making longer-term plans. They're booking further out for business trips than they did pre-pandemic. That means they can book and put together their schedules much further in advance, really taking the time to consider what they want to get out of their trip, and giving themselves time to carefully plan.
Our analysis indicates that the majority of business trips are booked within the 15-to-30-days-out timeframe, and there's also been an increase in bookings made more than 31 days out.
Corporate travelers are feeling more confident about making plans further ahead of time, and are taking that lead-in time to make plans and set up meetings. Longer booking windows may also be down to regularity of trips to the office for remote workers, and to help corporations to get the best prices, and budget accordingly.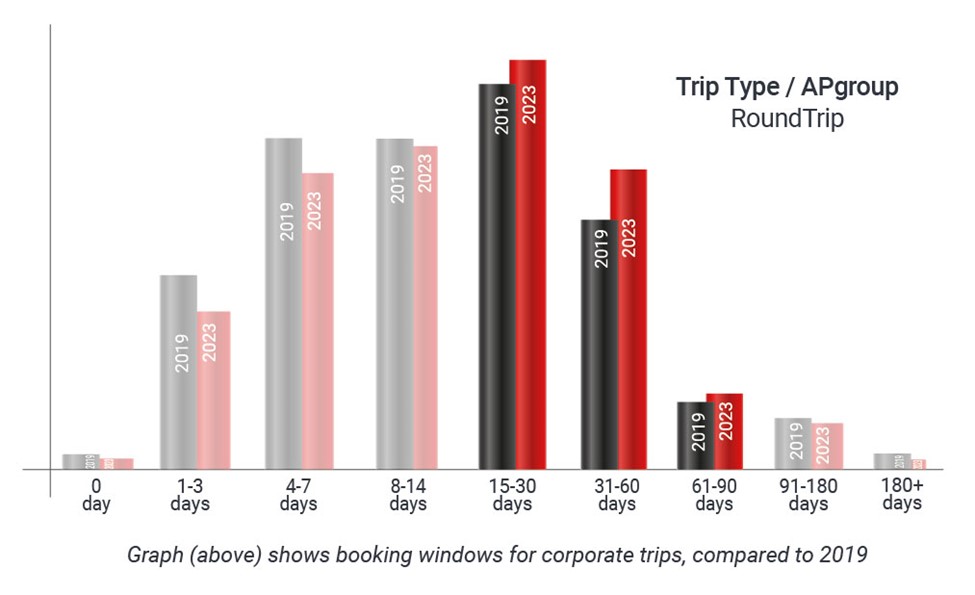 A higher class of travel
While the picture has remained pretty stable for domestic travel, when it comes to international trips, Travel Management Companies (TMCs) are noting a slightly higher share of premium fares.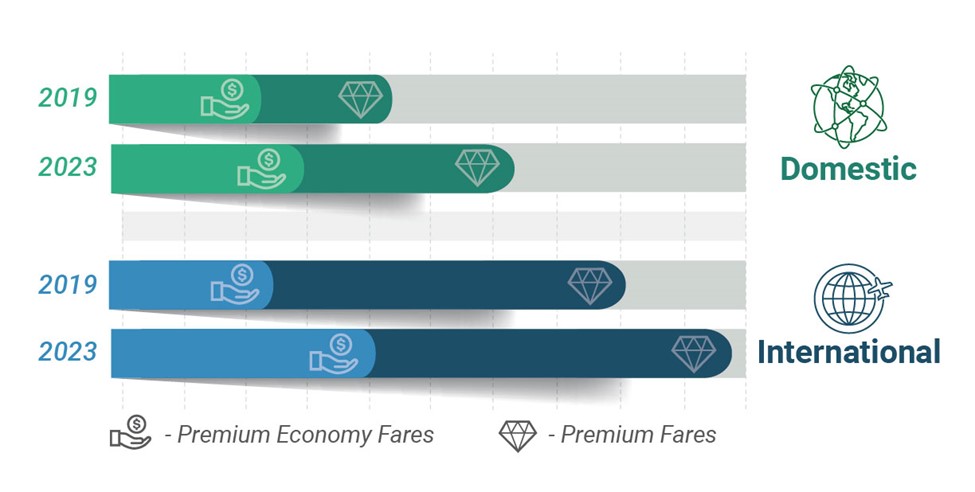 A shift in top corporate destinations
Top domestic corporate routes remain largely the same when comparing pre-pandemic with 2023. There's still a strong focus on Australia, India, the US, and South Africa, with routes from Paris and mining routes in Australia gaining traffic. For international routes, the top route of London to Paris remains unchanged, with destinations from and to Singapore also doing well. Middle Eastern routes have gained strength while Nordic routes have also increased traffic. Unsurprisingly, given ongoing conflict, journeys to and from Russia are seeing a dip in corporate traffic, as are Chinese routes, where travel restrictions were slow to ease.
Considerations for the travel industry
The corporate travel industry is more dynamic and complex than ever. To stay relevant and flourish, corporate travel sellers and Travel Management Companies need to think differently, embrace change, and innovate with new solutions and strategies. They need the right technology to manage companies' approaches to travel.
While business travelers are seeking a carefully considered corporate travel experience, the travel ecosystem has to make certain its own offerings are just as thoughtful and impactful if we are to help ensure that the corporate travel sector continues to recover, grow, and evolve in a way that maximizes revenue for the industry while creating true personalization and value for companies and their travelers.
Want to take this offline? Download the PDF version to read anytime.
[i] Forbes – Remote World Statistics and Trends in 2023
[ii TTR Weekly – Business Travel Recovery Speeds Up
[iii] HCA Mag – Corporate Travel to Make Full Recovery in 2024 Survey
[iv] https://www.businesstravelnews.com/Procurement/Delta-Seeing-Steady-Corp-Improvement