New Sabre Red Workspace promises to transform the way consultants and suppliers can work together to create personalized experiences for travelers
SOUTHLAKE, Texas, June 28 2016 – Travel technology leader Sabre Corporation (NASDAQ: SABR) today gave travel consultants and suppliers across the airline, hotel, cruise and car rental industries a sneak peek at its game-changing Sabre Red Workspace. The software solution will harness the changes in the industry and provide both retailers and suppliers with a content rich marketplace, intelligent decision support tools and predictive data insights that enable agents and suppliers to more easily create personalized experiences for travelers.
Developed on Sabre's merchandising platform providing access to its award-winning GDS, travel consultants around the world will benefit from a more intuitive way to book travel, while airlines, hotels and other industry suppliers are now empowered to market their brands in the same way they market in other channels.
The new solution was unveiled before hundreds of travel professionals and suppliers at Sabre's Travel Technology Exchange (TTX) Conference in Miami, Florida, USA. The company will begin upgrading travel agency customers to the new solution in early 2017, after a limited pilot later this year.
"Data, analytics, personalization and mobile have been trending in the marketplace for some time and offer exciting opportunities for buyers and suppliers to meet changing traveler needs," said Sean Menke, president of Sabre Travel Network.  "Travelers want more than an itinerary; they want to feel confident about their purchases and expect a trip built around choice. That's why in addition to a superior user experience, our new Sabre Red Workspace provides travel consultants with data insights, relevant offers and price transparency. Data and analytics are critical assets to increase productivity and efficiency in the retail world, and our travel insight engine will help drive decision-making, revenue optimization and true personalization."
 Agents and suppliers who have been involved in the development of the innovative solution have helped drive the user interface of the new travel marketplace solution, combining the look and feel of a consumer-focused website with insights, tools and features that help drive more personalized offerings to sell travel more effectively.
"The new Sabre Red Workspace platform shows great strides towards incorporating the usability of either command language or graphical content in the way that the consultant wants to use it," said Orest Rusynko, senior vice president IT for Flight Centre in the United States.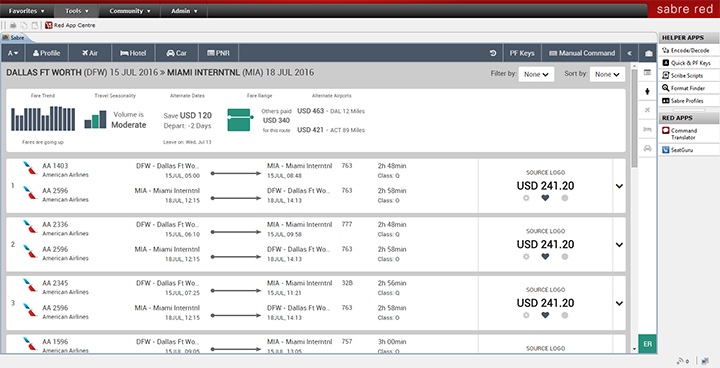 What's New?
The combination of data-driven booking trend information with intuitive design and a consumer-grade user interface, smart product differentiation for air extras and Branded Fares, and inspirational shopping are among the many new features enabling agents to deliver personalized experiences and invaluable consultancy to their customers.
The new Sabre Red Workspace intelligent platform features innovative integration of Sabre Dev Studio APIs, to equip travel consultants with a unique Decision Support Bar providing market data and intelligence services for fare trend and range, travel seasonality and alternate airports. Just imagine if a travel consultant could advise on the best time to book to get the best price, predict the best days of travel, or even offer more options to choose from including alternate airports displayed in interactive maps. That's travel consultancy at its best, with simplified comparison shopping to cleverly serve the specific needs of travelers.
The user-friendly interface of the new end-to-end solution also integrates revenue maximization tools, including unique indicators that alert the travel consultants about opportunities to increase sales and commissions while offering differentiated options that cater to the traveler's preferences. The enhanced product information, especially for air extras and Branded Fares, simplifies the shopping experience and reduces training times for newly hired travel consultants.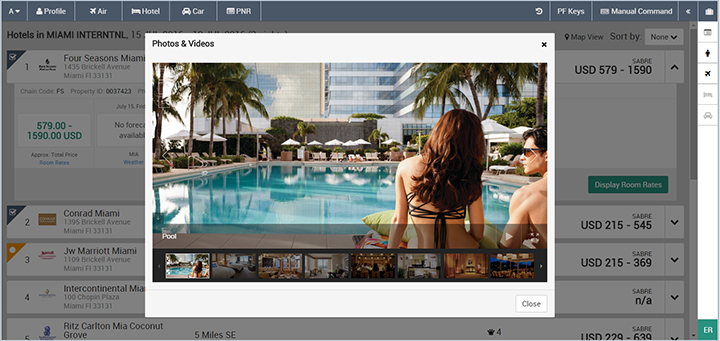 Value for Suppliers
The new Sabre Red Workspace is also an enhanced platform for suppliers. The Sabre platform features advanced merchandising capabilities with enhanced product information through images, video and more, enabling airlines, hotels and other travel providers to leverage the Sabre travel marketplace for an omni-channel marketing strategy. The graphically-rich workflow supports ancillary and branded fares sales, and enhanced hotel capabilities.
"Sabre Red Workspace was designed with both supplier and agent needs in mind. Suppliers can count on improved consistency across channels while agents can work wherever and however they want, moving seamlessly between command and graphical interfaces," said Menke.
The new Sabre Red Workspace will provide a consistent user experience across multiple operating systems and devices, including desktop, Sabre Red Mobile for consultants while on-the-go, and Sabre Web Services powering the world's leading online travel agencies. The new merchandising platform is an upgrade that proves continuous innovation to provide stability, speed and performance in travel commerce transactions.
###
About Sabre Corporation
Sabre Corporation is the leading technology provider to the global travel industry. Sabre's software, data, mobile and distribution solutions are used by hundreds of airlines and thousands of hotel properties to manage critical operations, including passenger and guest reservations, revenue management, flight, network and crew management. Sabre also operates a leading global travel marketplace, which processes more than US$120 billion of global travel spend annually by connecting travel buyers and suppliers. Headquartered in Southlake, Texas, USA, Sabre serves customers in more than 160 countries around the world.
Cautionary Note Regarding Forward-Looking Statements
Certain statements herein are forward-looking statements about trends, future events, uncertainties and our plans and expectations of what may happen in the future. Any statements that are not historical or current facts are forward-looking statements. In many cases, you can identify forward-looking statements by terms such as "promises," "guidance," "expect," "will," "may," "should," "would," "intend," "believe," "potential" or the negative of these terms or other comparable terminology. Forward-looking statements involve known and unknown risks, uncertainties and other factors that may cause Sabre's actual results, performance or achievements to be materially different from any future results, performances or achievements expressed or implied by the forward-looking statements. The potential risks and uncertainties include, among others, the timing and effects of the implementation of the platform described herein, dependency on transaction volumes in the global travel industry, particularly air travel transaction volumes, the financial and business effects of acquisitions, including integration of these acquisitions, adverse global and regional economic and political conditions, including, but not limited to, economic conditions in countries or regions with traditionally high levels of exports to China or that have commodities-based economies, risks arising from global operations, exposure to pricing pressure in the Travel Network business, the implementation and effects of new agreements, dependence on maintaining and renewing contracts with customers and other counterparties, dependence on relationships with travel buyers, changes affecting travel supplier customers, travel suppliers' usage of alternative distribution models, and competition in the travel distribution market and solutions markets. More information about potential risks and uncertainties that could affect our business and results of operations is included in the "Risk Factors" and "Forward-Looking Statements" sections in our Annual Report on Form 10-K filed with the SEC on February 19, 2016 and in the "Risk Factors" section in our Quarterly Report on Form 10-Q filed with the SEC on April 28, 2016. Although we believe that the expectations reflected in the forward-looking statements are reasonable, we cannot guarantee future events, outlook, guidance, results, actions, levels of activity, performance or achievements. Readers are cautioned not to place undue reliance on these forward-looking statements. Unless required by law, Sabre undertakes no obligation to publicly update or revise any forward-looking statements to reflect circumstances or events after the date they are made.
MEDIA CONTACT
Daniel Duarte
Sabre, Public Relations
+1 (214) 236-9473