SINGAPORE – 8 July, 2016 – Sabre Travel Network Asia Pacific, a division of Sabre Corporation (NASDAQ: SABR), this week celebrated the one year anniversary of Sabre's major multi-million US dollar business expansion into APAC through its acquisition of Abacus International in July 2015.
Commenting from the anniversary celebrations at Sabre's regional headquarters in Singapore, Roshan Mendis, senior vice president for Sabre Travel Network Asia Pacific, said: "We've come a long way in just one year, connecting local teams, knowledge and customers with Sabre's global network of travel content and technology. Looking forward, the agenda is all about how we can do more for both travel retailers and suppliers in a landscape framed by growing traveller demands for relevancy, speed, choice and personalisation."
Last week Sabre shared a sneak peek into a major new release of its travel agency booking platform, Sabre Red Workspace, which will evolve the way travel is shopped and sold.
"We are bringing new technologies to market along with a more strategic, data-driven approach to the way we consult with our customers, spotting opportunities to evolve their businesses from the core. This could be anything from establishing greater operational efficiencies to re-evaluating the channels for driving customer loyalty – and profits," added Roshan. "The process is underpinned, and this is key, by an additional investment in the customer support provided to then implement these changes effectively."
In the last 12 months Sabre Travel Network has introduced sub-region teams responsible for driving localised business operations in APAC, spanning Southeast Asia, South Asia, South Pacific and North Asia. New Global Customer Support Centres have also opened in Singapore and India to support the growing base of travel agencies expanding to run multi-market operations in the region.
The Sabre Travel Network business now extends across 29 markets in Asia Pacific with over 2,000 local staff – a number which will continue to grow – serving approximately 20,000 travel agency customers.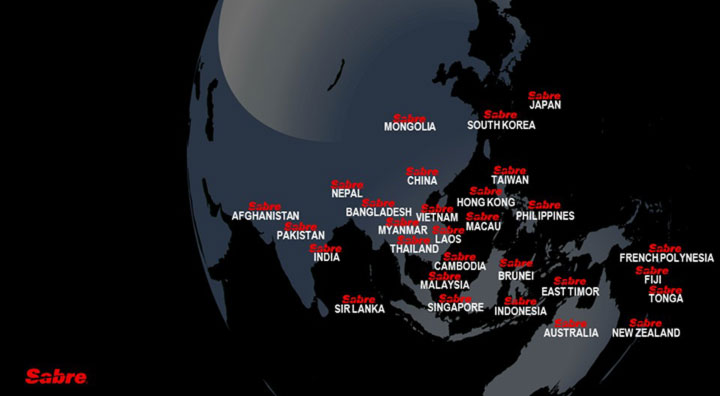 ###
About Sabre Corporation
Sabre Corporation is the leading technology provider to the global travel industry. Sabre's software, data, mobile and distribution solutions are used by hundreds of airlines and thousands of hotel properties to manage critical operations, including passenger and guest reservations, revenue management, flight, network and crew management. Sabre also operates a leading global travel marketplace, which processes more than US$120 billion of global travel spend annually by connecting travel buyers and suppliers. Headquartered in Southlake, Texas, USA, Sabre serves customers in more than 160 countries around the world.
Media Contact
Hilary Davies
Sabre Asia Pacific
+65 6426 0788
hilary.davies@sabre.com