SOUTHLAKE, Texas – May 11, 2017 – Sabre Corporation (NASDAQ: SABR), the leading technology provider for the global travel industry with operations across Latin America for over three decades, today opened a new regional headquarters in Montevideo, Uruguay, for Travel Network, its global travel marketplace which processes more than US$120 billion of global travel spend annually by connecting travel buyers and suppliers.
The technology support the company provides on a large scale to hundreds of travel agencies and corporate travel buyers in Latin America and the Caribbean requires a pan-regional network of strategically located offices, connected to a headquarters that centralizes resources and optimizes business and consulting processes. This office is fully dedicated to companies within the region.
"Any company that wants to be competitive, attain high levels of efficiency, and lead as an industry expert needs to manage their business with a global view combined with a strategic regional operation," said Alfred de Cárdenas, chief commercial officer, Sabre Travel Network. "Travel bookings made using our technology platforms for the Latin America and Caribbean region increased more than 8 percent in the first quarter of 2017, compared to the same period in 2016. That represents the highest growth rate since 2013, so we are launching this office at the perfect time with great momentum."
Sabre strengthened its international footprint over the past 10 years, taking the lead over other technology providers to the travel industry. Today, the company has a global network of offices dedicated to business functions, software development, and global services. These offices are interconnected with dedicated regional centers specialized in the ecosystem and travel economy of each country. Based in Zonamerica Technology & Business Park, the Montevideo headquarters office for Travel Network joins other regional headquarters such as London (European hub), Singapore (Asia-Pacific hub), and Sabre's global headquarters located in Southlake, Texas.
"The Zonamerica technology and business Park helps connect global companies with local talent seeking careers in a global environment. This made Zonamerica a first perfect location for the Sabre Global Service Center, which currently employs over 980 professionals. Today, our new office expands our synergy to optimize our pan-regional operations for Sabre's largest business – Travel Network," highlighted Ricardo Carreón, vice president of Travel Network in Latin America and the Caribbean.
Jay Jones, senior vice president of Travel Network in the Americas region, remarked: "We partnered with Zonamerica to support our regional operations in Uruguay, as the infrastructure and technology they provide are a perfect match for our strategy to establish a commercial and business development hub in Montevideo."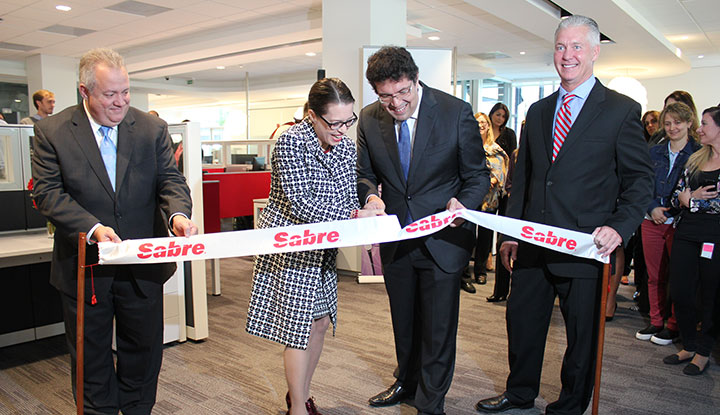 Out of the 300 multinational companies with a presence in Zonamerica, Sabre is the largest employer in the business park, with a total headcount of over 1,000 professionals. The resources provided by Zonamerica, together with the incentives provided by the Uruguayan government, contributed to the establishment of the new office. Building upon the successful establishment of Sabre's Global Service Center in Montevideo, which provides world-class customer service and IT support for customers around the world, Sabre has defined new standards in software consulting and account management for the travel industry.
The regional Travel Network headquarters in Montevideo serves as the operational hub for satellite offices located in strategic markets including São Paulo, Mexico City, Bogota, Buenos Aires, and Lima.
###
About Sabre
Sabre is the leading technology provider to the global travel industry. Sabre's software, data, mobile and distribution solutions are used by hundreds of airlines and thousands of hotel properties to manage critical operations, including passenger and guest reservations, revenue management, flight, network and crew management. Sabre also operates a leading global travel marketplace, which processes more than US$120 billion of global travel spend annually by connecting travel buyers and suppliers. Headquartered in Southlake, Texas, USA, Sabre serves customers in more than 160 countries around the world.
MEDIA CONTACT
Daniel Duarte
Sabre, Public Relations
+1 (214) 236-9473