New capability in Sabre Red Workspace syncs with standard documentation form to deliver an automated booking of air tickets to Cuba
SOUTHLAKE, Texas – Sept. 2, 2015 – Sabre Corporation (NASDAQ: SABR), a global technology provider to the travel and tourism industry, has announced the development of a capability that helps travel agents in the U.S., Puerto Rico and the U.S. Virgin Islands to comply with recently liberalized U.S. regulations for trips booked to, from or within Cuba.
Available to travel buyers and tour operators, the Cuba Traveler Certification capability enhances the user experience in agents' service desktops. Sabre is utilizing the standard Cuba travel certification form for passengers developed by the American Society of Travel Agents (ASTA).
Built on Sabre's industry leading agency workspace, and powered by API technology, the Cuba Traveler Certification capability automatically alerts agents when they have booked an itinerary with air travel to Cuba in order to access the required certification form, transmit the needed data to the transporting airlines, and email the certification form to customers for their records—all in a few easy clicks.
 "Sabre is leading by launching a capability that delivers personalized traveler information, and assists agents by improving their workflow when booking travel to Cuba for consumers in the world's major outbound market for travel to the island," said Wade Jones, senior vice president of marketing for Sabre Travel Network.
"We are also pleased to work with ASTA on launching this capability, and thank them for their support in delivering an industry first automated process that helps agents to drive more sales," said Jones.
Today, Sabre-connected agents in the U.S. mainland and territories can shop and book for flights to Cuba without requiring any additional contract amendments.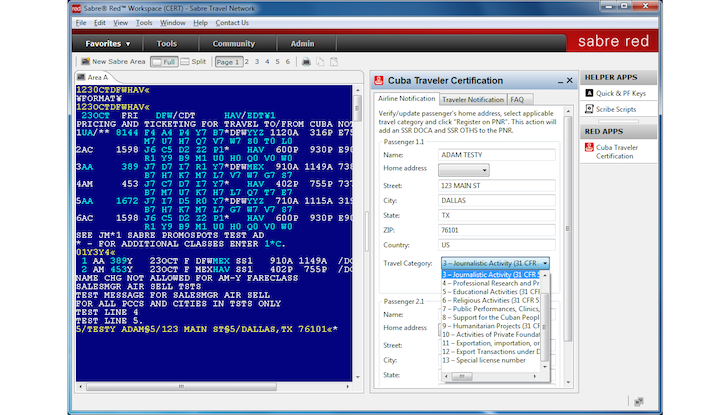 About Sabre Corporation
Sabre Corporation is a leading technology provider to the global travel and tourism industry. Sabre's software, data, mobile and distribution solutions are used by hundreds of airlines and thousands of hotel properties to manage critical operations, including passenger and guest reservations, revenue management, flight, network and crew management. Sabre also operates a leading global travel marketplace, which processes more than $110 billion of estimated travel spend annually by connecting travel buyers and suppliers. Headquartered in Southlake, Texas, USA, Sabre serves customers in more than 160 countries around the world.