Developers' marathon competition runs as part of the 2015 Sao Paulo Tech Week, challenging creative teams to build apps that transforms the travel experience and to drive businesses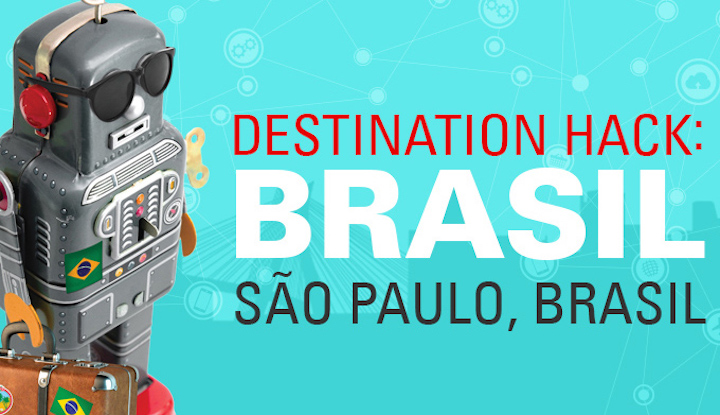 SAO PAULO – Oct. 27, 2015 – Sabre Corporation (NASDAQ: SABR), the leading technology provider to the global travel industry, announces the launch of its global developer competition, #DestinationHack powered by Sabre Dev Studio, in Brazil during the weekend of Nov. 6 – 8.
Destination Hack Brazil is held as part of São Paulo Tech Week, Latin America's leading event with workshops, conferences and hackathons in an inspiring full-week program focused on promoting innovation and entrepreneurship. Sabre's developer marathon is also supported by Start-Up Brasil, a Federal Government acceleration program that works with 183 startups around Brazil.
The event's general brainstorming session kicks off on Saturday at 9 a.m., followed by twenty-four hours of intense programming, creative thinking and problem-solving for apps that could change the way people travel. Sabre is inviting developers across the country and from a variety of backgrounds – from students to start-ups to those working for some of the travel industry's biggest brands, to register their teams at https://developer.sabre.com/hackathons/brazil2015
Over the weekend developers will gather in Sao Paulo's Distrito venture building campus, to be challenged to think outside-of-the-box to create technology and apps with the potential of reinventing travel for millions of consumers. The competition includes the chance to win prizes valued in R$10,000, and the opportunity to have their prototype recognized as an idea that could enhance the travel experience globally.
DestinationHack's judge panel includes renowned experts in travel, technology, startups and business development from Brazil.
"We are excited to host our leading travel technology developers competition in the flagship country for technology companies operating across Latin America, and have Sabre as partner and supporter of the Sao Paulo Tech Week—all to help position Brazil as an innovation hub around the world," said Luiz Ambar, vice president of Sabre in Brazil and southern Latin America.
"Destination Hack provides the growing Brazilian developer community with an opportunity to unleash creativity by creating revolutionary apps for travel and tourism," said Ambar.
In this round-the-clock coding contest, participants will have free unlimited access to a set of more than 150 application programming interfaces (APIs) powered by Sabre Dev Studio (https://developer.sabre.com/) – Sabre's industry-first open platform providing IT developers with immediate access to a sandbox, sample code documentation, prototypes and demos. Developers will also tackle REST APIs optimized for mobile applications, as well as other open technology provider tools, to create their prototypes.
Related Videos:
Alexandre Xavier, Product Marketing Manager, Sabre Dev Studio, invites developers to #DestinationHack Brazil.
Learn how to reinvent the concept of travel.
###
About Sabre Corporation
Sabre Corporation is the leading technology provider to the global travel industry. Sabre's software, data, mobile and distribution solutions are used by hundreds of airlines and thousands of hotel properties to manage critical operations, including passenger and guest reservations, revenue management, flight, network and crew management. Sabre also operates a leading global travel marketplace, which processes more than $110 billion of estimated travel spend annually by connecting travel buyers and suppliers. Headquartered in Southlake, Texas, USA, Sabre serves customers in more than 160 countries around the world.