SOUTHLAKE, Texas – Oct 20, 2016 – Sabre Corporation (NASDAQ: SABR), the leading technology provider to the global travel industry, has appointed Alfred de Cárdenas as Chief Commercial Officer (CCO) of its Travel Network organization, which spans the GDS travel marketplace and Traveler Experience businesses. With more than 28 years of commercial strategy, operations and executive management experience, de Cárdenas will be responsible for leading global sales, sales operations and business development initiatives.
In this position, de Cárdenas will play an instrumental role in driving Sabre's global travel distribution business. De Cárdenas will lead a team of seasoned senior vice-presidents and vice-presidents accountable for commercial efforts and customer engagement across geographies, including global strategic accounts and sales operations.
"Alfred has extensive global commercial development experience gained from a wide range of companies with overseas operations catering to the needs of large customer bases," said Sean Menke, president of Sabre Travel Network. "He brings a global perspective that will empower our business strategy and key priorities, and continue to expand and enhance our operating model across all regions."
De Cárdenas gained deep expertise in international commercial and service operations working for the telecommunications firm Nortel Networks, as senior vice-president of global operations with expat assignments in Israel, Brazil and Colombia.
Prior to joining Sabre, he was president of global sales and customer service for Syniverse Technologies, a cloud-based/SaaS mobility services company. He also led a number of strategic roles as Chief Operations Officer (COO) and general manager across the Americas region.
De Cárdenas will be based at Sabre's global headquarters office in Southlake, Texas.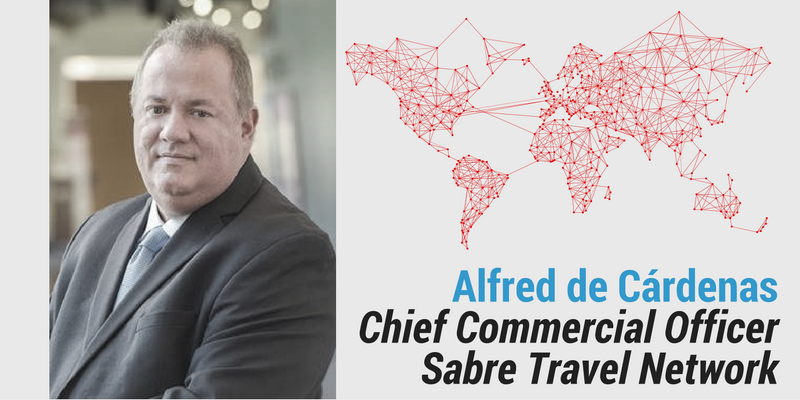 ###
About Sabre Corporation
Sabre Corporation is the leading technology provider to the global travel industry. Sabre's software, data, mobile and distribution solutions are used by hundreds of airlines and thousands of hotel properties to manage critical operations, including passenger and guest reservations, revenue management, flight, network and crew management. Sabre also operates a leading global travel marketplace, which processes more than US$120 billion of global travel spend annually by connecting travel buyers and suppliers. Headquartered in Southlake, Texas, USA, Sabre serves customers in more than 160 countries around the world.
CONTACT:
Daniel Duarte
Sabre, Public Relations
+1 (214) 236-9473