SOUTHLAKE, Texas – Sep 21, 2016 – Travel consultants in the U.S. and Canada can now indulge travelers with a world-class, all-inclusive experience booking with boutique cruise operator Uniworld via Sabre Corporation's travel marketplace. The e-commerce GDS connectivity provides agents with the full inventory of Uniworld's ships collection via Sabre Cruises, an intuitive booking capability within the Sabre Red platform.
To create exceptional experiences for family cruises or solo travelers, Sabre connected agents now have the ability to shop and book Uniworld's cruises within a graphics-rich reservation workflow. In addition to displaying commission information as well as negotiated and group rates, the Sabre Cruises interface allows agents to compare different experiences and ships based on Uniworld's destinations to Europe, Asia, Egypt and India.
The collaboration between Sabre and Uniworld Cruises will expand the cruise lines' commercial strategy leveraging API technology through Sabre Cruises Web Services, allowing Uniworld to extend their product offering and reach to agencies that cater to travelers through their own online sales sites.
"With the addition of Uniworld's luxurious all-inclusive products to Sabre Cruises we continue to enrich our comprehensive inventory and deliver more choice for travel agents in North America," said Shelly Terry, vice president of travel product solutions, Sabre Travel Network. "Our platform and Cruise API's will significantly increase the exposure of their collection of cruises, ships, personalized services and fine amenities among an influential community of travel advisors."
"We are excited to launch our strategic collaboration with Sabre, enabling us to reach the largest travel agency community in North America and a high-yield customer base," said Ellen Bettridge, president & CEO of Uniworld. "The addition of Sabre further enhances Uniworld's ability to create a seamless booking process for travelers and travel agents alike."
Uniworld Boutique River Cruise Collection is the newest cruise line to join Sabre Cruises, providing real-time access to inventory and booking confirmation on more than 18 cruise lines, representing nearly 95 percent of CLIA cabin capacity.
Read more: Sabre blog "Cruises make remarkable transformation with focus on better food."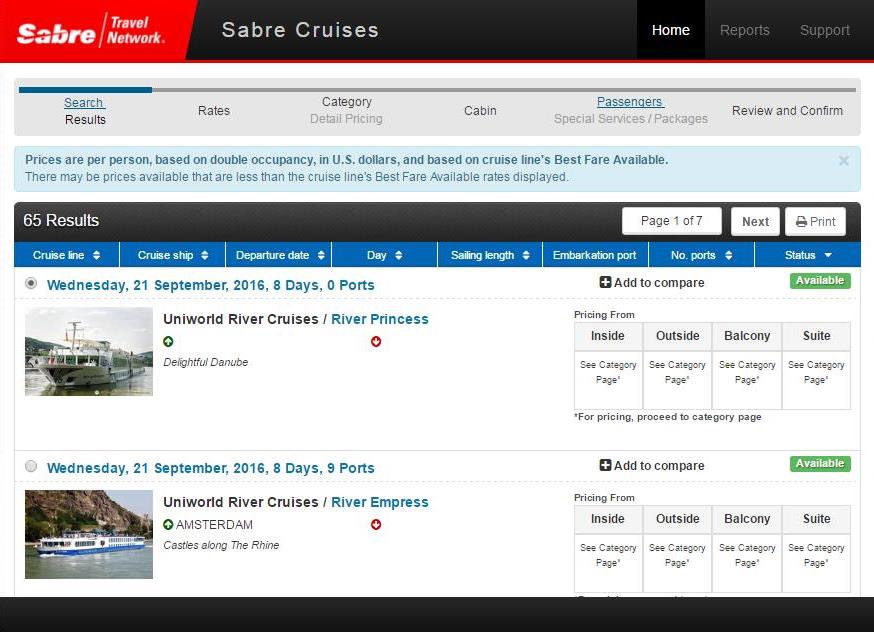 About Sabre
Sabre Corporation is the leading technology provider to the global travel industry. Sabre's software, data, mobile and distribution solutions are used by hundreds of airlines and thousands of hotel properties to manage critical operations, including passenger and guest reservations, revenue management, flight, network and crew management. Sabre also operates a leading global travel marketplace, which processes more than US$120 billion of global travel spend annually by connecting travel buyers and suppliers. Headquartered in Southlake, Texas, USA, Sabre serves customers in more than 160 countries around the world.
CONTACT:
Daniel Duarte
Sabre, Public Relations
+1 (214) 236-9473