The fast-growing Taiwanese travel agency has selected an extensive suite of Sabre solutions to enhance efficiency and personalization
SINGAPORE and Taipei, TAIWAN – November 9, 2023 – Sabre Corporation (NASDAQ: SABR), a leading software and technology provider that powers the global travel industry, today announced a new agreement with fast-growing Taiwanese travel agency Richmond International Travel & Tours Co.,Ltd (2743.TWO) to elevate the agency's booking experience for travelers while improving operational efficiencies.  
Richmond Tours sought a technology partner that could provide industry-leading solutions to enable it to streamline operations and deliver personalized services. With its carefully selected suite of complementary Sabre solutions, the Taipei-headquartered agency aims to bolster its competitiveness and solidify its position as a leader in the Taiwanese travel market.
"We're thrilled to join forces with Sabre as the Taiwanese tourism industry continues to recover, and we push ahead with our ambitious business growth plans," said Mr. Chico K.S. Chen, Chairman, Richmond Tours. "This agreement will enable us to provide our customers with a seamless and personalized travel booking experience, delivering exceptional travel services for our travelers, while saving agent time with each transaction." 
Sabre Red 360, Sabre's flagship travel agency workflow, will empower Richmond Tours' agents with a comprehensive and intuitive platform, enabling agents to efficiently create, shop and service a full spectrum of bookable content. Richmond Tours will also use Sabre APIs to enable easy integration of travel content from Sabre.
Bargain Finder Max, Sabre's advanced airfare shopping solution, will enable agents to access competitive airfares and offers to deliver optimal itinerary options to customers within seconds. The agency will also be using Sabre TicketExpress which automates the entire pricing and ticketing process along with Automated Exchanges which automatically searches and reprices ticket exchanges. The benefits include improved operational efficiency, reduced operational costs, employee training, and ticket transaction times.
"We're incredibly excited to embark on this new strategic relationship with Richmond Tours," said Brett Thorstad, Vice President, Sabre Travel Solutions, Agency Sales, Asia Pacific. "Sabre is committed to delivering innovative solutions that empower travel agencies to thrive in dynamic and competitive markets. Richmond Tours' decision to utilize our technology extends our growing footprint in the Taiwanese marketplace while underscoring the value and efficiency our solutions bring to the travel industry."
###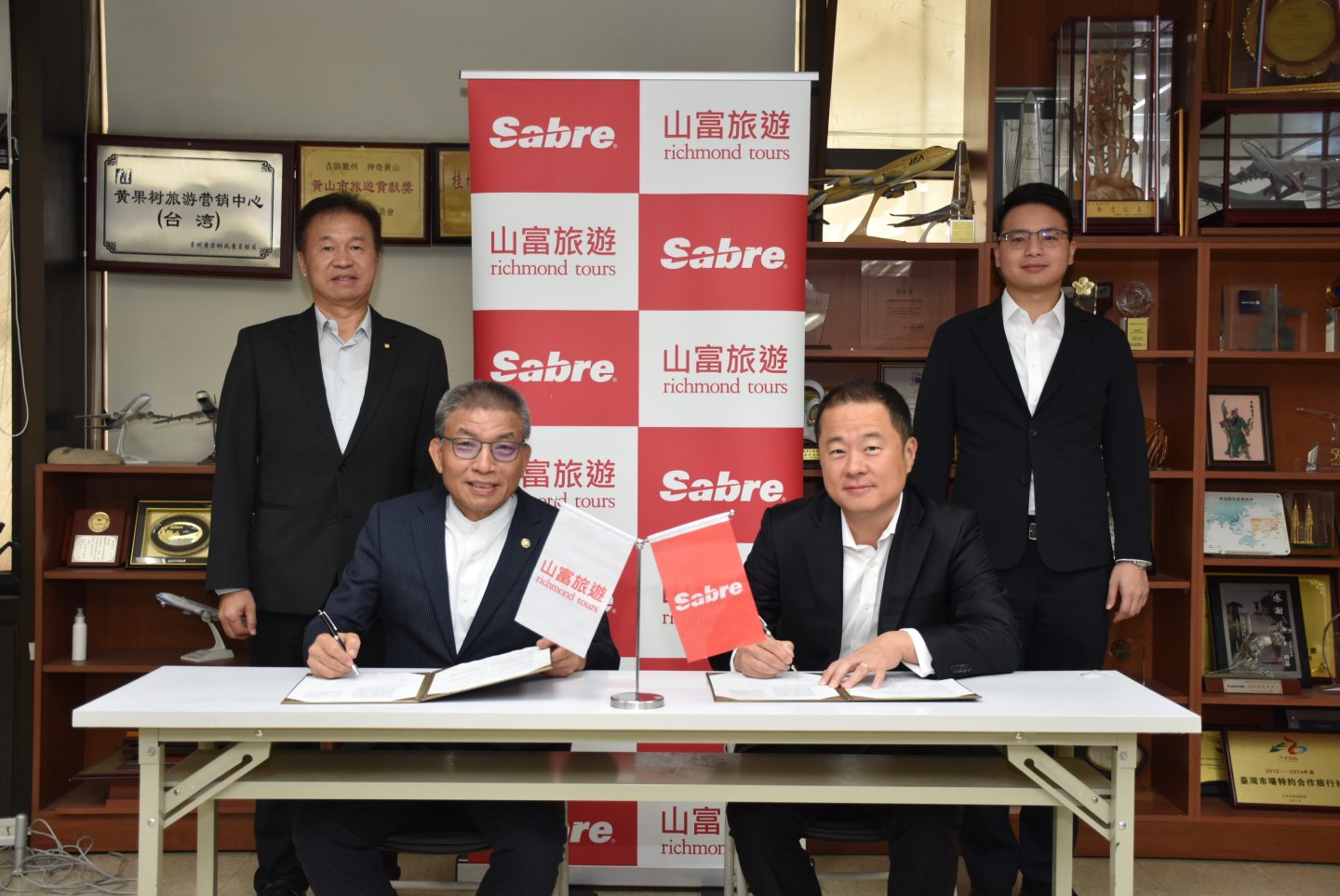 Left to Right: Simon Lee – General manager, Sabre Taiwan
Chico K.S. Chen – Chairman, Richmond Tours
Charles Lee- Regional Director, Sabre Asia Pacific
Richi Chen- Chief Information Office, Richmond Tours
About Sabre Corporation   
Sabre Corporation is a leading software and technology company that powers the global travel industry, serving a wide range of travel companies including airlines, hoteliers, travel agencies and other suppliers. The company provides retailing, distribution and fulfilment solutions that help its customers operate more efficiently, drive revenue and offer personalized traveller experiences. Through its leading travel marketplace, Sabre connects travel suppliers with buyers from around the globe. Sabre's technology platform manages more than $260B worth of global travel spend annually. Headquartered in Southlake, Texas, USA, Sabre serves customers in more than 160 countries around the world. For more information visit www.sabre.com.   
About Richmond International Travel & Tours
Richmond International Travel & Tours Co.,Ltd (Richmond Tours), established in 1988, is a leading travel agency based in Taiwan that offers leisure and corporate travel services. The company provides a wide variety of inbound and outbound group travel products, travel product distribution through its online travel booking systems and specialized corporate travel services. Through innovative group product development and well-rounded distribution channel, Richmond Tours reaches $450M annual revenue. For more information visit www.travel4u.com.tw.