NDC offers from Finnair – now live in the Sabre marketplace
Finnair is the first European airline to distribute its NDC content through the Sabre marketplace. By activating NDC capabilities through Sabre, you can shop, book and service Finnair's NDC content in the way that works best for you: via APIs, our travel agency booking solution, Sabre Red 360, or our online booking tool, GetThere. Built with scalability and performance at their core, Sabre's NDC capabilities maximize access to the leading content travelers want while helping you maintain the efficiency you need. Our integrated solution lets you use a single workflow to access NDC offers alongside traditional content options.
Ready to get started?
Step 2: Place orders through Sabre Central Marketplace
After Finnair confirms your registration, visit Sabre Central Marketplace to activate Finnair NDC through Sabre.
Step 3: Confirm your order
When we receive your order, we'll confirm you're included on Finnair's list of NDC-approved organizations. If you are, we'll process your order. If you're not, we'll let you know so that you can contact Finnair.
Step 4: Register for free NDC training
At any time, you can register through the Sabre Central portal for free NDC training. We offer instructor-led, and self-paced, courses in multiple languages.
Active markets for Finnair NDC
Finnair will rollout NDC globally in multiple market activation waves during 2023. Review the map below to see which markets are live.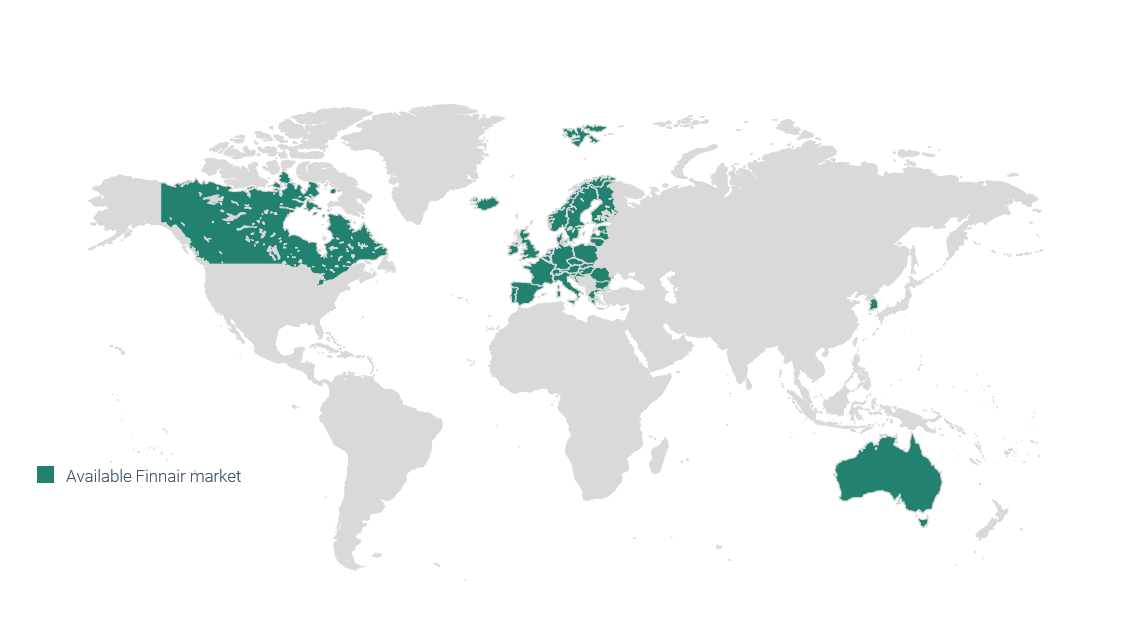 Albania
Argentina
Australia
Austria
Bahrain
Belgium
Bulgaria
Cambodia
Canada
Chile
Croatia
Cyprus
Czech Republic
Denmark
Estonia
Finland
France
Germany
Greece
Hong Kong
Iceland
Indonesia
Ireland
Israel
Italy
Japan
Kazakhstan
Latvia
Lithuania
Luxembourg
Macao
Malaysia
Mexico
Netherlands
New Zealand
Norway
Oman
Philippines
Poland
Portugal
Qatar
Romania
Serbia
Singapore
Slovakia
Slovenia
South Africa
South Korea
Spain
Sweden
Switzerland
Taiwan
Thailand
Turkey
United Arab Emirates
United Kingdom
Vietnam
Press Releases
March 24, 2021

SOUTHLAKE, Texas and SYDNEY – March 24, 2021 – Sabre Corporation (NASDAQ: SABR), the leading software and technology company powering the global travel industry, is launching NDC offers from Qantas Airways, the flag carrier of Australia, to…

February 7, 2019

Sabre's newest partner in innovative Beyond NDC Program is Qantas SINGAPORE – Feb. 7, 2019 – Sabre Corporation (NASDAQ: SABR), the leading technology provider to the global travel industry, today announced a renewed, long-term distribution agreement…

May 27, 2014

Sabre travel marketplace provides seamless, efficient booking of airline's ancillaries  SOUTHLAKE, Texas, May 27, 2014 – Sabre Corporation (NASDAQ:SABR), a global technology provider to the travel and tourism industry, is now selling Iberia's pre-paid bags in…