While there has been much talk and debate since IATA published their vision of a world of Offers and Orders, the Passenger Service System (PSS) is a critical piece of the airline ecosystem that will not simply vanish overnight. IATA even stated, "the question arises as to how the PSS needs to be enhanced to work in this new retailing world."  Today, we want to give you a preview of a future state in which reliance on the PSS is reduced in favor of new practices that allow airlines to sell more, across more channels, all while streamlining legacy processes.
Delivering the vision for personalized travel retailing, shared by Sabre and IATA, will be achieved through an API-based product ecosystem.
From an Offer perspective, the end-state will include intelligent retailing via a retail platform and offer management system through which all product and customer attributes will be analyzed to create personalized offers. This retail platform will use Sabre's NDC-enabled Offer and Order APIs to communicate the offers to all partners and channels. For Orders, the traditional PSS will gradually be replaced by a new order management system which fulfills the offer, settles payment and creates orders as new centralized records for customer and trip data throughout a journey.
Moving to the Order model will reduce operational complexity by eliminating passenger name records (PNRs), electronic miscellaneous documents (EMDs) and special service requests (SSRs). Since an Order will serve as the single trip record, trip changes, bundling content across different supplier types, and servicing customized offers and orders will be easier than it is today.
The Offer and Order model is underpinned by a new foundation for data and analytics that supplies rich customer and operational data to the Offer and Order management systems as needed – and includes Artificial Intelligence and Machine Learning (AI/ML) based services to further optimize customer touchpoints.
Taking inspiration from another industry which has evolved to better meet consumer demand, the illustration below uses a modern grocery store analogy – with a wide choice of products, bundled offers, flexible shopping and payment options – to adapt the original IATA diagram (included in their October 2021 whitepaper) to show Sabre's view on the core building blocks that are critical to an end-state Offer and Order solution.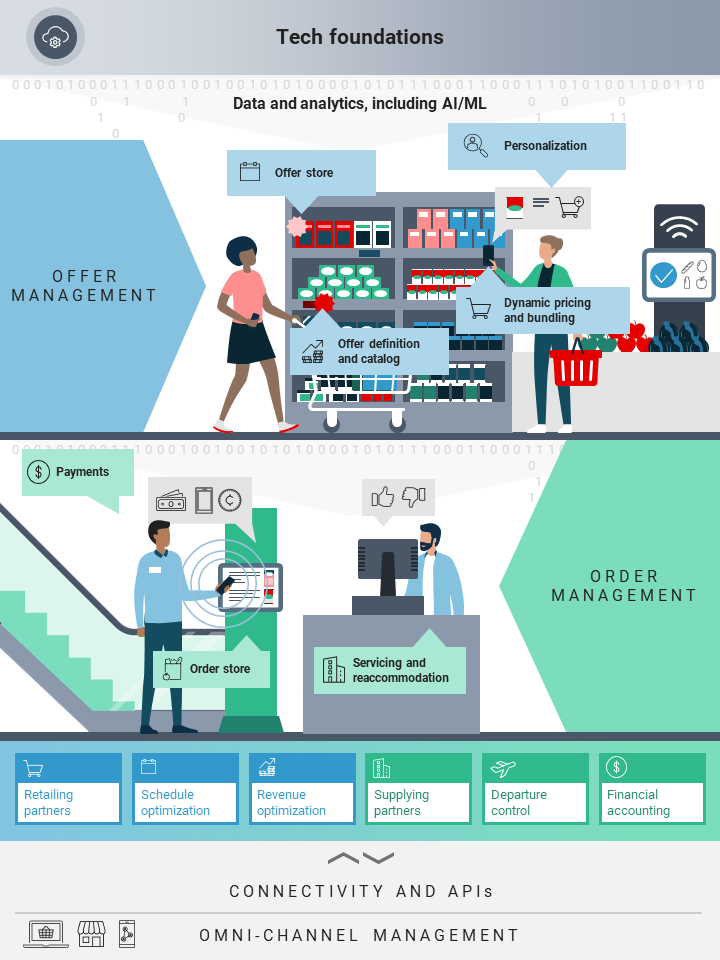 The transition to Offers and Orders, while gradual, will see a paradigm shift in terms of technology and operations to support content and commercial model innovation.
The industry will move from a world of static information filings, and multiple parts required to fulfill and service bookings, to one that is more dynamic, intelligent, and flexible. IATA set an aspirational goal for the airline industry to transition to Offer and Order-based retailing by 2030. As a result, travel suppliers and sellers will need to manage hybrid processes associated with ATPCO/EDIFACT content and Offers and Orders for some time. This reimagining of travel technology will benefit all parties, with travelers being offered a wider choice of personalized content, and travel suppliers and sellers benefitting from improved efficiency and enhanced revenue opportunities.
Click here to explore the glossary and to leave your email to receive updates when new posts in the series are available.