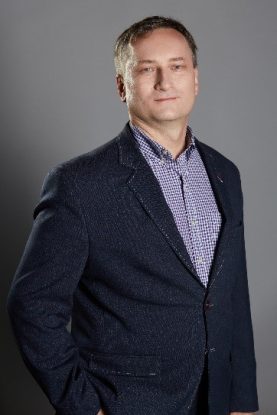 Wojciech Gworek
Vice President of GPD Air Offers, Ancillary Offers and Offers Sourcing
President of the Board
WOJCIECH GWOREK is a well-recognized technical leader driving Travel Platform Enablement efforts as Vice President of GPD Air Offers, Ancillary Offers and Offer Sourcing. Besides this role, Wojciech also holds the position of Co-Site Leader of Kraków Global Development Center.
He started his adventure with Sabre in September 2000 (as one of the first six employees) and during 15 years in Sabre, he moved from Individual Contributor to VP on his career path. Before taking a current role in 2015 as Common Platform leader (later NextGen Platform), he led CSS Technical Strategy as a part of Enterprise Architecture. Prior to that Wojciech was a member of Sabre Sonic Web developing Internet Booking Engine for Web & Mobile. He started his contribution to Sabre as a developer of Global Hotels and RES. Prior to joining Gradient (later Sabre), Wojtek worked for OxAir (Niagara Falls) developing software for oxygen generators for medical purposes and for Compact Disc Novelty (software company in Krakow) working on "Mobile Solutions for Remote Sales Team" integrated with ERP System.
Outside of work Wojtek is a recognized mentor of young technical leaders and passionate teacher, showing school and kindergarten kids science, using STEM education. Graduate of Automatic and Robotics at AGH University of Science and Technology. Privately he's a proud father of two daughters.