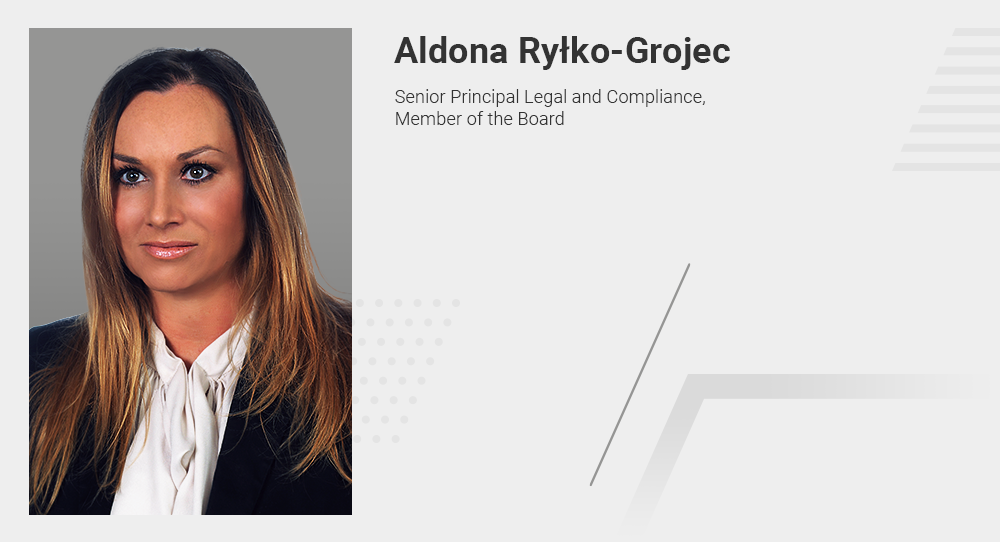 ALDONA RYŁKO-GROJEC is a Senior Principal Legal and Compliance in charge of Labor and Employment legal matters and Compliance for Sabre Poland and the EMEA Region.
Aldona is an attorney-at-law experienced in commercial and civil law, personal data protection, labor, and intellectual property law, successfully combining legal counseling, business consulting, partnership with various stakeholders, and leadership experience. She is focused on leadership development, strengthening legal and compliance awareness among Sabre's team members as well as the partnership with the People Team in the scope of Labor and Employment.
She joined Sabre in September 2019, bringing with her extensive 19-year legal experience in renowned law firms and financial institutions. She cooperated with Baker and McKenzie and Kochański, Zięba & Partners sp. k, Bank BPH S.A (member of GE Money Capital  Group), BGŻ BNP Paribas Bank Polska S.A( member of BNP Paribas capital group ), and Maspex Capital Group (one of the leaders in the food sector in Eastern and Central Europe).
Aldona was involved in negotiations of the most crucial IT contracts, numerous employment court disputes as well as supervised the complex legal projects. She also has executive experience as she additionally led the Administration area at Bank BNP Paribas managing the Contract Team, Archives Team, and Asset Team.
She graduated from the Faculty of Law at Jagiellonian University in Krakow, completed a Judge professional training at a district court in Kraków, and passed a Judge exam. She also completed Attorney- at -law professional training and currently is a member of the Krakow Bar Association of Attorneys-at-Law.