Only center with co-located product, engineering and operations teams that serve global travel and hospitality customers
Bengaluru, Dec. 7, 2020 – The Bengaluru Global Capability Center (GCC) of Sabre Corporation (NASDAQ: SABR), a leading software and technology company that powers the global travel industry, is celebrating its fifteenth year of operations as a strategic hub for the company. The center, the youngest among the global peer GCCs has about 1,700 product, engineering and customer experience professionals who collaborate and create technology solutions for the airline travel and hospitality industries.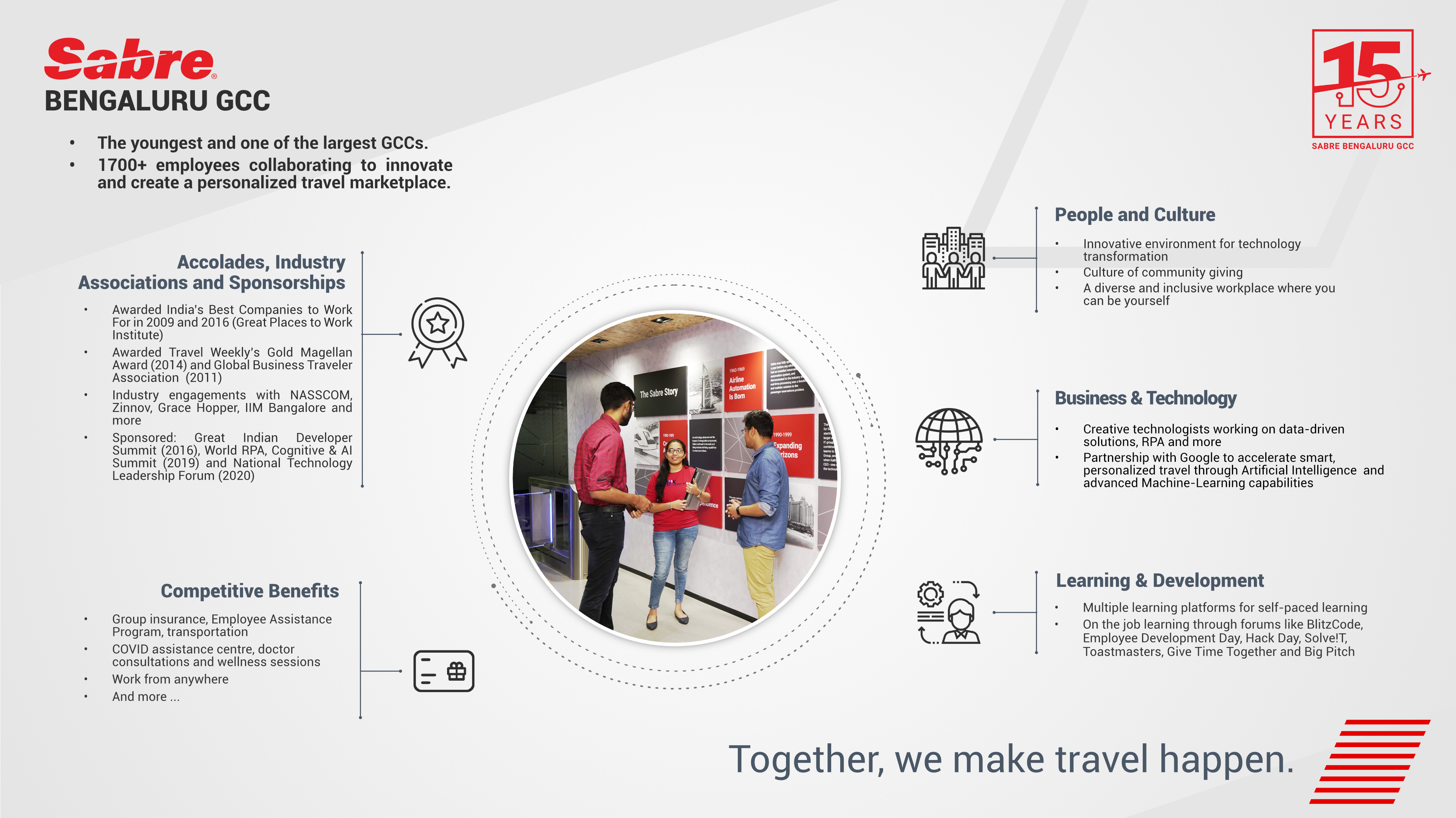 In India, Sabre launched its operations in 2005 to manage the growing APAC market and key projects in partnership with counterparts from other centers. Over the years, the center expanded its technology expertise as a peer capability center focusing on innovation and continues to remain among attractive places to work.
As a hub for product development and knowledge creation that help solve significant travel ecosystem challenges, the Bengaluru GCC fosters a culture of innovation and promotes collaboration. Internal innovation platforms including BlitzCode (annual hackathon), Solve!t (engineering best practices sharing forum), Big Pitch (business idea pitching), Product Gurukul (product innovation forum), Winglets (engineering community engagement) and Women in Technology (L&D for women technologists) have driven product innovation for Sabre's global teams.
With COVID-19 impacting the global travel industry and economy, the center leveraged its rapid innovation practices to support its customers alongside peer centers and partners. Sabre deployed solutions to enable travel after the initial global lockdown and the cross-functional team at the Bengaluru GCC led initiatives that helped customers manage through the crisis.
"The Bengaluru GCC is an integral part of Sabre's global organization. The center's creativity and talent help us go-to-market with solutions that are timely and relevant for our customers. Over the years, the center has helped innovate and shape how we deliver the best experience for our customers, and the traveler. By investing in the multifaceted team in Bengaluru, we are investing in the future of Sabre ," said Sean Menke, President and CEO of Sabre Corporation.
Sabre continues to build and accelerate innovation as we progress towards our vision to create a new marketplace for personalized travel by 2025.  We forged a 10-year strategic partnership with Google in January 2020, and together we created an innovation framework to define the future of travel. This partnership will not only enable us to imagine, develop and deploy capabilities that will advance the travel ecosystem, it will also help us create many industry firsts. Sabre AI is the first solution to come out of that framework, and we intend to launch more new retailing capabilities in the market beginning early 2021. Also, to provide the travel industry with the highest quality products and cutting-edge technology solutions, Sabre launched a Design Strategy Framework and the Bengaluru center played a key role in rolling out the initiative including training sessions covering both, employees and customers.
"The Sabre's Bengaluru GCC continues to play a pivotal role in reimagining the future of travel through innovative solutions for our Travel Solutions and Hospitality Solutions businesses. Our talented team continually seeks challenges to co-create creative approaches using best-in-class technologies such as artificial intelligence, dynamic, data-driven solutions, machine learning, cloud computing and RPA to serve our customers' needs. I have always wanted to work in an organization that continually innovates and leads the industry. I have been at Sabre for a year and am excited about our future," said Jaya Kumar K, VP and Managing Director of Sabre Bengaluru GCC.
 About Sabre Corporation
Sabre Corporation is a leading software and technology company that powers the global travel industry, serving a wide range of travel companies including airlines, hoteliers, travel agencies and other suppliers. The company provides retailing, distribution and fulfilment solutions that help its customers operate more efficiently, drive revenue and offer personalized traveller experiences. Through its leading travel marketplace, Sabre connects travel suppliers with buyers from around the globe. Sabre's technology platform manages more than $260B worth of global travel spend annually. Headquartered in Southlake, Texas, USA, Sabre serves customers in more than 160 countries around the world. For more information visit www.sabre.com.
 Sabre's Bengaluru GCC is running a campaign to commemorate its 15-year anniversary milestone that celebrates the journey, impact and our partnerships built over the years. Visit the history page on its website for key milestones, customer and partner testimonials and employee engagement initiatives.