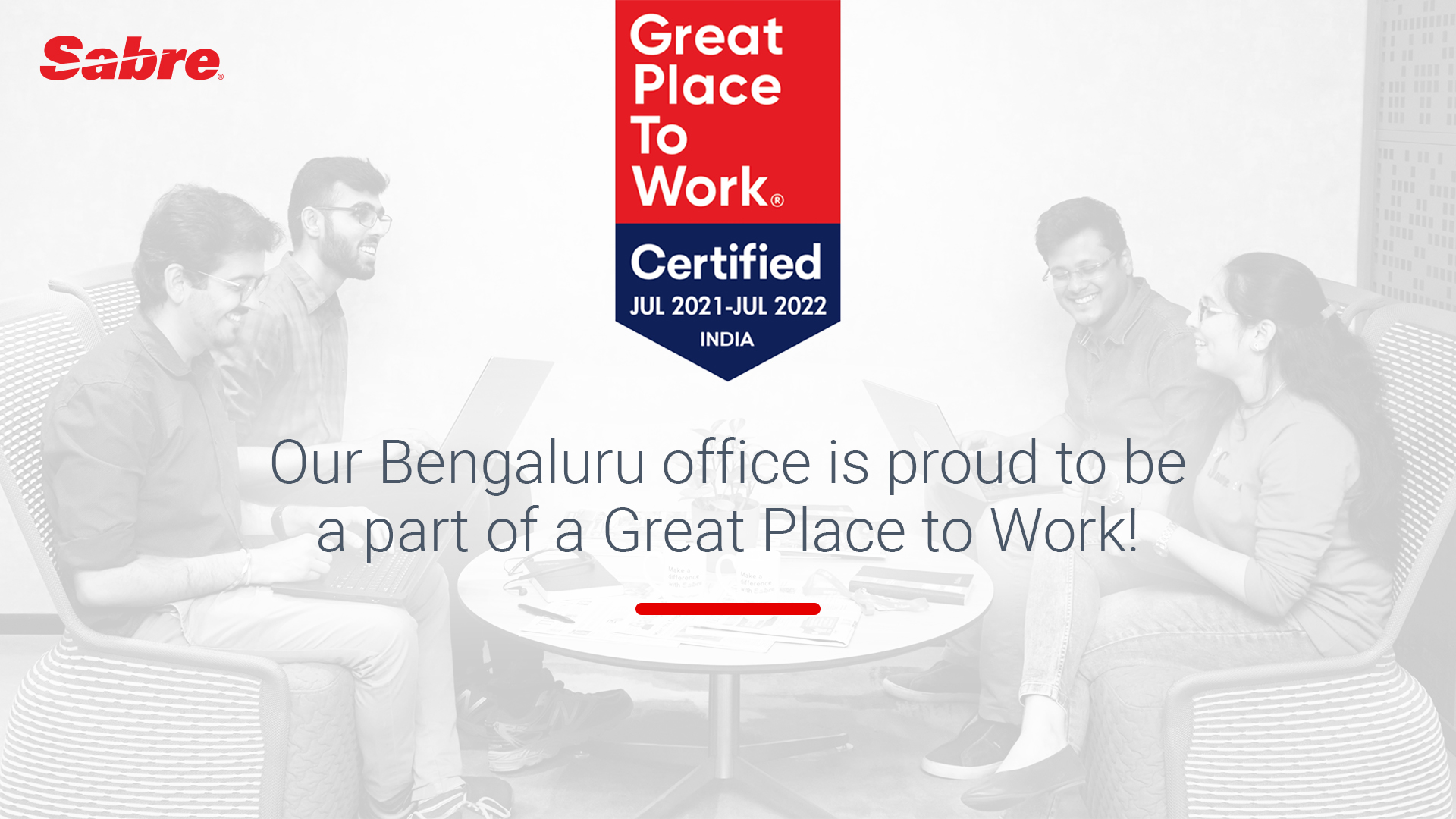 Sabre Corporation is a leading software and technology company that powers the global travel industry, serving a wide range of travel companies including airlines, hoteliers, travel agencies and other suppliers. The company provides retailing, distribution and fulfilment solutions that help its customers operate more efficiently, drive revenue and offer personalized traveler experiences. Through its leading travel marketplace, Sabre connects travel suppliers with buyers from around the globe. Sabre's technology platform manages more than $260B worth of global travel spend annually. Headquartered in Southlake, Texas, USA, Sabre serves customers in more than 160 countries around the world. For more information visit www.sabre.com.

About Sabre Capability Center (GCC), Bengaluru
Sabre's vibrant capability center at India's silicon-valley, Bengaluru plays a major role in developing industry-leading solutions for the travel business and provides a strong IT backbone to global operations. We operate the Sabre Hospitality Solutions and Sabre Travel Solutions business in India. Sabre India's sales team provides support to the airline, hotel, travel agency and travel management community across the country.
The journey which began in 2005 with just nine employees has grown stronger with each passing year & stands at a current headcount of 1700+ and is growing steadily. Sabre Bengaluru GCC is among the largest centers for Sabre outside of the US, and continues to evolve and grow alongside our peer centers globally for Sabre – Dallas – USA, Krakow – Poland.
A workplace where agile transformation practices based on lean start-up thinking are built on a daily basis, the GCC in Bengaluru has been consistently featured in 'Great Places To Work' (GPTW) rankings.
Our BUs provide a wide variety of software solutions to travel suppliers, travel agents and end travelers and the scale of our operations is among the largest in the world:
The Bengaluru center played a key role in developing Get There, Sabre's corporate travel booking tool, which provides unmatched cost control for more than 3000 corporations in the world, including the majority of Fortune 200 companies. Get There processes more than 12 million transactions annually, delivers $2 billion in annual savings to our customers, and is currently used in 95 countries.
The development of Sabre's award-wining Hotel RFP (Request for Proposal) solution, one of the industry's top online hotel sourcing and rate negotiation tools for corporations and agencies. The solution won Travel Weekly's 2014 Gold Magellan Award and Global Business Traveler Association (GBTA) 2011 Business Traveler Innovation People's Choice Award.
The center regularly supports major airline reservations migrations to SabreSonic Customer Sales and Service (CSS). Key migrations include Cambodia Angkor Air, Aero Mexico, Philippine Airlines and Kulula Air. The center has been instrumental in upgrading the SabreSonic Check-in platform with industry-leading flight management capabilities to support airlines during flight disruptions. The platform has helped airlines improve productivity, increase targeted merchandising opportunities, and reduce training costs. Over 28 airlines have been migrated to SabreSonic Check-in and currently more than 50 airlines across Asia, Australia, Europe and Central America, are a part of the updated check-in system
The Bengaluru team led the introduction of a new user experience for the Sabre cruise, the resultant enhancements reduced booking workflow by 30%, helping agents complete bookings faster. The team also scaled the capabilities of Sabre Cruise to offer new content from Vikings River Cruises (2013), Ama Waterways and Avalon Waterways (2014-15), bringing travel agents more cruise options for their customers.
Our Global Networks Operations Center (GNOC) is the core backbone support center to provide the services for monitoring Infrastructure, IT Systems & Applications, providing 24 x 7 x 365