Personalization is no longer just a pleasant surprise for customers, it has become an expectation. The digital age has resulted in a fundamental shift towards personalized connectivity and consumers are demanding more. It's time travel business owners establish a personal connection with their customers, or they risk losing out.
Why we crave personalization in the digital age
When it comes to personalization, Amazon becomes top of mind. The online retail giant's personalized recommendations have enabled their customers to find a product quickly, making the overall user shopping experience a smooth and pleasant one. With more companies like Amazon adopting similar personalization features, the bar has been raised in relation to customer expectations. Today, consumers demand the same personalized experiences, and travel companies find themselves adapting in order to guarantee this level of service.
In the digital age, consumers feel more empowered. With the advent of mobile devices, consumers today are able to accomplish tasks with just a few taps and they are increasingly expecting more from the brands they interact with. This translates to the way they shop and book travel, with most of them gravitating towards personalized travel itineraries. Our recent report 'The Polarization of Asian Travelers' revealed that among Asian travelers, there is a growing sense of empowerment and willingness to invest more effort in personalizing the travel experience.
Customers today want convenience, connection and context – things that can be obtained with personalization. Our Personalization report has shown that 83% of customers expect relevant information and products to be recommended to them based on their personal preferences.
Consumers want personalized experiences because they want to feel like their interests and preferences are taken into account seriously. And because the customer has invested time to research and finally decide to engage your company over many others, it is expected you will reciprocate the favor.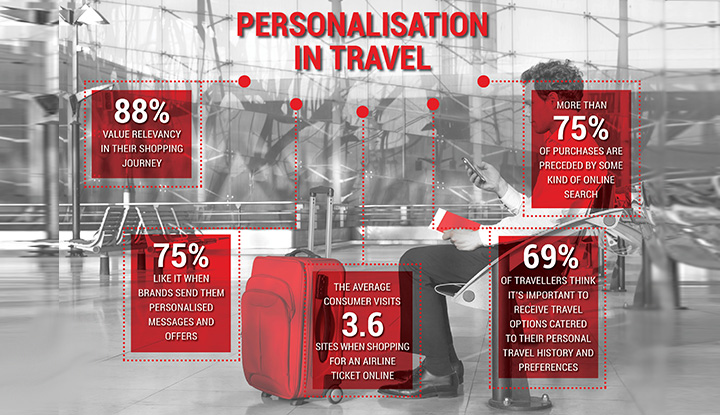 Source: Sabre's Personalization report
Personalization is not customization
So what exactly does personalization mean?
It is the practice of using customer data to deliver your customers the product that is well-aligned with their preferences and specific needs.
It is not to be confused with customization. Customization is done by the user. The user explicitly states his/her preference and receives information or a product that matches those interests.
Personalization goes beyond customization and takes a step further by using data to understand, assess and predict customer behavior. In most cases, this task is left to a system to deliver the relevant content, experience, or functionality that matches the user's identity.
Power of personalization
It's no secret that adopting a customer-centric approach yields better results and builds greater brand loyalty.
With the right technology and tools, travel companies are presented with vast opportunities to anticipate their customer's needs and deliver tailored experiences for them. If travel companies make the effort to apply elements of personalization to customer interactions, they are likely to drive more loyalty, engagement, positive reviews and word-of-mouth recommendations.
This will help them stay ahead of the stiff competition, giving them the edge to differentiate themselves from other travel providers.
Besides advancing customer relationships, personalization can lead to increased acquisition, conversion and retention of customers. A study by Researchscape International and Evergage [1] found that most (96%) marketers agree that personalization advances customer relationships, while 88% of respondents said that there's a notable lift in their business from their personalization efforts.
Providing personalization throughout the customer travel journey can influence and accelerate purchasing decisions. With a plethora of travel options available today, personalization has the ability to reduce information to a digestible level that's useful and relevant to the travelers.  It helps to shift their priority from price to real value when they book their trips.
via GIPHY
Personalization can delight your customers across all stages of travel
Where do you start?
The starting point will be to gather, interpret and act upon data that is coming from increasingly varied sources.
An email that addresses your customers by name, an offer that's location or interest relevant, or an incentive to upgrade a purchase based on past purchase patterns will more likely generate positive responses from your customers.
It is essential to note that personalization goes beyond just changing names in an email or letterhead – it is the ability to reach out to every single customer, knowing their preferences and most importantly, build a relationship and engage them on a personal level.
In the next blog post, we will talk about why capturing the right data is key to delivering personalization.
For more insights on what personalization looks like in the travel landscape and how to use it to craft experiences for each individual traveler, download the personalization report NOW It's Personal.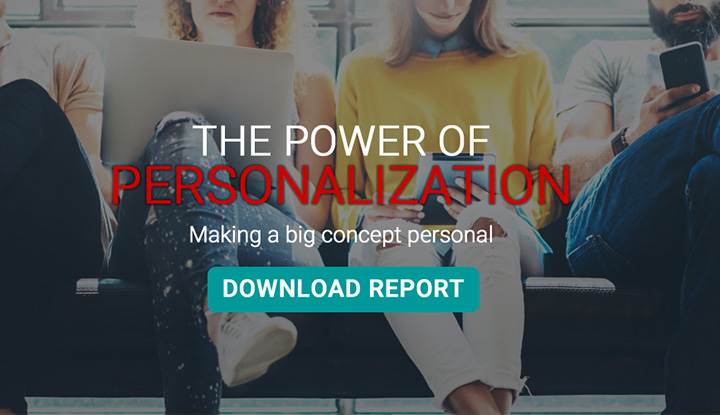 [1] http://www.evergage.com/resources/ebooks/trends-in-personalization-survey-report/