New Sabre Asia Pacific traveller study has the answer!
Download 'The Polarisation of Asian Travellers' report here, conducted by Sabre in partnership with The Futures Company.
Travel in Asia Pacific is booming. One in three Asians now plan to travel three or more times per year, and four out of five of these travellers believe travel is no longer a 'luxury', it's a 'necessity', according to the study. Access to cheaper flights and more affordable travel options alongside a steadily rising middle class population will continue to fuel this growth in 2017 and beyond. But as barriers to travel break down, the way people are travelling is also changing.
Major polarisation of Asian travellers exists
Using a psychographic assessment of travellers, Sabre's new report identifies major polarisation emerging two key dimensions around the region: 'Motivation' – whether a traveller is motivated by 'self' or 'others' in their travel choices – and 'Behavior' – specifically the level of control a person wants to exert over their trip.
Self-oriented travel with a personal touch
However a small majority of travellers are more likely to be motivated to travel by self-oriented reasons (56%), seeking to build their own individuality and life experiences rather than the opportunity to gain experiences to share with others (44%). When it comes to behavior, more travellers would rather exert control in their trip (58%) over letting someone else take charge (42%) – reflecting a growing sense of consumer empowerment and willingness to invest more effort in personalising the travel experience; pre, mid or post trip.
Introducing the four Asian traveller types
Mapping these polarisations across behaviour and motivation gives rise to four distinct Asian traveller types: the Explorer, Connector, Follower and Opportunist.
'Explorers' take top spot but national preferences also exist
One in three Asian travellers fall into the 'Explorer' category, making this the most common traveller type around the region. Notably after this there is an almost even split of travellers, by volume, between the three remaining types.
Geographic groupings of travellers do exist though. After Explorer, which is the top traveller type for all 11 Asian markets surveyed, the following groupings were recorded:
Connectors tend to be swaying their influence in Australia, Indonesia, Korea and New Zealand.
Followers are gathering together in Hong Kong, India, Japan, Malaysia and Singapore.
Opportunists are ready to go in China and Taiwan.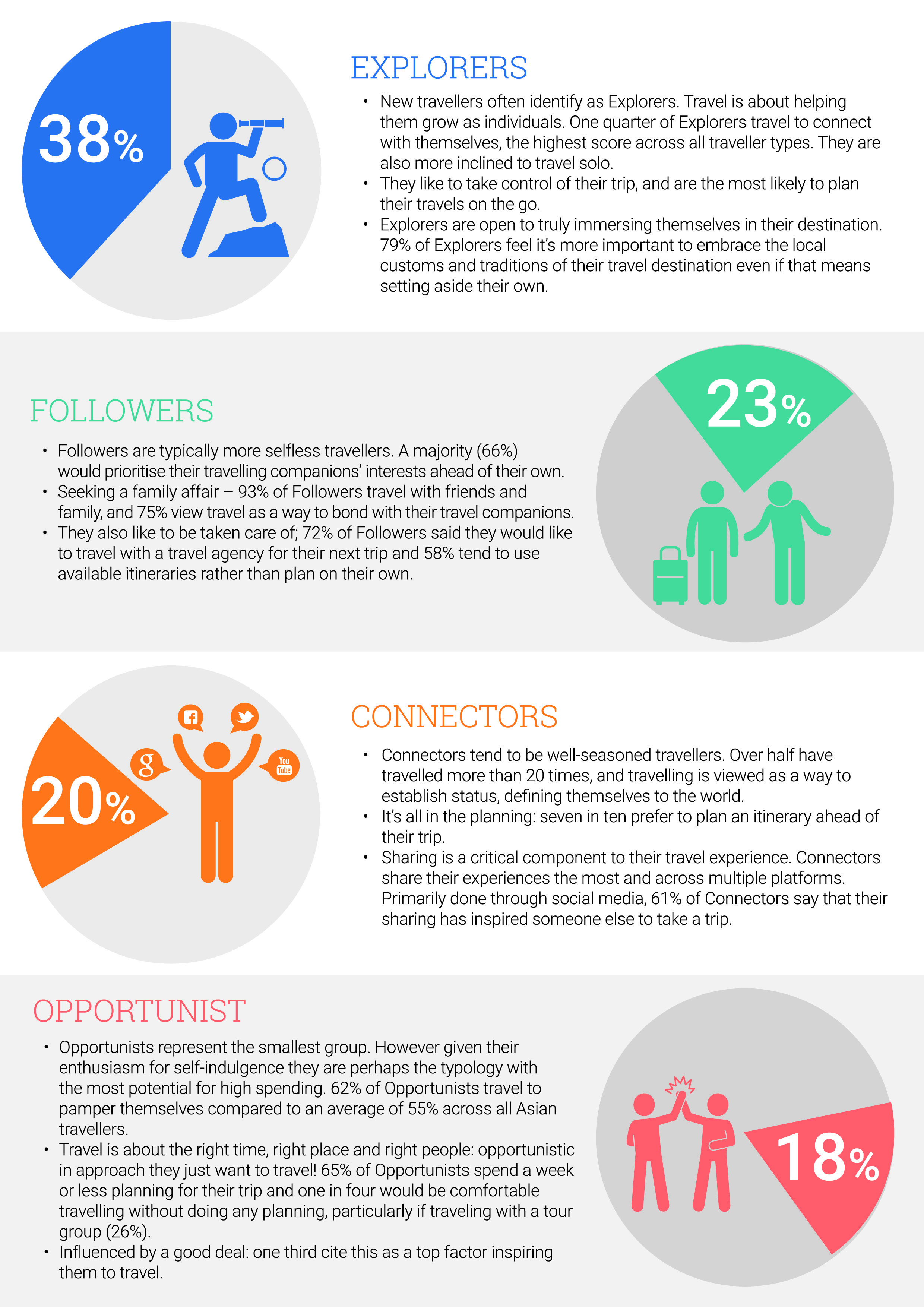 Meeting new traveller demands through new technologies
How do I connect with these travellers in the way they want? How do I keep their attention in such a complex landscape and with so many preferences emerging? How do I capture their credit card! 
Technology will play a major role in the industry's ability to adapt to these changing, and highly varied, traveller types. It already underpins much of the consumer journey, especially the way people shop and book travel. By the end of this year, Asia Pacific's online market is expected to have doubled in size since 2013, to over 160 Billion USD (161.6B). The next step is for technology to enhance the entire travel experience, allowing travel companies – from agencies to airlines – to personalise every stage of the trip according to the traveller type and their preferences.
Take the Explorer for example. These travellers are the most likely to make spontaneous plans mid-trip, so giving them access to mobile itinerary management apps that allow them to modify their trip on the go will play to their preferences, while opening up new revenue streams for the travel companies serving them.
Explorers are also seeking more self-discovery from their trips and an immersion in new cultures – now that Pokémon Go has educated the world on the power of augmented reality, the idea of travel companies offering augmented reality destination tours delivered through a travellers' mobile isn't so far-fetched. In fact, 80 percent of respondents said they'd be interested in this service!
Meanwhile technologies like virtual reality will play to the Connectors who want more control in the trip planning process (as part of establishing status amongst friends and family), letting them 'try before they buy' – be that immersing themselves in a shortlist of new destinations, choosing their airline class through an in-flight simulation or taking a tour of a hotels' facilities before they book.
What next? Travel gets personal.
The next decade of travel will be shaped by extraordinary levels of personalisation taking off, fuelled by major leaps forward in technology. Sabre is bringing more data-driven decision support tools to market this year that will help airlines, hotels and travel agencies track and understand their customers' evolving profiles and create more personalised and relevant experiences for travellers, including the new Sabre Red Workspace.