BY NICK VIVION
The customer-centric digital experience was a key focus of the Sabre+Skift livestream at Sabre Airline Solutions Global Conference. Tied to a recent report on "building customer memory," the conversation emphasized the theme of digital convergence, as airlines strive to bring together the various internal functions in a manner that facilitates quick and direct actions. This requires a mind-shift in system design and process implementation.
The report highlights just how airlines must consider the actual nuts-and-bolts design of their digital systems, emphasizing success comes through:
"…the design of flexible digital systems which make connecting with customers on a personal level easier, anticipating needs, resolving concerns, and suggesting solutions at the right time to motivate ancillary purchases or improve customer engagement."
The concept of "customer memory" is particularly applicable within travel, an industry predicated on providing a memorable experience through knowledge of a customer's wants and needs. With such an emotional product, laden with high expectations on the part of the consumer, nurturing a detailed customer memory is a worthy pursuit.
And this goes both ways: airlines need to not only deepen their knowledge of their customers, but airlines must also acknowledge the customer's own memory and past experiences with the brand. This creates a marketplace of mutual value, which can then be used as a strong foundation for growth in both revenues and customer satisfaction.
Given that airlines have evolving ways to foster personal relationships in the digital space, there are some characteristics that define a customer-centric approach to digital: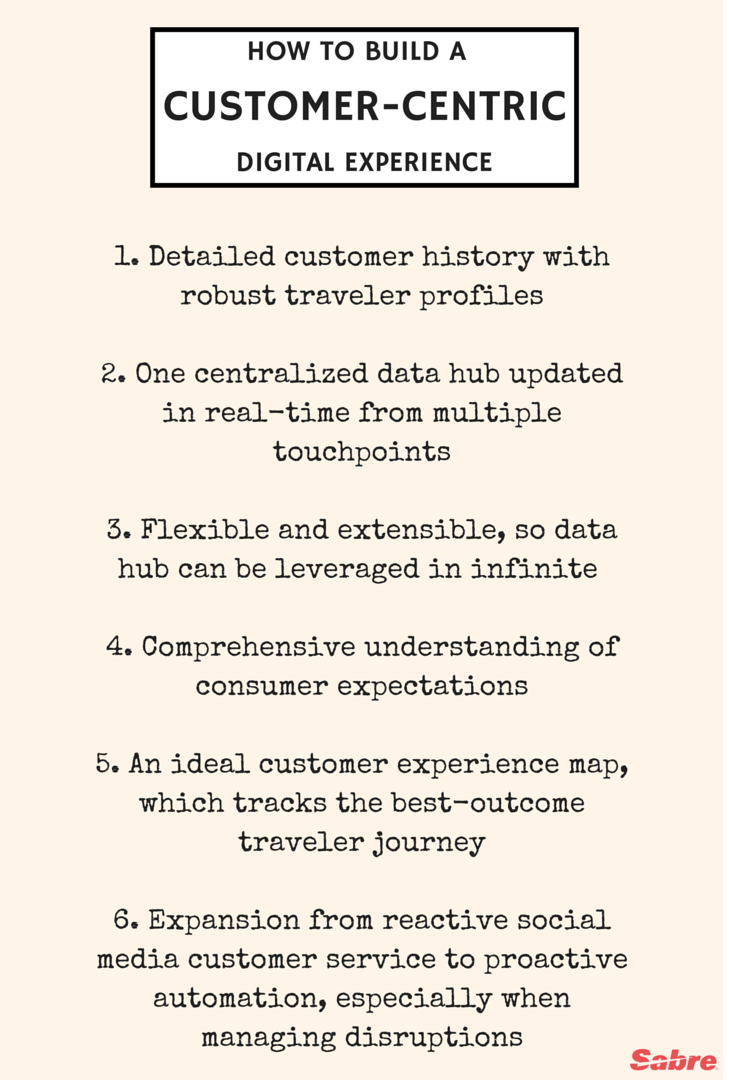 These characteristics are only part of the process to build a 360-degree view that truly delivers on the traveler's growing expectation of deep personalization.
Iain Meaker, the Executive Manager, Commercial for Kulula.com, believes that these evolving traveler expectations are key to driving innovation for airlines:
"Our customers are looking for more control. They seek out choice. Certainly, our ability to provide an easier and more convenient experience on how they shop for travel. Give them a reason to travel and let the opportunities around specific events in their lives bubble up. [The traveler can] assist us with the process."
Meaker also emphasized the importance of being real with customers, and how technology can facilitate a more open relationship with travelers.
"[We need] a strong servicing proposition, in terms of how our customers get information. A more honest approach: If we delay, we need to tell customers as quickly as possible what the implications of those delays are."
For more on building customer memory through a customer-centric digital experience, download the report here, and check out the livestream recording below for a real-time look at how airlines are approaching this emerging trend.