SINGAPORE – 16 June, 2016 – ezTravel Travel Services Co., Ltd. has signed a multi-year content and technology agreement extending its long-term relationship with Sabre Corporation (NASDAQ: SABR) and introducing new solution Bargain Finder Max to deliver on its lowest price promise to customers and enhance the travel shopping experience. 
Sabre Bargain Finder Max is the latest innovation in low-fare search technology, providing hundreds of itinerary options combining price with detailed search criteria to meet evolving online shopper expectations for speed and choice.
Commenting on the solution roll-out, Jack You, CEO of ezTravel Travel Services Co., Ltd., said: "Our core service has been built around the ability to combine rich, low-cost content with a highly convenient and personalised online travel service. We're introducing Sabre's search and automation technologies to further enrich the traveller experience and maintain the leading online position we've established."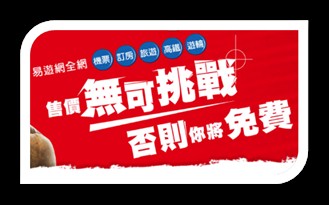 ezTravel's low fare content is marketed through regular campaigns
such as weekend fare promotions and a lowest price guarantee.

"To continue enhancing the service we deliver to customers – from search to purchase – we need a technology partner that combines the best fare options with a level of search customisation an delivery speed that matches today's more sophisticated shopper preferences," continued Mr. You.
"A key focus for us today is helping our OTA customers review their business operations – in its entirety – to ensure they're equipped with the best technologies to enhance the customer experience and drive down costs at all points of the travel selling cycle," said Roshan Mendis, senior vice president for Sabre Travel Network Asia Pacific. "For example, time saved on better automating the ticketing process alone can translate into thousands of dollars every year for large agencies like ezTravel."
Sabre Corporation is the leading technology provider to the global travel industry, serving customers operating in 160 countries. Sabre processes over $120 billion in travel spend every year and its technology books over 2,000 trips every minute of every day.
###
About Sabre Corporation
Sabre Corporation is the leading technology provider to the global travel industry. Sabre's software, data, mobile and distribution solutions are used by hundreds of airlines and thousands of hotel properties to manage critical operations, including passenger and guest reservations, revenue management, flight, network and crew management. Sabre also operates a leading global travel marketplace, which processes more than US$120 billion of global travel spend annually by connecting travel buyers and suppliers. Headquartered in Southlake, Texas, USA, Sabre serves customers in more than 160 countries around the world.
About ezTravel Travel Services Co., Ltd.
ezTravel was established in January 2000, offering a comprehensive range of online booking and online payments through the Internet. The Company now possesses a capital of 228 million Yuan, with 650 employees and 2.3 million members, serving over 12 million passengers. Since the starting of operation in April, 2000, it has long been a leader in online travel industry, which not only keeps a sustained and rapid revenue growth, but also ranks first among domestic tourism sites in term of operating performance.

Media Contact
Hilary Davies, Sabre Asia Pacific
+65 6426 0788
hilary.davies@sabre.com