Sabre supports Scoot-Tigerair's vision to offer affordable flight options and seamless customer experience for travellers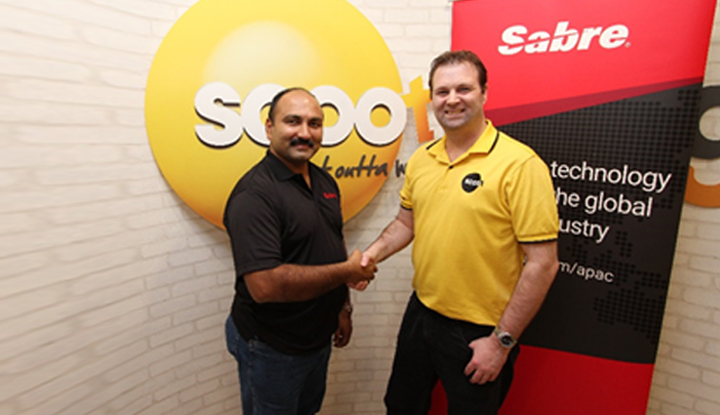 SINGAPORE – 5 May, 2017 – Sabre Corporation (NASDAQ: SABR), the leading technology provider to the global travel industry, today announced a new global distribution partnership with Scoot-Tiger Airways. This partnership is in line with Scoot-Tigerair's vision to bring affordable flight options and seamless customer experience for passengers around the world.
With the market becoming more competitive as travel service providers adapt to the changing habits and behaviours of travellers, particularly around addressing the demand for low-cost flight options, Sabre's technology will enable Scoot-Tigerair to maximise its reach through the Sabre Travel Marketplace, connecting them to more than 425,000 travel agents globally. This helps ensure that consumers have access to the best possible deals available while creating more revenue opportunities for the airline and travel agents.
"Low-cost carriers (LCCs) are the biggest growth drivers in the region. This trend is likely to continue as countries in the region experience rising incomes and a propensity for short- to mid-haul travel. Airlines like Scoot-Tigerair are expanding their reach rapidly to cover destinations across the region to keep up with traveller demands. As one of the first LCCs in the region, we are honoured to work with Scoot-Tigerair, and our technology will allow them to compete more effectively in a very competitive environment," said Rakesh Narayanan, vice president of Supplier Commerce, Sabre Travel Network Asia Pacific.
Effective May 2017, Scoot-Tigerair's fares and ancillary offerings will be available to Sabre travel agents globally, allowing them to choose the most cost-efficient routes and packages for their customers.
"Scoot-Tiger Airways has offered affordable airfares since Tigerair started in 2004 and Scoot in 2012. We have been adding more destinations constantly and entered into partnerships with airlines and alliances to ensure that we provide the best value for our customers," said Mr Trevor Spinks, Head of Sales and Distribution, Scoot-Tigerair. "We are confident that the industry-leading solutions developed by Sabre will extend the reach of our value proposition, and help to drive aviation growth for the region."
Scoot-Tiger Airways is a subsidiary of SIA Group and flies to 60 destinations in Asia Pacific between their networks and interline partnerships. Scoot-Tiger Airways tickets are now available via Sabre.
###
Notes to editors:
Media Contact:
Linda Koh, Sabre Asia Pacific
T: +65 64260616
linda.koh@sabre.com
About Sabre Corporation
Sabre Corporation is the leading technology provider to the global travel industry. Sabre's software, data, mobile and distribution solutions are used by hundreds of airlines and thousands of hotel properties to manage critical operations, including passenger and guest reservations, revenue management, flight, network and crew management. Sabre also operates a leading global travel marketplace, which processes more than US$120 billion of global travel spend annually by connecting travel buyers and suppliers. Headquartered in Southlake, Texas, USA, Sabre serves customers in more than 160 countries around the world.
About Scoot™
Scoot™, the low-cost, medium haul arm of the Singapore Airlines Group managed by Budget Aviation Holdings, has carried over seven million guests since taking to the skies in June 2012. The world's first all 787 Dreamliner fleet operates between Singapore and Sydney, Gold Coast, Bangkok, Taipei, Tokyo, Tianjin, Shenyang, Nanjing, Qingdao, Seoul, Hong Kong, Perth, Osaka, Kaohsiung, Hangzhou, Melbourne, Guangzhou, Jeddah, Chennai, Amritsar, Sapporo, Jaipur, Dalian and soon to Athens. Scoot provides – in addition to fantastic value airfares – a safe, reliable and contemporary travel experience with a unique attitude – Scootitude™. Offering amenities including on-board Wi-Fi Internet connectivity and in-seat power as well as the ability to redeem and accrue Singapore Airlines KrisFlyer miles, Scoot was voted 2015-16 Best Low Cost Airline (Asia/Pacific) by AirlineRatings.com and ranked in the Top 10 of the World's Best Low-Cost Airlines in 2015 by Skytrax. Scoot is passionate about changing the way people travel long distance. Book your tickets at FlyScoot.com or contact our Call Centre. Find out more on FlyScoot.com, Facebook.com/FlyScoot, Instagram.com/FlyScoot or Weibo.com/Flyscoot.
 About Tigerair
Tigerair is the low-cost, short-haul arm of the Singapore Airlines Group managed by Budget Aviation Holdings. Established in 2004, Tigerair is a leading Singapore-based no-frills airline that offers affordable travel options and a seamless customer experience.
With a fleet of Airbus A320-family aircraft, Tigerair operates flights to 40 destinations across Asia including Singapore, Bangladesh, China, Hong Kong, India, Indonesia, Macau, Malaysia, Maldives, Myanmar, Philippines, Taiwan, Thailand and Vietnam.
Tigerair empowers travellers to explore new destinations, and accumulate memorable experiences, by offering an increased network of destinations. It is also committed to maintaining the highest standards of safety, security and reliability. For more information, please visit www.tigerair.com.