Viva Las Vegas! STX 2019 kicked off at one of the world's most famous destinations for gambling, but attendees didn't need any luck to experience the best in travel technology and thought leadership. Here are some of the top things we learned on Day 1.
1. There's power in partnership.
Our opening keynotes set the tone for the show and its focus on the future and innovation. President and CEO Sean Menke and Rachel Botsman, a world-renowned expert on the economy of "trust," each took to the stage. Sean outlined how Sabre is living out our commitments to our travel partners' success and to redefining the future of travel with them. Among the top takeaways from his presentation were these themes driving us to do both:
We believe there is power in partnership and that's why we created STX 2019. It is an event centered on creating innovation through collaboration.
Our team is hyper-focused on delivering the next generation of retailing, distribution and fulfillment solutions. With our Sabre platform at the center of the business of travel, we are innovating and creating intelligent solutions that help customers drive increased revenue, operate more efficiently, and offer and deliver personalized traveler experiences through imaginative technology.
We're ready to break barriers and are not only thinking about what we're doing for airlines, hoteliers, agencies and other partners in the travel marketplace today, but how we can tap into the world's entire $5 trillion-dollar marketplace to help create even more personalized and meaningful experiences for their travelers.
Together with our partners, we will enable travelers to go beyond single booking transactions to creating an individualized, compelling travel experience – across all aspects of their trips.
We remain dedicated to relentlessly managing complexity for our customers, driving innovation and enhancing the travel ecosystem. The tougher the problem, the more it fits in our wheelhouse.
Rachel's keynote focused on how consumers' trust in companies is radically changing in the digital age. She noted that human interactions are still an integral part of developing trust in the modern marketplace. "In an era of digital trust, the companies that will actually win are the companies that are the most human."
2. We've launched Content Services for Lodging.
Traci Mercer, SVP of Lodging, Ground, and Sea announced the release of Content Services for Lodging.  This new solution will integrate Sabre core content from hoteliers alongside content from Booking.com, Bedsonline, and Expedia Partner Solutions, making it easier for agents to find the perfect property.  CSL APIs launched today on Sabre Dev Studio, and developers at STX were able to attend a workshop today where they could be the first to access this new technology.  Learn more here: http://your.sabre.com/content-services-lodging
3. There's a retailing revolution underway in the hotel industry.
Sabre Hospitality Solutions president, Clinton Anderson, shared that hoteliers are no longer simply providing rooms. A retailing revolution is underway, and guests are looking to the hoteliers to provide choice, flexibility, and personalized recommendations. And Sabre Hospitality Solutions, with our deep hospitality and travel industry domain knowledge, is uniquely positioned to provide hoteliers the right data and insights to lead the way into the future of retailing in hospitality.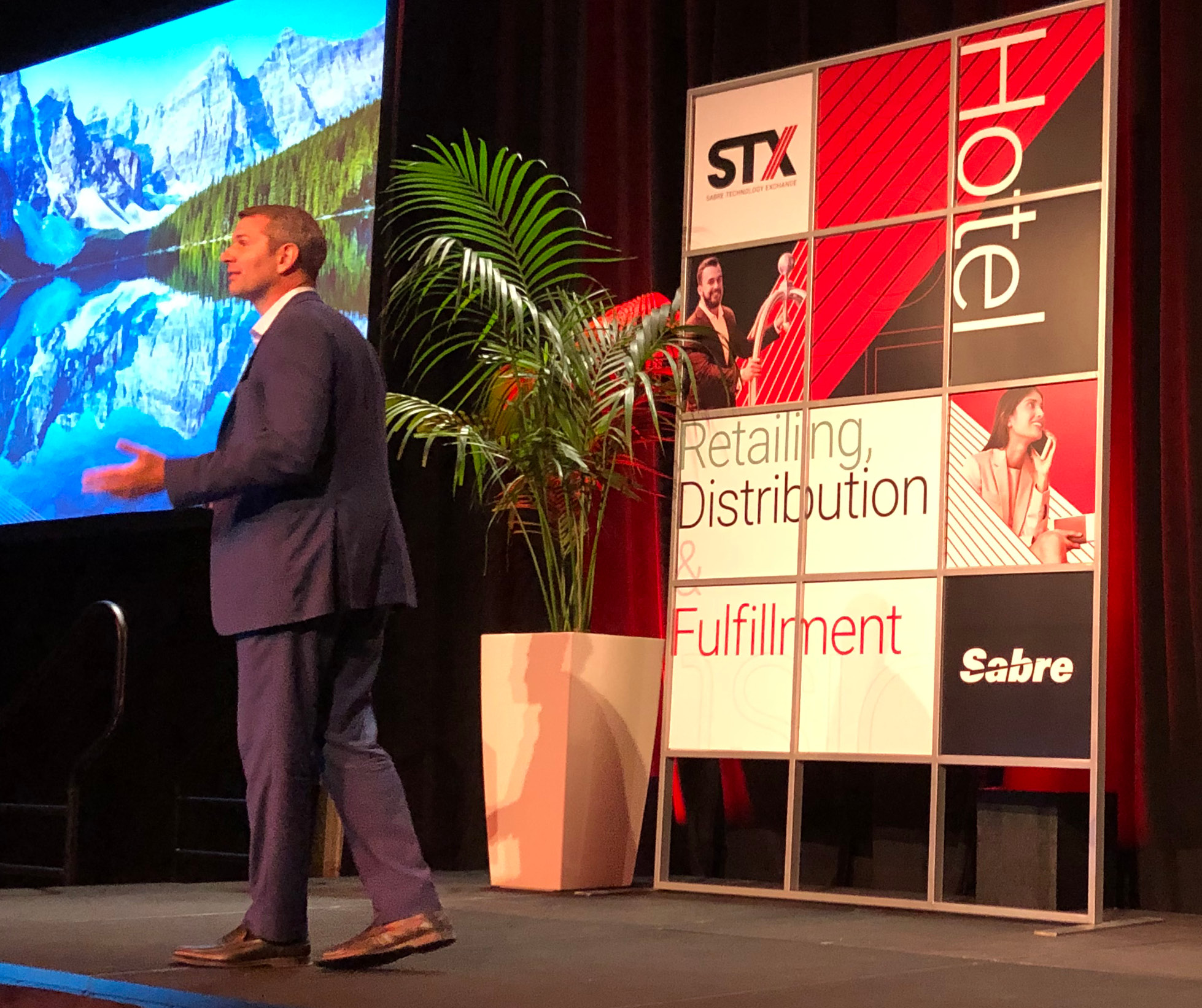 4. Micro-Apps offer big solutions to airlines' problems.
Airline customers were able to get hands-on experience with a few of our newest technologies and innovations at our tradeshow, The Exchange. One of the most popular solutions was the Intelligence Exchange (IX) Marketplace, a digital marketplace for fast-deployed Micro-Apps. Micro-Apps are designed to tackle airline's most persuasive business problems by harnessing the power of your data through flexible configurations that streamline development time. The IX Micro-App team featured the marketplace and demonstrated a couple of its most popular Micro-Apps including Fare Error Detector, Last Minute Upgrades and Instant Loyalty Accrual. Browse the latest Micro-Apps on the IX Marketplace: http://bit.ly/2L3mFKV
5. The Exchange is open for business.
Attendees visited over 70 booths at The Exchange. They networked and experienced product demos and a few surprises — including a virtual reality trip that takes them from space back to Earth. In addition to being introduced to our latest solutions and experts, attendees had the chance to network with businesses throughout the travel ecosystem — Booking.com, Expedia, HotelConnections, Aerodata, and more. And we introduced a first for The Exchange: It will be open every day of STX to give attendees maximum access to industry leaders and products.