Part 5 of the series "Diversification: The art of creating unique value"

---
Diversification – a risk-reduction strategy that involves adding product, services, location, customers and/or markets to your company's portfolio to set you apart from the competition.
---
In Part 2, 3 and 4 of our OTA diversification series, we discussed diversification with new models, new entrants and new demographic engagement. Hopper made a splash in the OTA pool with its mobile app-only model. Freebird is making a name for itself by helping travelers avoid excessive delays during flight disruptions. And Wing On Travel is using technology to harness shifting tastes in emerging consumer groups.
For those of you that answered the survey in Part 4, here's the breakdown of what you booked most often through your favorite online travel agency: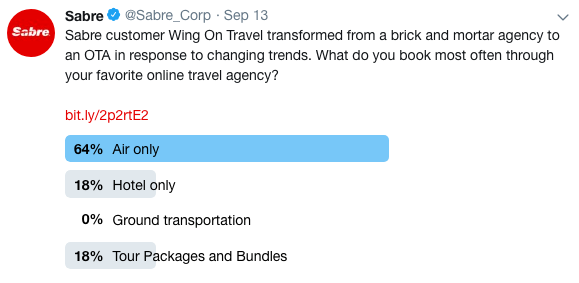 Flights are the clear winner!
In Part 5 of this series, we will discuss diversification to meet the needs of those flying across regions.
Why consider diversification via global expansion?
Looking at markets and predicted OTA growth, the opportunity to diversify through international expansion could increase revenue and share. The global travel market is projected for continued growth across all regions.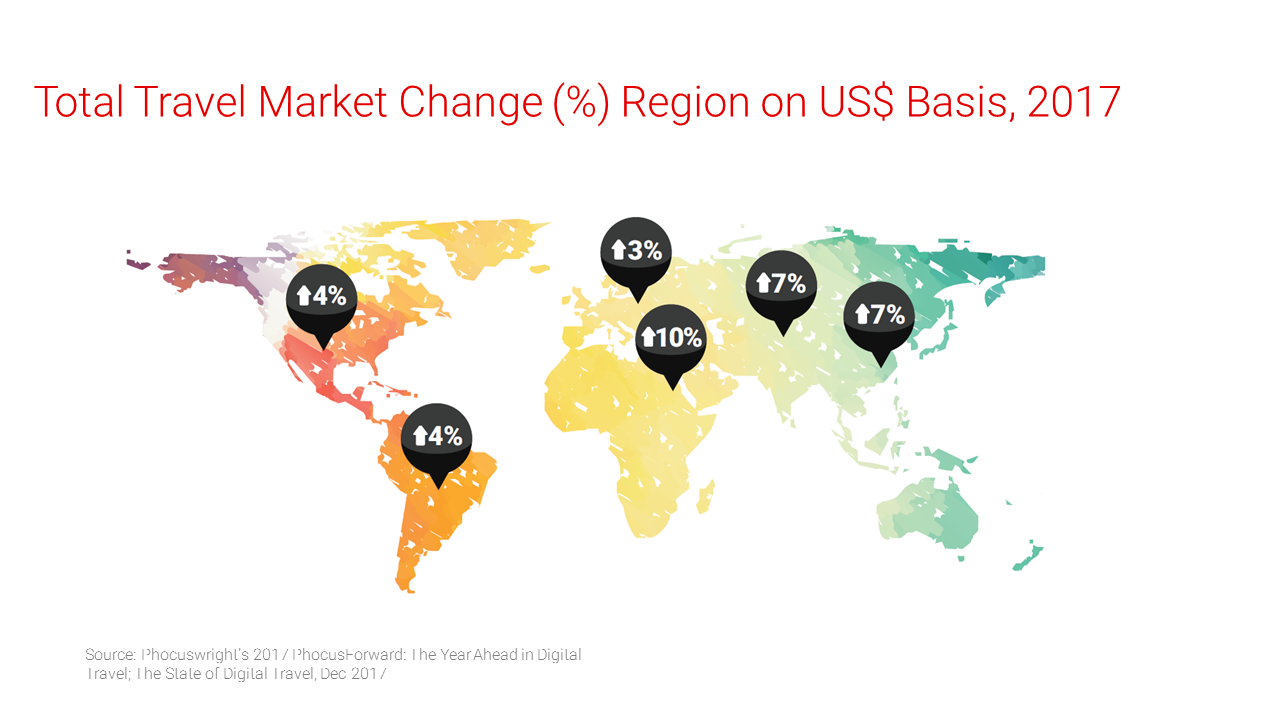 We see many online agencies looking to other regions for expansion opportunities.
Build, buy or partner?
There is more than one way to expand beyond current markets.  Many OTAs expand via acquisitions, alliances and investments to support their global diversification strategies. The following charts outlines three popular methodologies and some considerations around "path," "methods" and "risk."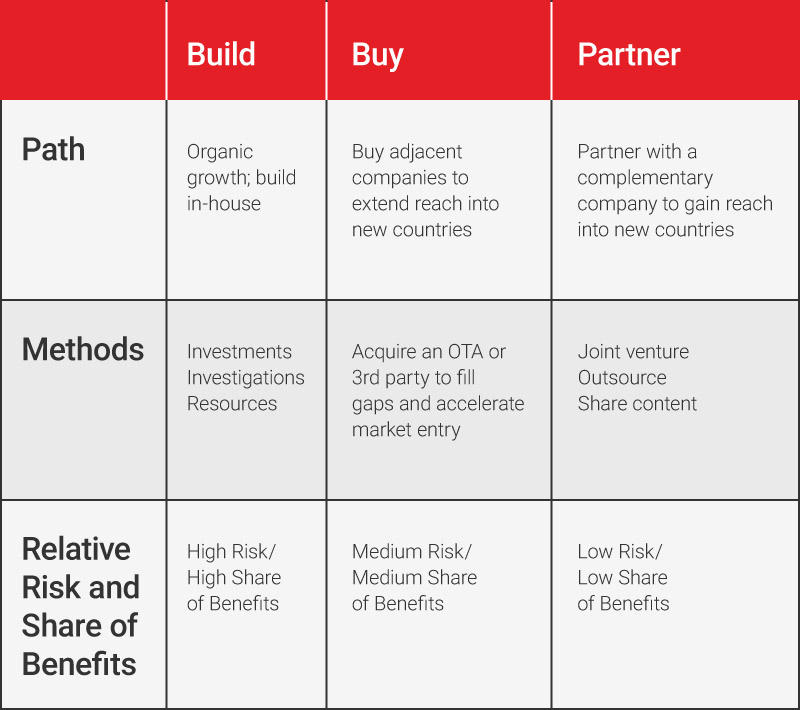 Build – often arduous, yet fruitful
An example of an online travel agency with a diversification strategy to expansion beyond its borders is On the Beach based in the UK.  Its goal is to expand its business model across Europe to Belgium, Denmark, France, Germany, Italy, Netherlands, Norway, Spain and Sweden. The opportunity among these countries for packaged vacations is €55 billion. Over recent years, On the Beach has started its expansion with Denmark, Norway and Sweden.  As Patrick Whyte of Skift noted in a recent article: "'On the Beach's careful approach to expansion shows just how difficult it can be to grow in foreign source markets. Europe isn't one big country and if you don't make acquisitions, expansion can be a tedious process. But one of those acquisitions might just be the one that pays off in the long term.'" We will continue to watch the results of European expansion of On the Beach.
Buy – often swift growth
Otravo continues to propel its growth through acquisitions. The parent company of Vliegtickets.nl, acquired Flygstolen and Greitai and is now in the process of merging with Travelgenio.com, becoming one of the top-five online agencies in Europe with a joint sales volume of €1.6 billion (up from €600 million less than two years ago). This strategy is enabling Otravo to take big steps towards rapidly building a presence worldwide.
Partnering – often a win-win
When evaluating entry into new countries, there are many technical considerations and guidelines that vary country-by-country. Partnering with a  third party developer with in-country expertise, instead of researching and building in-house solutions, can improve efficiencies of global expansion. Sabre offers connections to Sabre Travel Network Authorized Developers to meet your needs.
Decisions, decisions
Beyond the market entry path, there are numerous considerations and barriers to keep in mind that can be grouped into the following categories. An in-depth analysis is imperative when considering expansion into a new country.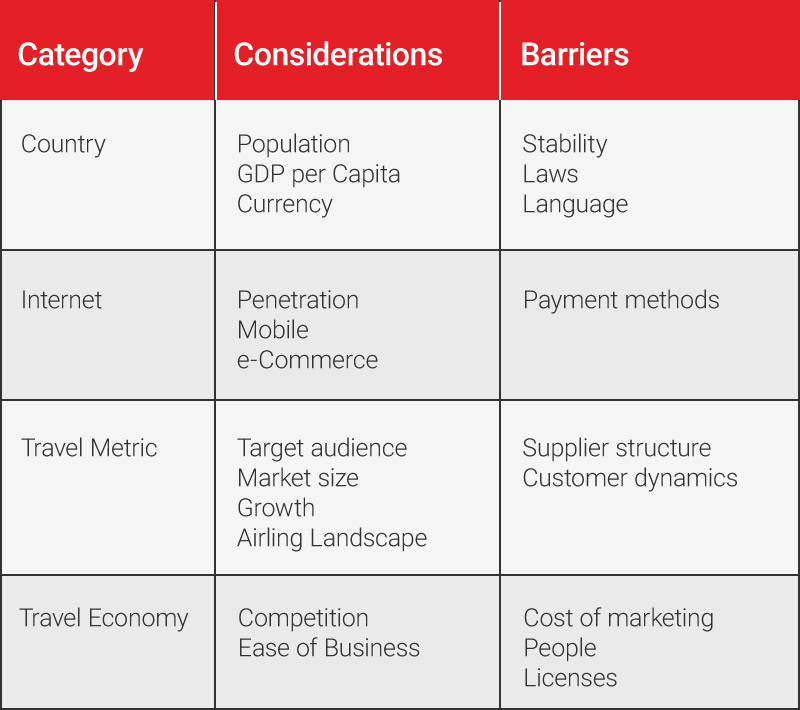 Case in point, China is on everyone's radar right now. According to a 2018 report by Phocuswright analysts Chetan Kapoor and Maggie Rauch, it is the biggest OTA market and second fastest-growing OTA market, accounting for 50 percent of the channel's total size within the Asia Pacific region. China's OTA gross bookings are predicted to increase 84 percent from 2017-2021.
However, when you start to investigate the points under considerations and barriers for China, you will quickly discover the following:
Social media
When Chinese consumers want to travel, they search with their own social media sites: Weibo, WeChat, Douyin/TikTok and Xiaohongshu/Little Red Book and videos on Youku.
Website
Unlike most countries, there are many "musts" in China. Dragon Trail Interactive, a marketing firm centered on Chinese travel trends, recommends that sites be:
"Hosted in China" (registrations, licensing, and much more).
Supported in Chinese (Chinese travelers favor researching and booking destinations in Chinese).
Revised so that content appeals to Chinese viewers (cultural differences lead to different wants in travel).
Screened for third party apps and websites (e.g., Facebook, YouTube, Twitter and Instagram are blocked in Mainland China).
"SEO-friendly for Baidu" (a leading Chinese search engine).
Payments
Mobile payments in China are integral to life. Mobile payment accounts can pay for fast food, utilities, parking expenses or for an airline ticket. According to Dragon Tail Interactive, there are two major mobile payment players in China, each with significant user populations as of 2017:
Alipay: 600 million users.
WeChat Pay: Approximately 688 million users.
This is just the beginning of items to consider for China. A lot to take in as far as thinking of all factors affecting global expansion!
International expansion with Sabre expertise
It can be overwhelming to undertake this endeavor. The following are recent examples of how Sabre can help.
Middle East – expanding through partnerships
Rehlat utilized its partnership with Sabre to establish connections with fulfillment agencies across the Middle East region – including Egypt, Oman, India, UAE, Bahrain and Saudi Arabia.
"In some of our offices, we work through different local agencies and Sabre is the company that introduced us to them, which has been invaluable," says Bader Al-Bader, Rehlat's CEO. "Sabre really opened the door for us at these partner agencies and they still do, even going as far as traveling with us to Egypt to help us get established there."
North America – guidance and consulting
Over the past year, Sabre consulted with Hopper to provide insights for international expansion into Europe, Asia Pacific and Latin America. Sabre provided connections and insights, including:
Connection to IATA for BSP accreditation process.
Connections to local Sabre team members in target countries for guidance.
Introductions to local suppliers in target countries.
Latin America market briefings.
"With Sabre's expertise and support, we were able to quickly understand the scale and scope of work for international expansion. Their guidance and connections enabled smooth transitions and market entries," Dakota Smith, head of growth and business at Hopper.
Asia Pacific
The Sabre Global Consulting team can identify the highest-value opportunities for international expansion. Recently, the consulting team worked with an agency in Asia Pacific interested in diversification through international expansion. Based on their long-term growth strategy, the consulting team analyzed the options, shared their expertise and experience, and provided country-specific recommendations. Their recommendations were based on several factors including, low barriers-to-entry based on current brand awareness, current and competitor penetration, and growth potential of the market.
Key takeaways
If global expansion is your choice for diversification (gaining additional share and revenue), it may not always be an easy path.
Start a review process with a detailed check-list to determine viability.
Determine whether your path for global expansion will be organic or through a partnership or alliance.
To learn more about global expansion and the support available through the Sabre Global Consulting Team, check out our whitepaper, or contact your Sabre representative.