"Sleep on the bus and take pictures off the bus", "glance over things in haste and be always in a hurry"…
These descriptions of Chinese tourists are clearly irrelevant today. A booming Chinese economy and a new generation growing up with the internet are shaping the image of today's Chinese travellers. Below Alan Chen, Regional Director, North Asia, Sabre Travel Network Asia Pacific, shares his thoughts on the recently launched report The Evolving Chinese Traveller and why the findings matter.
Before we delve deeper into the study, can you share with us what you see happening currently in the Chinese travel industry?
I would like to summarise my understanding of the current China's tourism industry in the following areas.
Growth – As we all know, China is the world's largest outbound tourism market. As early as 2013, China's outbound traveller numbers and tourism revenue began to rank first in the world. In the last 12 years, it maintained a double-digit rate of growth. According to statistics, in the first half of 2016, China's outbound tourism population reached 59.03 million people. As the largest overseas tourism consuming country, China contributes more than 13% of global tourism revenue1.
Growth drivers – As one of the world's most active economies, the Chinese economy is running smoothly. In 2016, the GDP grew 6.7% and steady economic development has led to strong growth in the tourism sector2.
Other macro trends – Modern-day China has enviable social stability. In addition, China's government continues to encourage a successful and sustainable tourism industry by monitoring developments and introducing various policies that promote the progression of the tourism sector.
Forecast – it is expected that the number of outbound Chinese tourists will reach 130 million in 20172. During the next few years, China's tourism market will continue to grow.
No doubt that China will continue to dominate the global travel market given its size and rapid development. Do you observe any other trends that will reshape the global landscape?
We see that the behaviour of Chinese travellers, as well as their preferences, travel motives and expectations, are changing rapidly. Exploring the driving force and trends behind these shifts can provide valuable insight into the development of the industry. This may in turn help our customers provide personalised services to effectively meet the needs of travellers, which is why we continue to commission in-depth studies analysing the behaviour of Chinese travellers. 
Walk us through the highlights of the study's findings
We notice three main attitudinal and behavioural shifts among Chinese travellers.
1) Travel is no longer a luxury, but a necessity
Compared to that of three to five years ago, the per capita income of Chinese people has increased markedly. For most Chinese people, travel has transitioned from a luxury activity to one of necessity. Through travelling, they want to understand local customs, experience various cuisines and develop a comprehensive understanding of themselves. The survey shows that compared to that of five years ago, nearly 90% of Chinese travellers now have relatively sufficient funds and they wish to travel more frequently. Other factors contributing to travel growth include higher disposable income (20%), technologies making travel more convenient (17%) and easy access to relevant travel information (15%).
2) The purpose of travel is not just for self-relaxation, but also to meet requirements of emotional communication and interpersonal relationships
Chinese people today are no longer satisfied with experiencing cultures superficially and simply scratching the surface of traditional attractions. Instead, they regard travelling as a means of self-improvement, emotional satisfaction and interpersonal communication. They are more demanding when it comes to travel experience, especially the millennials who grew up with the internet. The top three travel motives are to find a place to relax (25%), to have good times with friends or family (22%), and to gain a better understanding of foreign cultures (17%). They have two main attitudes towards travelling: 49% of respondents believed that travel is a means of personal promotion, while more than half (51%) of respondents said travel has become a new form of social currency.
3) Individuality and the pursuit of personalised service are typical demands of the new generation of travellers
Chinese demand for travel has changed overall as more importance is placed on "quality" rather than "availability". More travellers are concerned about the quality of travel and are more inclined to personalise their travel experience. They seek greater flexibility to plan independently. The majority of respondents (74%) expressed their willingness to spend time and effort to develop travel plans, which reflects a growing sense of self-empowerment and investment in a personalised travel experience.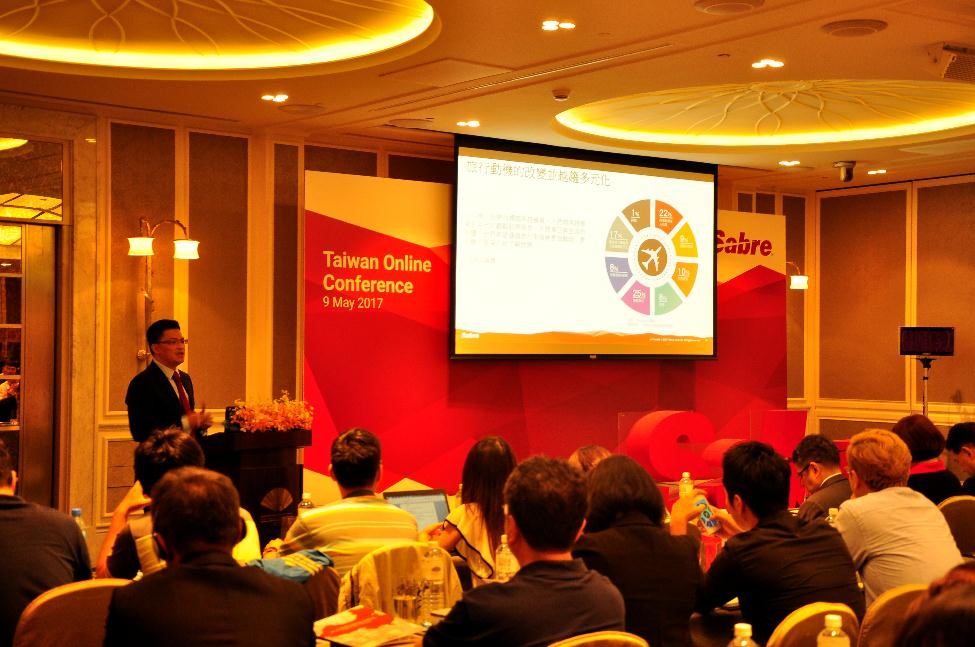 Alan Chen presenting on the findings of "Evolving Chinese Traveller Study" at Sabre's Taiwan Online Conference
You mentioned social currency. Can you elaborate a little more on that?
Put simply, social currency is the idea of shaping one's own products and ideas by leveraging people's tendency to share with others, so as to achieve "Word of Mouth". We learned from the survey that compared with the past, Chinese people now place importance on their connection with friends and family and enjoy sharing experiences. Their trip is to share with others. Among the respondents, 57% said that travel is to share experiences with family and friends to establish a close relationship and 56% said that travel is to get life and travel experience to share with others. In particular, with the widespread use of social media, sharing their travel experiences can help them strengthen close relationships and thus help them to gain popularity and social satisfaction.
 
Why are these results significant in the context of the broader Chinese travel landscape and how will this play out in the global travel scene?
There is no doubt that Chinese travellers will pay more and more attention to the personalised travel experience in the future. However, more control over travel plans will not replace the external support and travel guidance given by travel service providers and agents. In fact, many Chinese travellers (78%) still welcome and value support and advice from friends, relatives and travel service providers.
Three to five years ago, respondents reflected the lack of travel information (accounting for 60%). Now, nearly half of the respondents (46%) think there are too many travel options and information available. With so much information, travellers need travel service providers to present useful and relevant information to them clearly and succinctly. Given the dominance of China, the behavioural trends we observe today will have a significant impact on the growth pattern of the global tourism market. Moreover, their demands for better technology and personalisation will also provide development opportunities for travel providers.
What should travel providers as a whole be doing more to keep up with Chinese travellers' evolving needs and make their strategies more Chinese-centric?
The continued growth of technology and disposable income have contributed to the development of China's travel industry. With the constant evolution of travellers' motivations and preferences, key industry players must keep up with the changing demands of Chinese travellers to be able to leverage from opportunities. Travel professionals will only be able to harness this wave of advancement by revising strategic approaches to travel management and growing alongside the shifting preferences of travellers. Sabre is launching more data-driven decision support tools this year to help airlines, hotels and travel agents track and understand the changing personal profile of their customers in order to create a more personalised experience for travellers.
Tell us more about what Sabre is doing in China and how Sabre can help customers cater to the needs of the evolving Chinese travellers
Sabre has had offices in China since 1994, which now include Beijing, Shanghai, Guangzhou, Shenzhen, and Chengdu. We are invested in expanding our local approach. Around the region, we locally prioritise our customers and partners to ensure relevancy and that the right support is in place to make the new technologies we bring a workable reality.
Over the past 20 years, we have witnessed huge development and change in China's travel industry. As China reshapes the global travel landscape in the next decade – which it no doubt will – we hope to have the opportunity to play a part in this evolution.
Available in Simplified and Traditional Chinese, be sure to download a copy of '"The Evolving Chinese Traveller" report, conducted by Sabre in partnership with Shanghai Donghua University.
Sources:
1 UNWTO's report as released in Berlin on 08 Mar 2016
2 China's Tourism Performance Review & Forecast (2016-2017), China Tourism Research Institute