In 2016, messaging app usage has surpassed that of social networks [1] and it shows no signs of slowing down. Anupam Bokil, vice president of Technology for Sabre Travel Network Asia Pacific believes that messaging apps will be the next frontier in travel.
While users may suffer from social media fatigue (the tendency to pull back from social media when they become overwhelmed with too many social media sites), messaging apps have the ability to create a stronger connection with their users as content delivered through these apps tends to be more focused and personalised.
WhatsApp and Facebook Messenger are dominant messaging apps that are used by a massive number of users worldwide today. Messaging apps that cater to Asia such as WeChat, KakaoTalk, and LINE have also gained significant adoption and are staying ahead of the competition by constantly introducing innovative ways to engage users.
Consumers want information on the go, and they want immediate response. The convenience and personalisation that messaging apps bring are reasons why they boast hundreds of millions of monthly active users. More than just a peer-to-peer messaging platform, these apps are also fast becoming the go-to channels for connecting with brands when it comes to getting product information or completing online transactions. Companies such as KLM Royal Dutch Airlines and Uber are already using Facebook Messenger to update their customers on flight information, as well as paying for their rides.
Asia Pacific: Leading region for mobile apps
According to Phocuswright's Global Online Travel Overview Fourth Edition, Asia Pacific leads in world mobile booking adoption when compared to five other regions – U.S./Canada, Europe, Eastern Europe, the Middle East and Latin America. By 2017, mobile bookings are projected to represent 37% of the online travel bookings in APAC [2].
Asia (in particular East and Southeast Asia) is also one of the most mobile-driven regions in the world. Smartphone penetration is higher than desktop penetration, making it the world's leading region for app revenue [3].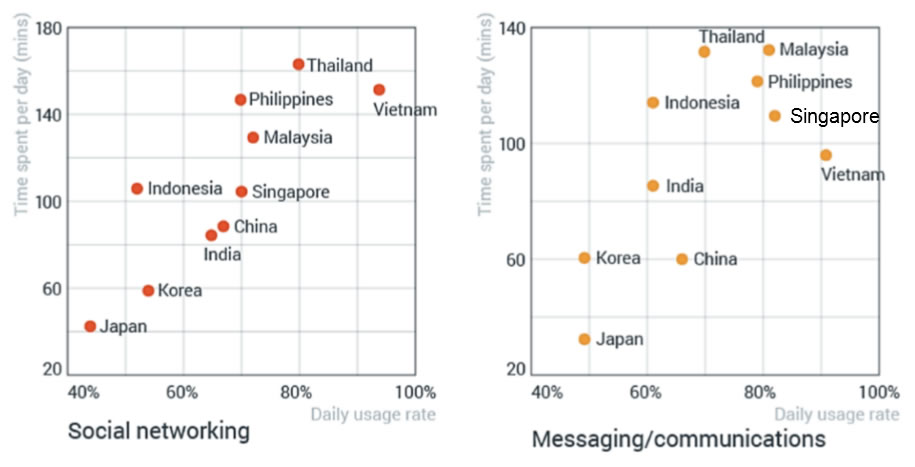 Time Spent on Social and Messaging Apps in Asia
Source: TNS/Google, "Mobile App Usage Study," 2016.
Conversational commerce: Messaging Reimagined
Coined by former Uber developer experience lead Chris Messina (who predicted that 2016 would be the year of conversational commerce), conversational commerce "largely pertains to utilising chat, messaging, or other natural language interfaces (i.e. voice) to interact with people, brands, or services and bots that heretofore have had no real place in the bidirectional, asynchronous messaging context. The net result is that (we) will be talking to brands and companies over Facebook Messenger, WhatsApp, Telegram, Slack, and elsewhere before year's (2016) end, and will find it normal." [4]
Increasing business transactions have been conducted through messaging apps in recent years. Messaging is evolving from just simple social conversations to business-related conversations that encompass both customer service and conversational commerce [5]. Compared to traditional channels, messaging apps offer immense convenience as they allow consumers to make payments (and keep a documented record of transactions) without having to toggle between multiple channels.
At its core, conversational commerce is purchasing an item within the context of a conversation with a chatbot. Chatbot primarily exists in messaging platforms and it refers to a digital personality programmed to communicate in natural language. It is a hybrid of "chat" and "robot" designed to use voice or text to answer questions or engage a user. Chatbots have the ability to hold a conversation with the user and perform tasks such as booking flights, changing fares or suggesting a room upgrade.
As such, more business owners are using chatbots to provide merchandising and support services to customers because of the operational efficiencies they can provide.
WeChat leads the way
Facebook's Messenger now supports Group Payments and Snapchat allows users to send money using "Snapcash".
China's WeChat has been an impressive game-changer — driving nearly RMB 300 million in bank transfer fees [6]. Started by only allowing users to send text and pictures, WeChat has moved beyond just chatting and evolved into an ecosystem of commerce, payments and many other services.
Its growth in China is remarkable. By 2016, there were over 700 million users [7] and it is one of the world's most popular messaging apps.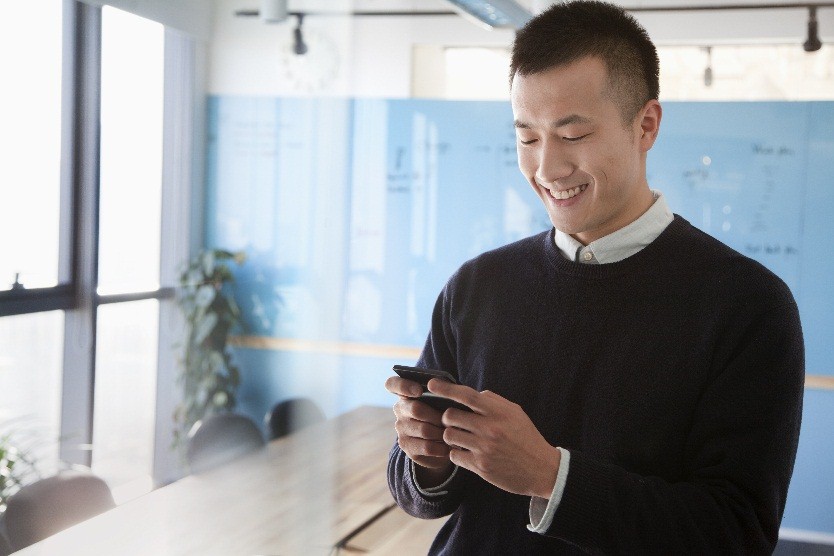 1 in 3 Use WeChat Pay in China
User experience matters
Beyond transaction, the need to deliver an engaging, fuss-free user experience- from trip discovery to booking to in-trip support – should not be overlooked.
The chatbot should ideally offer suggestions that anticipate the traveller's wants and needs, as well as provide immediate help service during trip disruptions in order to deliver a truly differentiated customer experience.
Two conditions are crucial in order for conversational commerce to work. First, the ability to understand customer intent and second, context.
The chatbot has to understand the preferences of the traveller, as the value of its response is dependent on this. Without a basic level of personal profile, the chatbot may suggest a beach destination that is popular with others but potentially ignore the traveller's personal preferences. Ultimately, the goal is to remove the travellers' need to search multiple websites for hotel and flight options by delivering just a few relevant options that are best suited to the traveller for each trip.
Once the chatbot understands what the user is saying, the context of the conversation comes into play. Context is crucial to sustaining the conversation. Imagine chatting with 'someone' who's giving totally irrelevant suggestions because the dialogue was not kept in context.
What's next
Chatbots for commerce is still in the infancy stage of development. A fully automated text-based travel reservation conversation is only effective if the chatbot understands the query completely.
Chatbots are intelligent but not smart enough to replace a meaningful human conversation.
Although humans remain very much the drivers of conversations, with the rapid advancement of Artificial Intelligence, a true intelligent chatbot capable of complex and frictionless interactions is not unimaginable in the near future.
For more insights on how emerging technology is impacting the travel industry (across all generations and broken down by travel segment), download the Emerging Tech in Travel Report.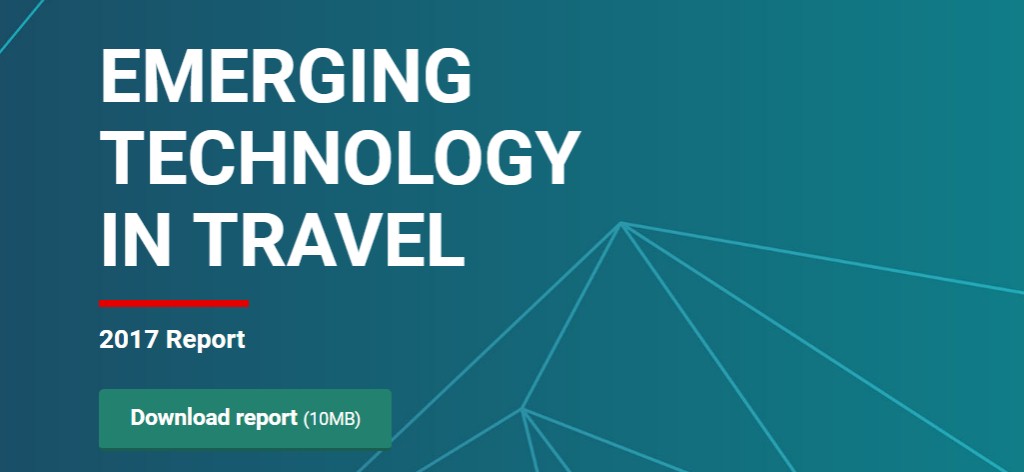 References
[1] http://www.businessinsider.com/the-messaging-app-report-2015-11?IR=T&r=US&IR=T
[2] http://www.phocuswright.com/Travel-Research/Market-Overview-Sizing/Global-Online-Travel-Overview-Fourth-Edition
[3] http://apac.thinkwithgoogle.com/articles/mobile-apps-in-apac-2016-report.html
[4] https://medium.com/chris-messina/2016-will-be-the-year-of-conversational-commerce-1586e85e3991
[5] http://www.kpcb.com/blog/2016-internet-trends-report
[6] http://www.prnewswire.com/news-releases/tencent-announces-2015-fourth-quarter-and-annual-results-300237636.html
[7] http://www.economist.com/news/business/21703428-chinas-wechat-shows-way-social-medias-future-wechats-world