Following Nintendo's Pokémon Go that swept the world by storm, digital realities (virtual, augmented and merged reality) have captured both the attention of companies and consumers globally.
The number of products and platforms boasting these technologies is on the rise. Digital realities have been forecasted to be a $162 billion market by 2020 [1], with major players and tech giants already investing heavily in them.
While the travel sector is excited about augmented and virtual reality technologies' potential to deliver immersive experiences, how are travel companies actually using these technologies?
Virtual, Augmented or Mixed Reality?
In Sabre Labs, "digital realities" is used as the umbrella term for a family of related technologies.
To help you understand these technologies and the spectrum of experiences better, each concept is discussed below:
– Virtual reality (VR) attempts to fully replace the sights and sounds of the real-world with a digital world. A user, for example, can be transported into the halls of The Lourve in Paris and two minutes later, he can be climbing The Great Wall of China in Beijing.
– Augmented reality (AR) adds a layer of digital content to the user's real-world while still keeping the senses engaged in the real-world environment. For instance, a user may see objects or information floating in front of their environment or virtual creatures superimposed into real-world surroundings.
– Mixed reality, a.k.a. merged reality (MR) is augmented reality plus interaction— an experience that seamlessly blends the user's real-world with digitally-created content, where both environments coexist and interact with each other.
In many cases, the terms "AR" and "MR" are being used interchangeably.
All these technologies exist on different levels of sophistication. Today, high-end offerings that provide premium consumer experiences remain niche products, while entry-level virtual and augmented reality experiences can be accessed via just our mobile devices. Yelp Monocle and Google Translate are such notable AR examples, while Samsung Gear VR and Google Cardboard are VR headset examples designed to work with smartphones.
How are these technologies changing our travel experiences
Digital realities are expected to transform several sectors of the economy such as education and healthcare but the travel industry is looking to capitalise on the technology experience. From hotels to airlines and travel agencies, travel companies are tapping into digital realities to showcase destinations that are visually spectacular, giving customers a multi-sensory engagement experience with the destination even before they book their trip.
Immersive experience
Consumers are able to indulge and immerse themselves in exhilarating, extreme adventures such as scuba diving, zip-lining or skydiving with VR – all from the comfort of their homes.
From experiencing a thrilling ride at a theme park to visiting museums and shops of various countries, VR is able to teleport one to new locations as they experience the surreal feeling of actually being there. Consumers can use VR and 360-degree video to scan the surroundings of a desired destination or resort before booking their stay. The immersive experience will allow customers to envision themselves there and inspire a wanderlust almost instantly, having them yearning for a holiday getaway.
Some companies have been nailing the AR/VR experience.
4D VR travel experience by Marriott
In order to stimulate its guests' senses and create inspiring experiences, Marriott introduced its "first-ever immersive 4D VR travel experience" called the Teleporter. Delivered via an Oculus Rift headset, customers will experience the destination inside a special "Teleporter station" while smelling the salty air when on the beach and feeling the ground shake when crawling through a wormhole etc.
VR app by Qantas Airways
Just last year, Australia's Qantas Airways released the new Qantas VR app, giving customers an interactive new way to discover and explore some of the destination's stunning views before physically travelling there.
PIVOTtheWorld by Harvard Innovation Lab
This app features innovative AR technology and allows users to visually experience the history of Harvard on their smartphones. They can instantly view historical information, activities options, navigation assistance, special restaurant offers, social engagement and personalised content either overlaid or integrated into the real-world environment.

Sharing travel stories
Social media platforms like Facebook and YouTube have included the option to add and share VR videos and photos. When a traveller pairs a VR headset with a 360-degree camera, he is able to seamlessly take photos and videos of his journey and share them with his friends, giving them a virtual experience of the real one.
Besides Teleporter, Marriott also launched "VR Postcards" – a virtual travel content platform that allows customers and the general public to experience captivating travel stories in 360 3D via a VR headset. Customers staying at selected properties around the world can 'order' virtual experiences to their rooms and immerse themselves in other travellers' real, personal journey to destinations like the Andes Mountains in Chile, an ice cream shop in Rwanda, or the packed streets of Beijing [2].
Image source: Forbes
What potential do digital realities bring for the travel business?
The big opportunity for VR will be helping consumers make the decision about where to travel. "It can be especially valuable for destinations that may not have a top-tier attraction with a lot of name recognition…" says Douglas Quinby, vice president of research at Phocuswright [3].
"Try before you buy"
VR can be deployed as a "try before you buy" mechanism for travellers to experience a particular travel offering before purchase. Travel agents can use it to entice travellers to their packaged or customised holidays, especially for smaller and lesser-known destinations.
Digital realities technologies have been embraced by UK-based tour operator Thomas Cook. In 2015, Thomas Cook had 10 store locations using VR to allow their customers experience a virtual helicopter ride above New York [4].
In China, Shanghai, Zanadu is the world's first VR travel concept store [5]. A former online travel agency, the company saw the potential of tapping into VR and went on to set up a physical store that uses VR tours and e-catalogues integrated with mobile e-commerce and social media.
Driving travel sales
You may ask: Can AR or VR technologies ultimately boost sales?
Greenlight Insights, a market research company that specialises in VR and AR industries, released results from its consumer survey of 1,300 adults. The majority of respondents said they would be more inclined to purchase from a brand that uses VR [6].
Thomas Cook has seen VR-promoted New York excursion revenue increase 190 percent. The films created for its "Try before you fly" campaign have also generated $17,500 in flights and hotel bookings in the first three months of the campaign.
Canadian-based destination marketers who created "The Wild Within" VR experience for destination British Columbia's Great Bear Rainforest also attained a five percent increase in visitors [7].
While the United States may lead in developing VR technologies, you may be surprised to know that China leads the world in VR adoption [8]. The global VR market could be worth as much as $60 billion by 2025 and it is predicted that mainland China will account for a huge majority of it with the country's skyrocketing global VR headset sales.
Digital realities' impact on travel
VR and AR investment and expectations are gearing up fast, although the pace of adoption of such technologies is going to be slow for several reasons: uncertainty about user experience in wearing a headset to view content, the cost of VR headsets and a (currently) limited content catalogue.
To help guide businesses in how to understand and plan for the impact of digital realities, Sabre Labs released the Emerging Technology in Travel 2017 Report (free to download) which discusses digital realities in depth, along with two other technology megatrends and their impact on the travel industry. The report also breaks out segment-specific recommendations for airlines, hoteliers, agencies and travellers.
For more insights on how emerging technology is impacting the travel industry (across all generations and broken down by travel segment), download the Emerging Tech in Travel Report.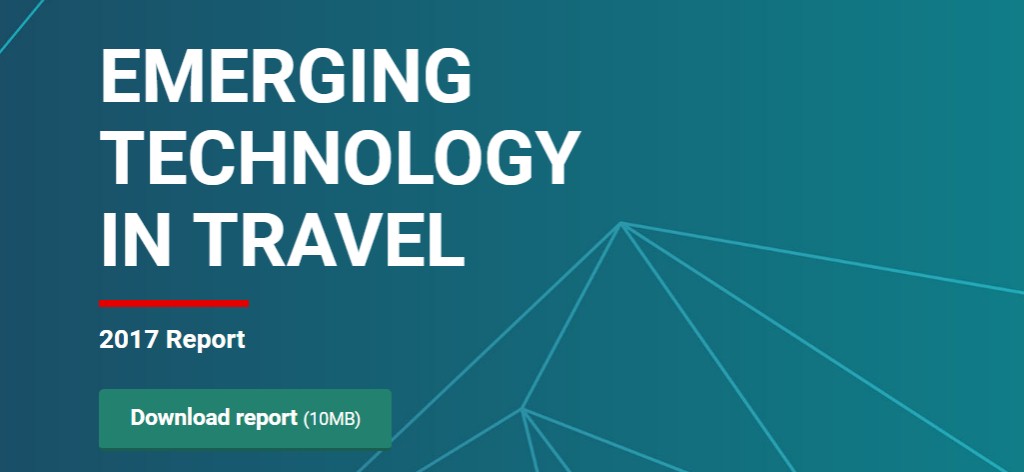 References
[1] https://www.idc.com/getdoc.jsp?containerId=prUS41676216
[2] http://news.marriott.com/2015/09/marriott-hotels-introduces-the-first-ever-in-room-virtual-reality-travel-experience/
[3] http://www.cnbc.com/2016/01/08/virtual-reality-devices-could-transform-the-tourism-experience.html
[4] https://www.bloomberg.com/news/articles/2015-06-19/how-oculus-and-cardboard-are-going-to-rock-the-travel-industry
[5] http://www.prnewswire.com/news-releases/zanadu-reveals-its-first-vr-travel-experience-space-300311687.html
[6] http://www.travelweekly-asia.com/Travel-News/Travel-Technology/Travel-agents-You-can-use-virtual-reality-to-boost-sales
[7] http://www.destinationmarketing.org/blog/virtual-reality-starting-knock-socks-travel-industry-marketers
[8] http://www.economist.com/news/business/21708715-china-leads-world-adoption-virtual-reality-insanely-virtual