Given the significance and size of China's travel market, it should not come as much of a surprise that we are seeing rapid evolution in the way Chinese consumers travel; their preferences, motivations and expectations. They increasingly embrace experiences over products, have more diverse motivations for travel and tend to be more demanding when it comes to travel experiences.
As one of Chinese cultural commentators interviewed in an earlier study we conducted acutely observed,
"In China, travel goals are getting more sophisticated. People are increasingly aware of the limitations of their own perspectives and don't want to be bogged down by daily routines. They hope to develop a fresher, more objective, deeper understanding of the world through travelling."
Travel motivations increasingly diversified
Indeed, findings from Sabre's latest research on Chinese travellers suggest that the top three travel motivations for them are to find an outlet where they can relax (25%), have a good time with friends or family (22%), and seek a better understanding of foreign cultures (17%).
Fuelling these motivations are two overarching attitudes toward travelling. 49% of the respondents see travel as a means of personal improvement, while over half (51%) of the respondents say it has become a new form of social currency. For the latter, this means that travel has become a platform to connect and build stronger emotional bonds (57%) and a way of enriching their life experiences to share with friends and family (56%).
Higher demand for personalised trips
In addition, more consumers are starting to pay attention to the quality of travels and are now more inclined towards personalised travel experiences. Today's new generation of travellers – the digital natives who grew up with the Internet – seek the flexibility to plan independently so much so that majority of respondents (74%) expressed that they are willing to spend time and energy planning their trips. This reflects the growing sense of self-empowerment and investment in personalising travel experiences.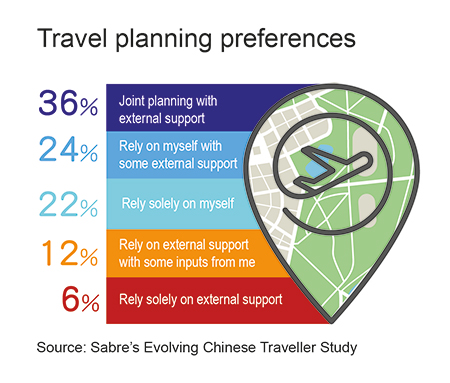 However, having more control over travel plans does not come at the expense of external support and trip guidance offered by travel providers and agents. In fact, many Chinese travellers (78%) still welcome and value support from friends, relatives and travel providers, especially in this data overload era. Specifically, nearly half of the respondents (46%) believe that there are too many travel options and information available today, which is a significant shift from a few years back where respondents felt that there was a lack of travel information available to them (60%).
Considering China's dominance, the trends we observe today in Chinese travellers could have a significant effect on the growth pattern for the global travel market.
With all of this in mind, it would be sensible for us – every player in the travel ecosystem – to develop a more nuanced understanding of the Chinese market and its immense opportunities. We should consider connecting with travellers and adding value to their travel experiences – because they want nothing less than a seamless and personalised end-to-end journey.
Are you ready to take on the new age of Chinese travellers?
Available in Simplified and Traditional Chinese, be sure to download a copy of '"The Evolving Chinese Traveller" report, conducted by Sabre in partnership with Shanghai Donghua University.