According to the Bureau of Transportation Statistics, in 2019 more than 800 million air trips will be taken on U.S. airlines, both domestically and internationally. That adds up to almost $250 billion in airline operating revenue – in an air industry paying out more in commissions to travel agents as they compete for high-value travelers.
Despite us living in a technologically advanced time of biometrics and blockchain, Sabre analysts have discovered something curious whilst working with both travel agencies and airlines around the world. In spite of complex contractual agreements and the intense revenue auditing and recovery process required to adhere to them, agency commission is still being calculated and claimed manually. With the exception of some legacy products that perform basic functionality like post-ticketing analysis and quality-control checks, this highly manual process takes about 8 minutes per ticket with no guarantee of accuracy.
Just last year, travel agencies spent more than 2 million hours on manual commission capture – only to leave more than $200 million they had already earned, unclaimed.
"Through consulting engagements and the evolution of revenue optimization solutions, we've learned a lot about agency pain points and needs as they relate to commission. The complexity of commission contracts and the highly manual processes are resulting in Agency Debit Memos and unclaimed revenue, causing unnecessary friction between airlines and agencies," said Sabre Product Manager, Brett Dowling.
The solution seems obvious – but enabling decision support by indicating commission at the point-of-sale would be a challenge because commission programs sit outside of the GDS environment. It required an algorithm capable of analyzing complex itineraries and of returning precise commission calculations without creating measurable impact to the speed or performance of shopping and pricing.
So, together with 7 agencies, we launched a collaborative field effort to test a new software solution called Agency Managed Commission.
The goal? Automate the process from end-to-end to increase both top-line and bottom-line revenue.
The solution – automated commission capture for every itinerary in real time.
Sabre Agency Managed Commission is integrated at the POS, so it reads the contract and not only calculates commission in real time, but also provides agents with the insight that enables them to sell more profitable fares.
Agency Managed Commission was piloted in the second half of 2018, and agencies realized an average of 15% more commission revenue.

The pilot participants were thrilled with the results, stating benefits such as:
massive improvements on unclaimed and missed commission
ADM reductions
automatic integration of required ticketing instructions/codes
Furthermore, with the automation and time saving benefits that Agency Managed Commission provides, agencies can re-allocate resources to other areas.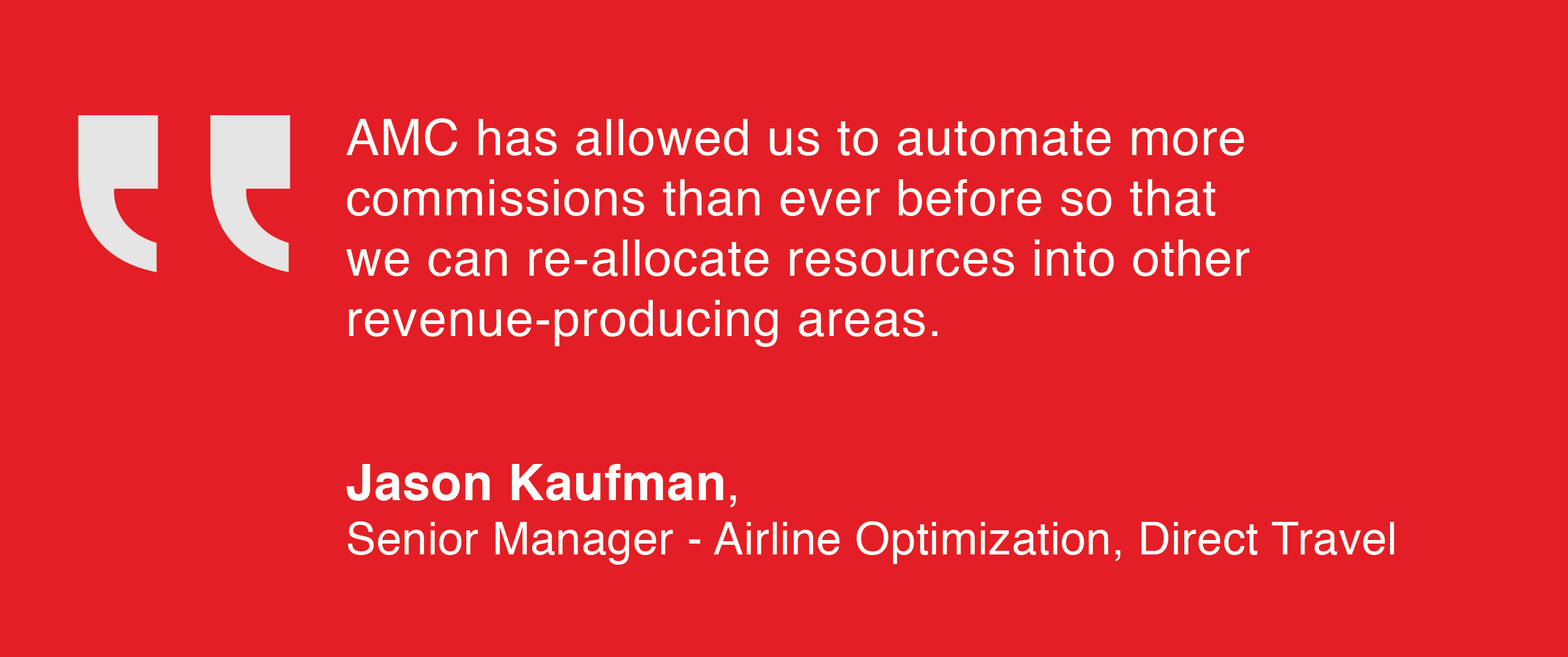 Today, more and more agencies are deployed Agency Managed Commission. This modern approach to managing commission contracts with carriers is helping our agency partners optimize revenues. We see it as yet another way we use Sabre tech innovation to help our customers drive competitive advantage.
Learn more or book a free demo here.