Part 3 of the series "Diversification: The Art of Creating Unique Value"
---
Diversification – a risk-reduction strategy that involves adding product, services, location, customers and/or markets to your company's portfolio to set you apart from the competition.
---
Last month, we published the second blog in our series on diversification in online travel agencies (OTAs). "Hopper: Making a Splash In the OTA Pool" highlighted their success as a mobile-app-only OTA.
In it, we asked the question: How likely are you to use a Fare Prediction service? Thanks to all of you who participated in our poll, and here are the results:
What flight disruption?
You never know when inspiration will strike. "There has to be a better way," thought Freebird co-founder Ethan Bernstein, "But as my friends and I were trying to get back [from a ski trip], disruptions happened, mayhem ensued," Bernstein said. He and his friends spent the better part of their day of departure on hold with call centers doing whatever it took to get home, including "paying a ton of money to get the situation resolved." And that's when the big idea hit him… 

Take control when it matters
Due to his flight disruption experience, Bernstein launched tech startup Freebird – an online flight disruption and rebooking solution that ensures travelers arrive at their destination despite delays. For a fee, they can "Protect My Trip" by entering their itinerary details prior to travel. Freebird utilizes travel insights to provide a mobile rebooking solution that enables disrupted travelers to rebook themselves on an available flight in just three taps on their smartphone—avoiding the lines and getting to their destination on time.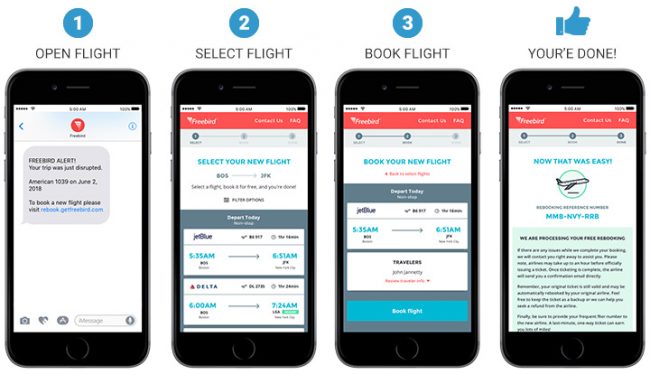 Freebird launched getfreebird.com in the fall of 2015, targeted at leisure travelers. Initially, marketing was directed at the traveler that needed to make sure they arrived for a special event – wedding, funeral, graduation, etc. Today, leisure travelers can still access the Freebird service via their website, however, the main target has shifted.
In 2017, Freebird launched into the corporate travel space realizing this service would be a path for faster growth with targeted marketing. Today, they have 10 TMC partners and over 100 corporations that utilize their service according to need.
The value proposition for corporations is clear—corporate travelers' delays and cancellations impact productivity and can result in lost business. According to a Freebird corporate travel client estimate, each flight disruption costs a company about US $1,200 (US $400 in travel costs and US $800 in lost productivity and business). And for high-value VIP travelers like executives, sales and service, this disruption cost easily increases exponentially.
Watch the video below for more details on how Freebird works:
Freebird Solution + Sabre Technology = Winning Partnership
When Freebird targeted the corporate travel market, they needed a solution to gain access to a company's booked flights. This access was necessary to enable their data science models to analyze past flight delays and cancellations, so they could accurately predict future flight disruptions to help travelers.
They connected with the Sabre technology team and discovered Sabre Web Services, which provided an accurate and reliable way for Freebird to both track and update all of a company's travel reservations using available TMC inventory.
"This partnership was incredible for us. What we expected to be months of development became weeks, and we can now activate Freebird at any company using Sabre in just hours with no integration required. It has enabled us to quickly launch Freebird trials at hundreds of companies."

Ethan Bernstein, Co-Founder, Freebird
Sabre technology made it possible for Freebird to build higher quality data models, providing corporate travel management companies with a mobile rebooking service that's seamless to the company, their TMC, and most importantly, to travelers.
Results: Happy customers!
Freebird is bringing more travel management companies into the fold, announcing deals with several key TMCs in the industry. They join early adopters Altour and Casto Travel.
If you've ever spent hours or even days at an airport, trying to get somewhere, you can understand how this type of service can be a lifesaver. Corporate and leisure travelers love Freebird because it:
Saves time
Saves hassle
Gets them to their event on time
In fact, here are just a few times this service has saved the day.
"My flight from Detroit was delayed, which would have caused me to miss my connection in Newark. Thank goodness for Freebird! Within minutes, they had me booked on a new flight, which didn't even require a connection…It was totally seamless…"
"I used Freebird for the flight to a good friend's wedding, because it was important that I arrive in time for the rehearsal dinner… I got a text from Freebird seconds after the (flight) cancellation was announced…Everyone else was lined up at the kiosks to rebook…I got the last seat on the plane, in first class!"
"For all my friends that travel frequently, @getfreebird IS A MUST, let someone else worry about your travel."
@mindlrbill on Twitter, Traveler/Author
Meeting an unmet need easily at a reasonable cost, Freebird is an innovator to watch!

Lessons learned
Being flexible, openminded and adventurous are key traits for a start-up or a large company investigating a new channel or business model. As Freebird found after its initial launch, there was greater opportunity in shifting the customer segment focus. This shift brought a realization of a faster growth path.
What's next?
A textbook example of diversification, Freebird discovered an unmet need and created a solution. It has been very successful in the corporate travel space, but there are likely more chapters to this story. How can it expand this model to resolve flight disruptions for additional travelers, through OTAs, airlines, international expansion and leisure agencies? Only time will tell when the next big idea comes.
Freebird is a travel tech innovator to watch, working to ease the hassle of travel disruptions. Read our diversification blog for OTAs, then tell us:

In your travels, how many times could Freebird have saved you from excessive flight delays?https://t.co/cXBS6YK51A

— Sabre (@Sabre_Corp) July 19, 2018