U.S. President Barack Obama's visit to Cuba captured global headlines last month, with images of Obama doing the wave alongside Raul Castro going viral. The fact that this happened at a Major League Baseball game made it a surprising and unexpected piece of media, symbolizing a seismic shift in the global dynamic.
As the visit unfolded in front of the global media, there were countless articles, videos and water cooler discussions about the visit. Capped with a free concert by the Rolling Stones, the visit was a text-book media sensation — all of which correlated to a drastic increase in interest in travel to Cuba.
With all of this media attention, we wondered whether or not the coverage would translate into more travelers considering travel to Cuba. When compared to the same days in 2015, shopping searches for travel to Cuba spiked 2,300% on the days Obama was visiting the island. The graph below contextualizes the spike next to the previous year's data.
This incredible jump in interest started to build in earnest on March 21 — the day of Obama's arrival to the island — and it didn't taper off until several days later, when it settled at the average level of shopping for 2016.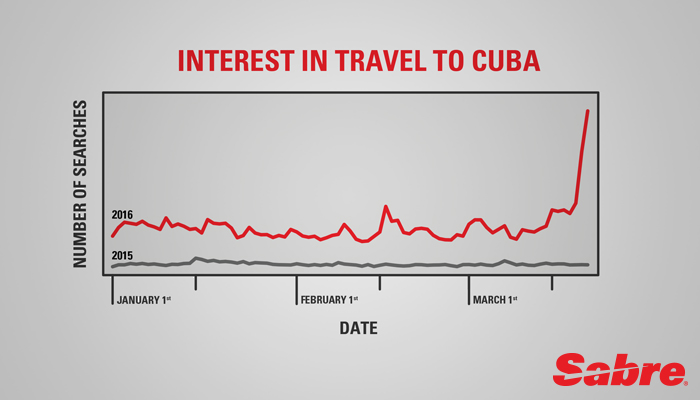 The increased interest also coincided with further loosening of restrictions for Americans who want to travel to Cuba, as individuals traveling for "people-to-people" education trips can now visit the island. Prior to that, Americans were required to be part of a larger tour group.
Cuba is definitely not missing out when it comes to tourism — the country saw a record year-over-year increase of 175,200 international arrivals in March, coinciding with Obama's visit. This puts Cuba on track to best its record-breaking 2014, which saw a 17.4% increase to 3.52 million arrivals. This puts Cuba second to only Dominican Republic as far as inbound visitors. Given the 23x increase in shopping to Cuba, this position might soon be taken by Cuba itself. This gives travel agents a buzzworthy new destination to explore and sell, while offering a multitude of new business opportunities for travel suppliers serving the country. Now the rush is on to determine just how best to serve Americans eager to explore Cuba.