The countdown has begun for TTX 2017, which returns to Las Vegas on June 26 to 29. We can't think of a better backdrop for an action-packed event than Vegas! It's a city known for its glitz and glamor, and is a magnet for global trendsetters.
This year, Sabre Dev Studio heads to Sin City a few days early. We're inviting our favorite kind of trendsetters – the travel trendsetters – to create the next big thing in travel during a 24-hour faceoff. That's right – we're kicking off TTX with Sabre's first North American hackathon, and we expect it to be a catalyst for innovation and creativity that will set the tone for the rest of the week.
It's incredible to see what developers can create with the Sabre platform and other travel technologies in only 24 hours, and we expect Hackathon:TTX to be just as amazing as past Sabre hackathons (explore some of those projects here).
To a non-developer, the idea of reinventing travel in such a short timeframe is a daunting task. However, with the trend of bleisure travel, the rise of last minute deals, and the growing popularity of stopover city itineraries, today's travelers create amazing travel opportunities in any amount of time, no matter how last minute.
This year's TTX is shaping up to be jam-packed with amazing speakers, sessions, and networking opportunities. We're already thinking of strategies on how to make the most of our little free time in dazzling Las Vegas. We've rounded up our favorite tips and trends that inspire us to make every travel opportunity count. By checking out some of the available tools for your own trip, you'll get to experience the current travel landscape in real-time. Consider it research! 😉
Plan it all out with a little digital help
The key to making the most of any quick getaway is careful planning. But for the last-minute traveler, there's very little time to plan out a seamless itinerary. A bustling town like Vegas can seem overwhelming when you first land, but luckily, there are several emerging concierge technologies to ease the stress of finding the best places to stay and eat.
One of the most buzzworthy examples of this is Lola, a concierge app that's half chatbot, half real human touch.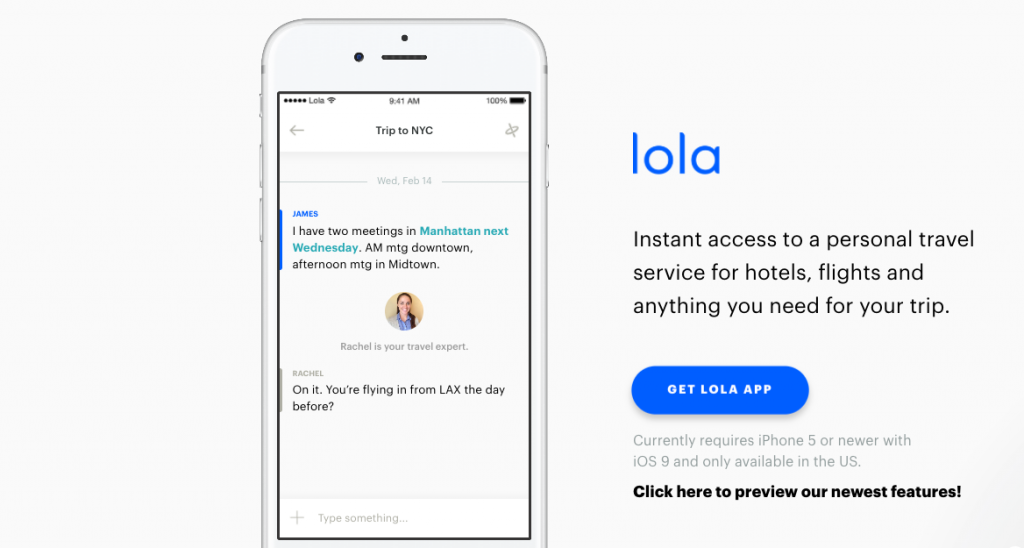 Lola works by using an AI chatbot interface to find out what you need – whether it's a flight, car, or restaurant reservation – and then connecting you to a real travel agent to help you out. Lola is still an emerging technology, and there's a fee for certain services, but we love the concept of combining AI with real human service for an efficient booking experience.
Looking for something free and a little funkier? Another travel recommendation app on the rise is Cool Cousin.
Cool Cousin is a simple but smart app that connects travelers with "Cousins" – vetted trendy locals – for insights on the best cafes, art galleries, bars, and can't-miss local sites in the city. The Cousins sign up to give recommendations on a volunteer-basis in order to spread their love for their cities across all cultures, so you know you'll get awesome suggestions that come straight from the heart of a local. Cool Cousins is free to use and currently available in 16 cities worldwide.
Let data do the heavy lifting
Anyone who has ever been on the hunt for the best vacation deal knows that timing is everything. The travel industry is growing exponentially — there are around 23,911 commercial flights flying to 17,678 airports every single day. With so many destinations, carriers, and flight schedules to choose from, today's traveler has a nearly overwhelming amount of trip options to choose from. Even with thousands of choices at their fingertips, travelers want to know they are getting the best deal on the flight that works best with their busy schedules.
There are around 23,911 commercial flights flying to 17,678 airports every single day! Plenty of opportunity for a #travelhackathon

Share
Data-based booking tools are popping up all over the industry, and it's a trend we don't expect to slow down anytime soon.
Hopper, for example, is a mobile app that watches your flight for you and gives you recommendations on when to book for the best airfare based on historical shopping data. Just put in the city pair and the desired travel dates, and Hopper will send you a push notification whenever it's the best time to book. We've also seen this functionality in OTAs and metasearch engines like Hipmunk and Skyscanner.
However, there are more factors than price that go into deciding which flight is the best option. For those looking to sift through all the shopping noise, we recommend heading straight to the bar. The Decision Support Bar, that is. The Decision Support Bar, a feature of the new Sabre Red Workspace, is a series of widgets at the top of the shopping screen that integrates real-time airfare shopping data right into the workflow. These widgets provide valuable information like seasonality, alternate airports, and flexible dates. This direct access allows agents to rely on smart data to make the best decisions for their customers.
An added bonus of the Decision Support Bar is that it's fully customizable. Agencies can load up the panel with whichever widgets would most benefit their business models. This can look like anything from a weather widget that pulls in the forecast for a chosen city and date pair to a currency converter widget that displays the exchange rate for a given destination.
For developers, this is fertile ground for offering travel agents new ways to engage with travel products, travel data, and other relevant items. We predict a tool with this much customization potential will spark some impressive creativity at HackathonTTX!
Think you've got a killer travel app idea? Join us!
We're always on the lookout for the next big thing in travel! We love to see emerging technologies like these make waves in the ever-evolving industry. This could even include tech and trends such as chatbots, AR/VR, itinerary management and beyond…the possibilities are endless. We can't wait to see what other incredible new travel innovations emerge from the inaugural HackathonTTX.
Registration for HackathonTTX is free, so if you're feeling inspired to make your own waves in travel technology, be sure to sign up as soon as possible to guarantee your chance at winning the $5000 grand prize. To discover the latest industry trends and connect with the brightest minds in travel, we'd love to have you join us at TTX this year in Las Vegas.
And once the projects are wrapped, take some tips from the travel pros at Matador Network on travel hacking Vegas. After all, what's a good hackathon without a bit of fun?