This is only a selection of insights shared by a cross-section of industry experts. To learn more about how other industries are developing today's total revenue management strategies, please follow along. The report will be released next week.
Total revenue management is a critical concept for the modern enterprise. It's no longer sufficient to be "good enough" at selling a core product. Diversification beyond existing revenue streams expands revenue opportunities. And perhaps just as importantly, optimization of existing revenue streams unlocks invisible income.
As those responsible for revenue, managers and C-suite executives are eager to engage with a holistic revenue mindset. This focus on total revenue optimization, or TRO, is what will distinguish the leaders from the laggards over the coming decade. In order to grasp this fundamental shift from passive provider to active optimizers, let's look to industries outside of travel for insight.
Marketing personalization
Travel has learned from the leaders in marketing personalization: e-commerce retailers. This segment has skillfully leveraged its stream of customer data to retail more effectively.
By using clickstream data alongside purchase patterns, marketing moved from mass market to single target.

Share
In many respects, this shift was driven by consumer demand for more relevancy in marketing. The revolution to stay relevant started awhile back, just as the amount of marketing noise increased alongside the digital signal.
One industry that reaped rewards from boosting relevancy through marketing personalization is the cinema industry. With each new film comes a new audience. This provides a constant churn of product types, each targeted to a certain demographic.
There are certainly overlaps, such as fans of comic book movies. Yet within that fan group, there are sub-groups that splinter off into other genres. The ability to use data on interests and viewing behavior means that a cinema chain could personalize marketing efforts. In a fragmented digital media environment, triggering that visit into a real-world cinema relies on marketing personalization.
"Having access to customers interests could really help develop relationships and tailor new sources of income we may not be aware of."

-Cineworld
Cineworld also uses these interests to build like-minded groups to enhance the efficacy of marketing across the board. "Not only can the data tell us who our members are, it can also point us in the direction of people who are just like them, so through better targeting, especially by social media, it can have a real impact on our sales."
It's this holistic view of the customer that drives the entire marketing operation for Cineworld.
Product personalization
Banks are at the vanguard of translating data into action. This goes beyond targeted marketing but into products themselves. For banks, a deep understanding of the customer translates into a customized product offering.
As gatekeepers to financial transactions, banks are in a unique position. As one respondent from KPMG said, "They can literally see where customers spend money." This data is derived from a practice known as geo-coding, which captures the longitude and latitude of each specific transaction. While this combats fraud, it also provides a detailed view into the customer.
"Through tracking spending, they can tailor exactly what products and services they look to develop and sell." -KPMG

Share
As banks learn about customers, they can target and sub-target product lines and baskets. Groups can be sliced and pivoted according to different characteristics, which improves efficiency for both product and marketing teams.
While travel doesn't have such a constant view of the customer, loyalty programs have become the de-facto source of deeper engagement. It's a quid-pro-quo: incentivize participation as a trade for more information.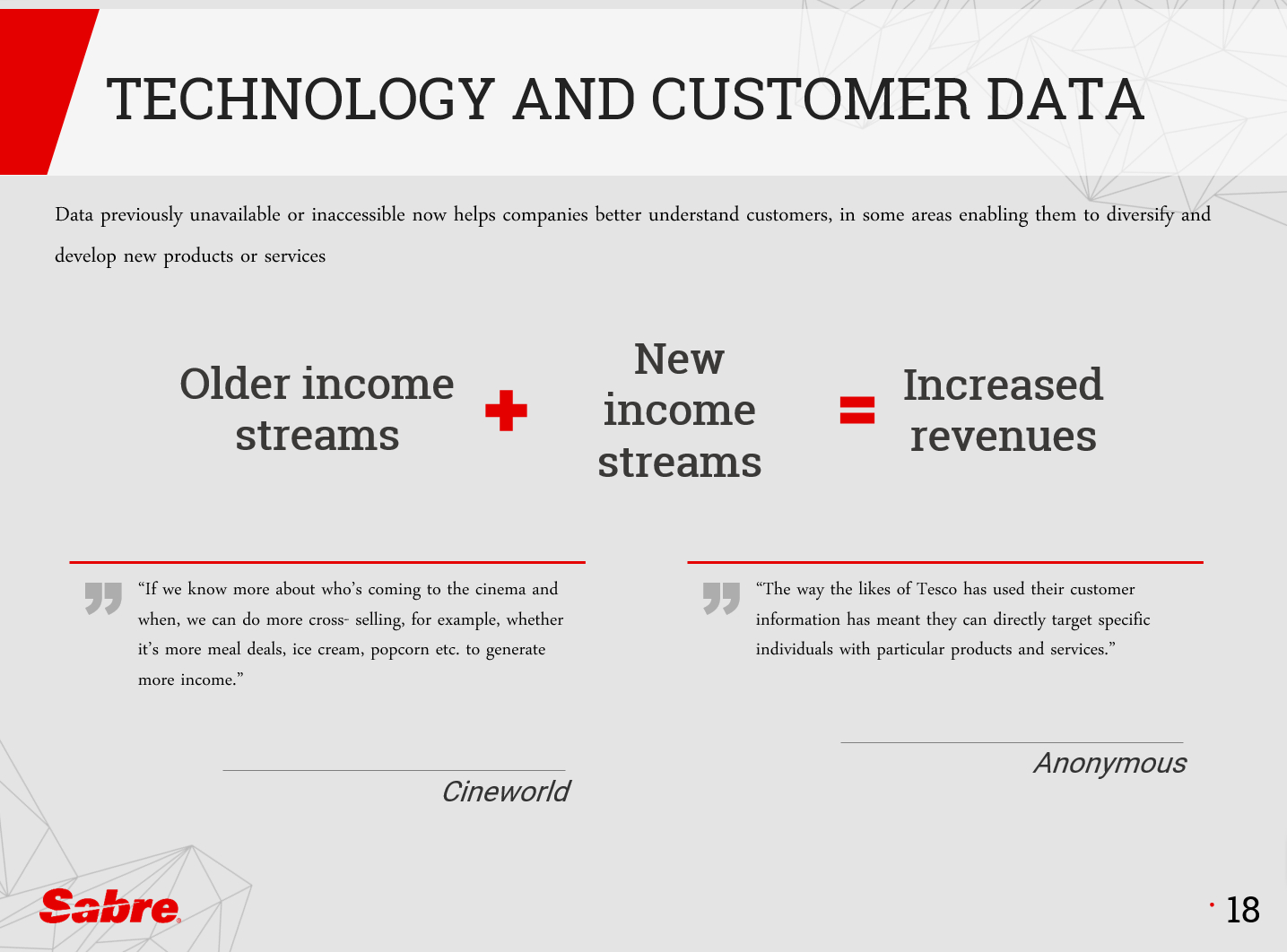 Demand forecasting
Bricks-and-mortar retailers were pioneers of demand forecasting. In the pre-digital era, it was a core competency. Those retailers that mis-forecast demand on products during peak times could face insolvency. Technology eventually became a differentiator, as it enabled better demand forecasting. This kept inventories tighter and less revenue dying on the shelves.
Of course, e-commerce had one key advantage over bricks-and-mortar: the ability to use real-time demand forecasting to drive production schedules. So rather than build up inventory, the drop ship model allowed tighter inventory control. Savings could be passed along to the customer, delivering both convenience and price competitiveness. Boom! A revolution was born.
Demand forecasting is also critical to the travel industry. Yet, in its ideal state, it is an iterative process. It lives, breathes and evolves in real time. As the technology digests the latest information, the prediction model shifts.
This real-time nature of demand forecasting is the goal for travel. Rather than sticking to a set annual schedule, many airlines are moving towards a closer-in adjustment of timetables.
For hotels, real-time demand forecasting helps assign people resources in the right areas to handle peak demand. For OTAs, deep machine learning about traveler look-to-book behavior leads to increased conversions as the content  served on-site matches individualized demand.
Insight-as-a-service
Consultants have been offering their analytical mindsets as frameworks for the enterprise for a long time. Data has now become an integral part of these sorts of engagements, leading many industry thought leaders to offer insight-as-a-service.
This expands beyond the traditional definition of a consultant-client relationship to include far more data than has ever been available before. It moves into an engagement that includes real-time data mining, which informs recommendations.
The first mover in this has been the financial industry. Geared towards rapid analysis of constantly changing information, insightful data analysis became a clear differentiator.
"It's more important to be able to have access to live data –this can make product offerings much more efficient." -KPMG

Share
Live data is the foundation for analysis. The insights are often dependent on the quality and source of data, leading "insights as a service" to develop into a critical review of an organization's data capture processes.
This is only a selection of insights shared by a cross-section of industry experts. To learn more about how other industries are developing today's total revenue management strategies, please follow along. The report will be released next week.