PERSONALIZATION INNOVATIONS CREATES SIGNIFICANT ANCILLARY REVENUE POTENTIAL
Sabre Airline Solutions® has released a new whitepaper highlighting the business challenges faced by airlines in the area of customer data, retailing, and personalization. Brand differentiation and personalized sales and service are becoming increasingly strategic areas for leading airlines due to their market share and profit potential. In the whitepaper, Sabre discusses the unique complexities in the industry, analyzes new findings about revenue potential, and discusses ideal solutions for these problems in the market place.
Airlines are always looking for new ways to differentiate themselves. As is expertly noted by Forrester Research, organizational velocity will be that new competitive differentiator. The speed at which an airline can convert mass amounts of customer data into insights, and insight into action is now a critical differentiator. In the age of the customer, linear approaches to data can no longer be relied upon — spending six months to gather data on a problem, many more months to analyze it and even longer to act on it. Doing so will cause companies to drive customers away to more nimble competitors. Data demands agility and the ability to respond in minutes or hours, not days or weeks.
Marty Salfen, general manager of IBM Global Travel and Transportation Industry, agrees.
"Speed of insight and speed of action are becoming core differentiators," he said. "The tools are now readily available to any airline."
Moving from diagnostic data analysis technologies that look at historical data, to a predictive or prescriptive model, enables an airline to create a competitive advantage with organizational velocity based on real-time personalization of a customer's travel experience.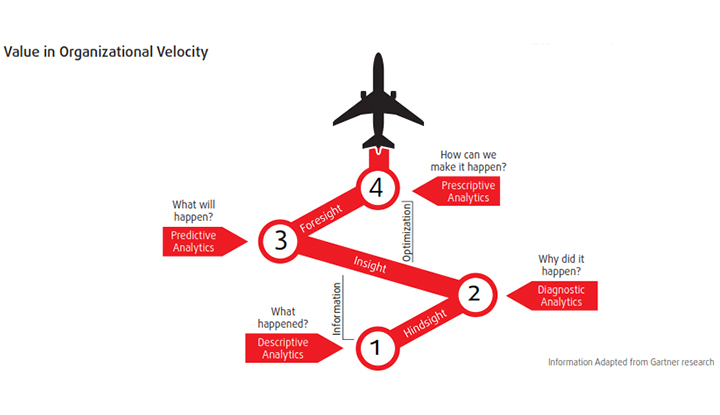 Customer life cycles, funnels and segmentation models are rapidly becoming outdated relics from an era that lacked the data and technology to understand complex customer attitudes, behaviors and habits at an individual level. That's no longer the case. A traveler can now hail a taxi that appears in less than five minutes from the smartphone in his hand. Compared to that, the entire air travel process seems like an outdated relic as well. From routes, to partnerships, food, entertainment, customer service, ancillary products, technology enablement and more, customer loyalty is garnered by the proper, personalized execution of these opportunities. Airlines that exceed expectations with these opportunities will be able to quickly absorb, interpret, personalize and deliver a consistent product that customers will remember, pay for, and return to experience many times over.
To read the rest of the story, download the full whitepaper: The Evolution of Customer Data