ANCILLARY REVENUE OPTIMIZATION IS THE UNIVERSAL OBJECTIVE
Sabre Airline Solutions® has released a new whitepaper highlighting the business challenges faced by airlines in the area of customer data, retailing, and personalization. Brand differentiation and personalized sales and service are becoming increasingly strategic areas for leading airlines due to their market share and profit potential. In the whitepaper, Sabre discusses the unique complexities in the industry, analyzes new findings about revenue potential, and discusses ideal solutions for these problems in the market place.
Customer experience and personalization have become the topical focus for multiple industry verticals in recent years, ever since Amazon and Netflix turned the customer-interaction paradigm on its head. Even within the last decade, Amazon was known as a bookstore and Netflix as a disc reservation and shipping service. The original core competency for Netflix included processing online reservations for a particular product selection and transporting that selection, on time, to its chosen destination. Sound familiar?
Today, Netflix is known as a pioneer in the personalization, customer experience and retailing disciplines. The company has chosen to even further adapt its business model by evolving into a content-creation studio to deliver unique, targeted, brand-differentiating products to its customers.
These strategic business-model shifts are based on innovative customer data and analytics systems, empowering Netflix to create the right products, for the right individual, offered at the right time.
Industries that create and store vast amounts of customer data have the greatest opportunity to create relevant business value from the aggregation, analysis and actioning of that data. By that measure, the airline industry maintains, quite possibly, the greatest personalization and retailing opportunity in any industry vertical today. Though that sounds rather ardent, the ingredients for disruption are prevalent.
Airlines are sitting on terabytes of first-party customer data that detail shopping and buying behavior, check-in and baggage history, in-flight service preferences, airport movement, customer service interactions and many other sub-categories of data. Companies such as Vodafone, DIRECTV and Stubhub have boosted incremental revenue by building a holistic view of their individual customers and personalizing the customer's experience with their brand.
"As consumers become accustomed to customization in other parts of their lives — banking, retail, dining — they are going to expect travel companies to be at that standard and be at that standard very soon," said Henry Harteveldt, industry analyst and founder of San Francisco-based Atmosphere Research Group.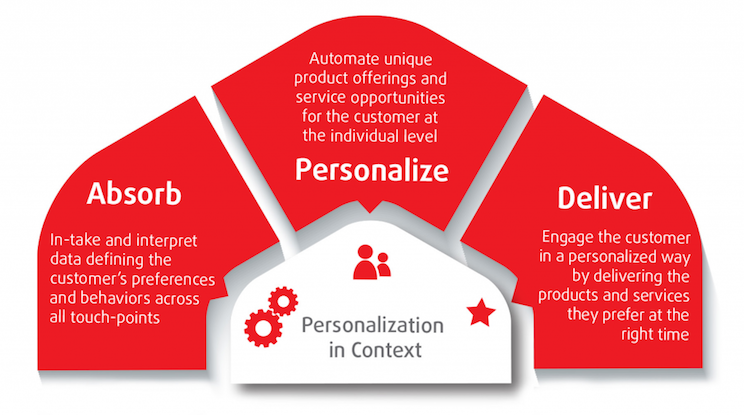 Airlines have already seen early success in mining and analyzing social-media data and engaging with their customers on a one-to-one basis. Customers have been engaging with agents, cabin crew and call-center representatives since commercial aviation came into being. Now, the ever-connected traveler carries a personal interaction opportunity, at all times, in the form of a smartphone.
Today, 97 percent of travelers carry a mobile device when they travel, with 81 percent of those devices being smartphones. With this fourth touch-point becoming fully proliferated in the marketplace, there has never been a greater opportunity to aggregate data across the interaction phases to see the full view of the customer. In addition to revealing strategic insights into customer buying patterns, a 360-degree view also helps equip frontline, customer-facing employees with the right information to offer an optimal customer experience within the appropriate context.
To read the rest of the story, download the full whitepaper!