Personalization has been one of the biggest travel buzzwords for a while now.  Consumers expect a superior and tailored service from travel, and look to technology to get the best experience. But the true key to instant personalization is all in how suppliers leverage mobile, data and social technology.
Top executives from the Spanish leading travel and tech industry will convene at the invite-only Travel Tech Madrid event to discuss how the use of mobile and data analytics fuel the future of travel. The companies who master the art of turning audience insights into unforgettable experiences will determine which businesses thrive.
There are three top trends that are driving innovation and change in travel: mobile, data and social experiences. The question many travel industry CEOs and executives have is "how do I apply these new technologies to my business to drive it forward and help my customers have a better travel experience"?
Mobile
From a shopping and booking perspective, most travel agencies, hoteliers and airlines understand the importance of mobile. They know they need to offer a great experience across devices whether desktop, tablet or mobile. The future of the online shopping experience is trending toward a device agnostic approach. Consumers want to have access to everything, everywhere, from every device.
The real value of mobile as a customer engagement tool lies in how travel data and insights are leveraged to create a better guest experience. One of the easiest ways to capture this data is to integrate with a travel app that manages all aspects of the trip, because if consumers have one app that manages their trip end to end – including air, ground, hotel and amenities – they will be more likely to use it and use it frequently.
Mobile has shifted from being a trend to becoming a confirmed reality that is a standard way to do business: 97% of travelers carry a smartphone, tablet or laptop when they travel – and 1 out of 5 is traveling with all three! Travelers want to use the technology in each step of the journey, many of them already do.
Every travel company serving the end traveler needs a mobile strategy that addresses the needs of travelers before, during and after the trip.
Data
Let's start with an average person's data footprint. This is made up of all the data a person would generate in their day-to-day activity, e.g. retail purchases, banking transactions, audio and video streaming, GPS signals, social activity and travel data. That's plenty of raw material to work with!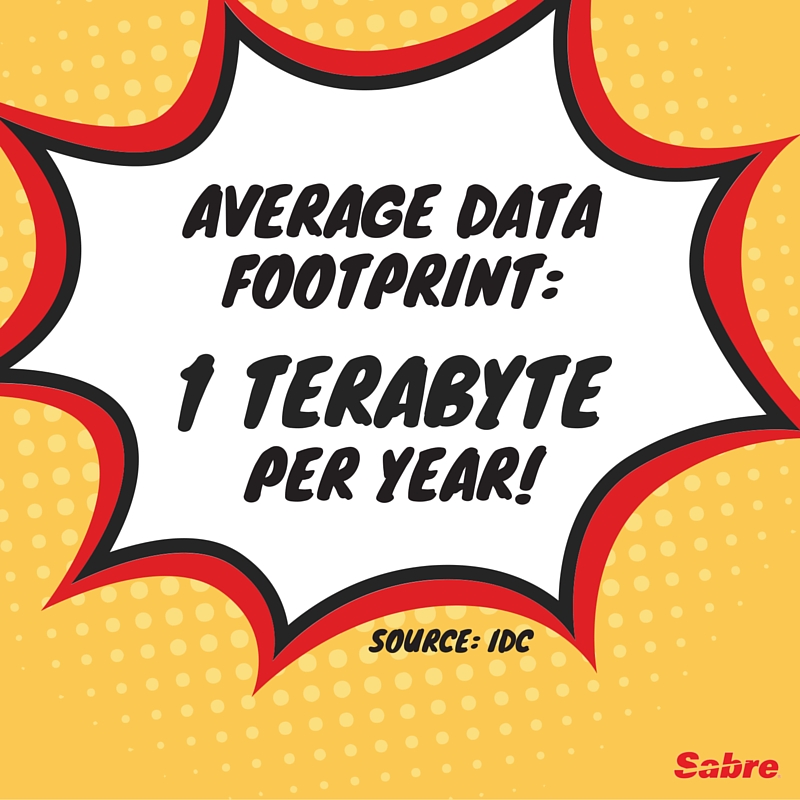 If 1 terabyte of information was printed on a sheet of paper, it would be 6.5 km long and would rise 20,000 feet in the sky, which isn't all that far off a plane's cruising height.
Think about what an active traveler would produce:
Shopping and booking data from airlines, trains, cars and hotel through agencies and directly with suppliers
Shopping requests and booking/reservations for event travel tickets and travel extras like ground transportation and restaurant reservations
Mobile and social check-ins through device apps, more generally social activity
So how do you collect data, analyze and apply correctly?
Tools, such as the Sabre Intelligence Exchange, exist solely to help airlines use technology to dig into their own data. Airlines collect a lot of data about their customers and operations, from departure delays to passenger preferences. But much of that data is stored in separate departmental silos, making it difficult to access and analyze.
"It's safe to say that active travelers contribute to and generate significantly more than the average person's footprint.  In fact, we think travellers might generate up to 90% of all data produced in the world," says Douglas Green, Country Director of Sabre in Spain & Portugal.
By deploying a capable solution with the ability to access data from numerous systems and analyze that information in real time, airlines can turn this immense data mine into gold — the "Smart Insights" that increase operational excellence and boost profitability, customer satisfaction and employee retention.
Social experiences
Travel agencies, hotels and airlines must become tireless autobiographers – documenting experiences through social media. By concentrating on fully, distinctive inspirational and imaginative content, suppliers can stimulate a response from their friends and followers. The application of new technologies like wearables will trigger the changes in travel by ensuring real-time information on the status of transports, itineraries or any temporary problems generated by unexpected events.
Previously, virtual reality was mainly used in gaming. Today we see a complete shift to make it all about experiencing real places and real people (virtually, of course). Hotel chains like the Marriott are bringing the experience to guests and telling the stories through unforgettable virtual encounters.
It's undeniable that consumer behavior and technology are evolving more rapidly than ever. By leveraging data-driven technology solutions, all types of travel suppliers can thrive in tomorrow's market by creating bespoke traveler experiences.