PERSONALIZATION INNOVATIONS CREATES SIGNIFICANT ANCILLARY REVENUE POTENTIAL
Sabre Airline Solutions® has released a new whitepaper highlighting the business challenges faced by airlines in the area of customer data, retailing, and personalization. Brand differentiation and personalized sales and service are becoming increasingly strategic areas for leading airlines due to their market share and profit potential. In the whitepaper, Sabre discusses the unique complexities in the industry, analyzes new findings about revenue potential, and discusses ideal solutions for these problems in the market place. 
Retailing of ancillary products in the airline industry generates approximately US$30 billion a year globally, and it continues to grow each year. Because this activity can represent as much as 40 percent of some airline's total revenue annually, it has become more than simply a side activity for most airlines. A profitable retailing business model is defined as the right product, presented to the right customer, at the right time. This applies to direct channel sales of ancillary products, as well as indirect. Ideally, an airline is able to personalize its offers and bundles of services through the GDS, as well as through Web and mobile. This is one of the objectives of IATA's New Distribution Capability (NDC) initiative. Airlines and technology providers have established working groups to collaborate in the creation of data transmission standards that enable personalization and ancillary sales opportunities across all channels. It's a worthy cause considering the potential; according to recent studies by Sabre®, an airline could expect a 22 percent increase in incremental ancillary revenue by personalizing ancillary offers within the proper context for the customer. For a mid-size carrier, the five-year revenue uplift could total US$163 million. This is obviously significant, and an opportunity that airline leaders are not taking lightly.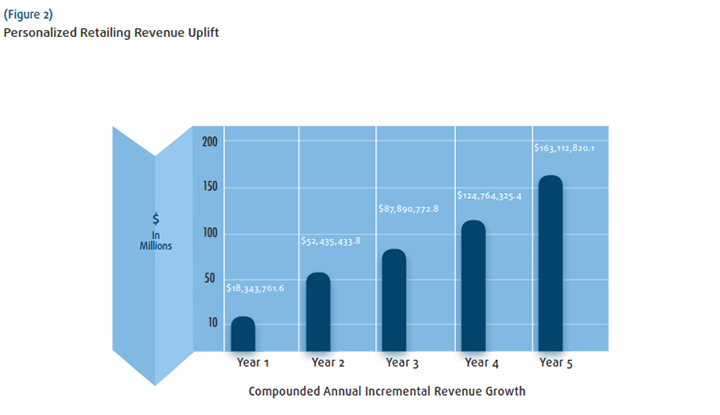 The product or service must be offered and fulfilled in a way that is consistent with the respective airline's brand promise. In this way, airlines have the opportunity to utilize retailing not only as an incremental revenue stream, but as a channel for executing their unique customer-experience strategy. The key, however, is to correctly pair valuable products and services with the customers who will optimally benefit from them. This requires airlines to analyze the data they house about each of their individual customers and apply automated rules systems for personalized offers or proactive customer service.
JetBlue Executive Vice President and Chief Information Officer Eash Sundaram is looking to innovate with personalization at the New York City-based airline.
"One of the biggest changes that's going to happen is personalization in flight," he said. "We're looking at profiling people's moods on a real-time basis using social-media input. For example, we could understand from customers' social-media profiles whether they're happy, or maybe going to a wedding, or a graduation. Think of a plane full of people with certain categories of profile: we can deliver content that's specific to them, right to their seats.
"I don't think the concept of personalization is a message saying 'Welcome on board.' It's about how you address specific needs – such as if a customer has connecting flights or has had any previous problems flying with us. You can connect the cabin with customer support behind the scenes in real-time, so you're not only solving problems but also giving comfort to the customer that you're watching out for his travel now and in the future."
Personalization requires actionable data about individual customers. For an industry that operates in a high-touch customer business model, airlines lag behind in bringing the mass of data to life. The amount of customer data available to airlines, especially unstructured data, has grown exponentially during the past five years. As carriers move from siloed, transaction-oriented systems to more integrated, socially aware ones, they will continue to face challenges with their customer data. With technology advances better managing the commoditized business processes, competitive focus has shifted to retaining top customers and growing share of wallet through personalized retailing. As such, carriers trying to run their businesses without a data-first focus could soon find themselves falling behind their competitors.
To read the rest of the story, download the full whitepaper: The Evolution of Customer Data