This is a viewpoint from Wade Jones, interim president of Sabre Travel Network. For more executive perspectives, browse the ongoing Exec Pulse series here.
The next industrial wave is here
The swift pace of change and onslaught of new technology, such as concierge robots, driverless cars, chatbots and artificial intelligence (AI) are rapidly changing our world. Each of these technologies will dramatically change our expectations of how we interact with technology. As this shift makes its way into our lives, nearly every device will intuitively connect with the internet – and all of the inanimate objects around it, a process known as "Internet of Things".
This level of connectivity is fundamental for those of us in the travel and technology industries to understand. It represents a new way of communicating and doing business. This is the key driver behind the Fourth Industrial Revolution.
This revolution, also known as Industry 4.0, refers to the factory of the future, where connected machines, robots and artificial intelligence become the "workers" of a modern "smart factory."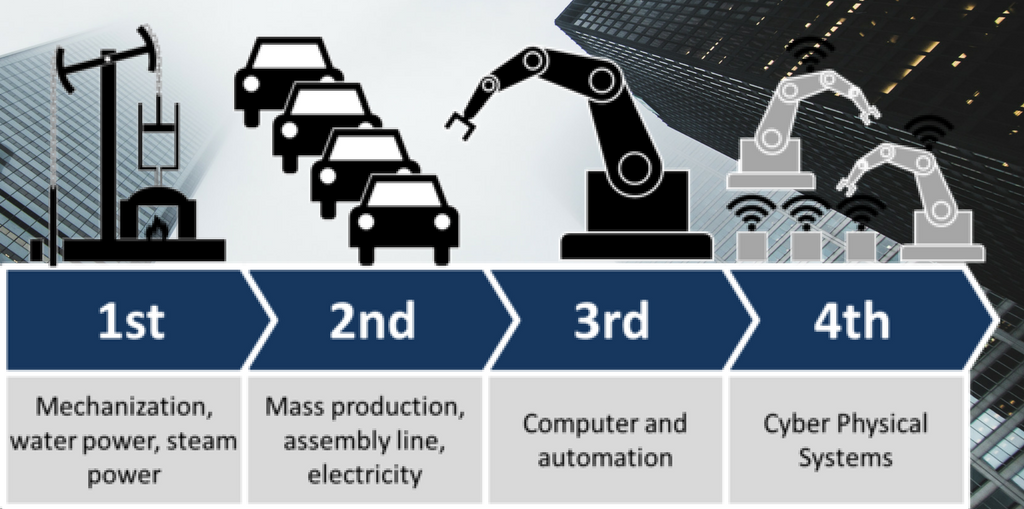 All sound a bit WestWorld?  Well, we're not there yet and I'm not sure we ever will be in our lifetime, but there are plenty of manufacturers, like the automobile industry, that have introduced smart technology into their factories, empowering humans to focus on more value-driven activities.
So what does this shift mean in travel?
(Travel) Industry 4.0
Within this next industrial revolution, travel must figure out how to leverage these new technologies – particularly as we're on track to service a billion more travelers by 2030.
Can robots escort passengers to the gate, and can chatbots really support customer service?  Maybe – it's certainly worth exploring.  But there's a more immediate opportunity.  As travel technology becomes more intelligent, it creates a digital layer that both simplifies access to, and measurement of, data. It is within this digital layer that true personalization can occur.
Over the past decade, as technology moved through the desktop age and into mobile, many systems existed in disparate silos. There were too many moving parts to have a unified view of the customer. There was no single point-of-insight. This is not that surprising, given that data expanded exponentially to create unwieldy troves of data. Just waiting to be analyzed fully, the data outpaced the analysis.
In this next wave, technology will be fully connected and data synchronized across all systems to create a single view of the traveller, enabling better decision-making and more effective personalization of a user's experience. It's at this point, that new technology such as robotics can be introduced to create, what I call Smart Travel.
The genesis of Smart Travel
In the airline and hospitality industry, so much of this work is manual. After all, guest interactions are more personable face-to-face. Or at least voice-to-voice. When things moved online, omni-channel commerce further separated the traveler from the supplier. With mobile, the trend continued.
Eventually, the full mobile takeover meant that there were more ways to engage with a customer than ever before. However, the personal nature of the mobile phone gave hospitality a new way to personalize. After all, four in ten would rather lose sight in one eye than lose access to the internet! And the mobile phone is the first and only computer many consumers will have. This is the perfect device for deep personalization in travel.
Four out of ten people would rather lose sight in one eye than lose access to the internet!  

Share
Connectivity is a modern necessity. It is up to us to navigate the traveler experience across devices, channels and back-end technology systems. In an Industry 4.0 world in which machines interact and respond intelligently to the physical environment, travel has an immense opportunity to ride the revolution to new heights.
Building Smart Travel together
In an operationally intense business such as travel, there are thousands of efficiencies when machines interact intelligently. At one end of the spectrum, there's precise tracking technology for planes.
Eric Nantier, Operations Research at SWISS, has benefited greatly from the precision of fleet tracking:
"This technology gives us stronger awareness within our operations, which enables us to actively steer our aircraft from the ground with the most accurate and current information. It has become a very important tool."
On the other end of the spectrum, there are tiny Bluetooth beacons. These stick to any surface, and data sent and received from in-range devices. One example is the ability to monitor flow within public areas of a hotel, such as the Hotel Beaconator. Eventually, these emitters will be woven into the very fabric of travel.

This sort of granular access to behavior truly changes the game. After all, travelers are receptive towards personalized retail offers from travel companies – 76% of travelers said that a context-aware email could entice them to make a purchase. Within 48 hours of travel, pushing personalized ancillary offers can drastically increase the chance of conversion.
Sandwiched between the two extremes of the massive plane and the small beacon is a long list of connected devices, processes and systems. Standing alone, each provides a piece of the puzzle that is the 360 view of the customer. Connectivity reduces friction to accessing this shared layer.
The future of the industry lies with Smart Travel, where every part of traveler's journey intuitively and automatically connects through technology. The global travel industry must transform now to keep pace with macro-economic, technological and cultural changes. Just like a smart home, we must connect each piece of our industry together to craft the personalized smart travel experience that travelers expect.
We can – and we will!