Airlines Can Sell More Products, But How Do They Create Profitable Revenue?
Sabre Airline Solutions has released a new whitepaper highlighting the business challenges faced by airlines in the areas of customer data, personalization, and retailing. Brand differentiation and customer-centric sales and service are becoming increasingly strategic areas for leading airlines due to their market share and profit potential. In the whitepaper, Sabre discusses the unique complexities in the industry, analyzes new findings about revenue potential and loyalty growth, and discusses possible solutions to these problems.
Despite huge growth in the number of passengers boarded in recent years, airlines are struggling to turn demand, and even increased revenue, into profits. With high fuel and labor costs, as well as intense competition, industry profit margins remain weak, at single-digit percentage points in the aggregate. The business of flying people around the world is always under pressure; therefore, airlines have invested in diversifying their revenue streams to maintain long-term stability. No longer is simply selling and operating a core seat product profitable in most international markets and nearly all domestic markets. However, the shift from providing only a seat to providing a variety of personalized travel services across the entire trip experience has been slow and still requires significant maturity. Still, 98 percent of airlines plan to invest in expanded ancillary services in the next three years to become better retailers and drive incremental revenue. (SITA)
While airlines have long profited from flight-specific ancillary services such as early boarding, WiFi, baggage and premium seating, both airlines and airports have a considerable opportunity to offer even more ancillary services to travelers before they board the aircraft. Capturing additional wallet share across the broader travel chain is a prime opportunity for airlines as a central spoke in the travel wheel. This would include the retailing of non-air products. Nearly 60 percent of travelers would be willing to pay for premium services during their travel experience. This is a larger percentage than is represented today in the split between luxury and economy seating classes. Millennials are even more willing to dip into their wallets for a better travel experience, with nearly 75 percent interested in paying for ancillary travel services. (Flightview)
While there are increases in passenger traffic growing top-line revenue, the consumer insists on driving down the price of air fare on a per-trip basis. This economic relationship indicates that consumers don't believe they are receiving unique value from a particular service provider. Said another way, airlines have not proven their offering to be sufficiently differentiated, thus demanding a price premium. To demand that premium, suppliers must deliver a higher collective value to the customer.
This differentiated experience must be personalized, thus delivering the most value possible to each individual. No longer is it profitable for an airline to blast its customers with email offers of upsells and cross-sells. Sales and service in context is something customers will pay for, and the numbers bear this out. At Sabre, a study was undertaken to determine the incremental revenue created by using technology that engages customers in personalized, consistent, and omni-stage sales and service experiences. A mid-size carrier with an average percentage of international traffic could expect to see revenue uplift of more than US$163 million during the first five years. Depending on a carrier's cost structure, the typical yield would be 90 percent or more to the bottom line. Personalized, customer-centric retailing has arisen as a compelling path to real, profitable revenue that airlines are quickly adopting.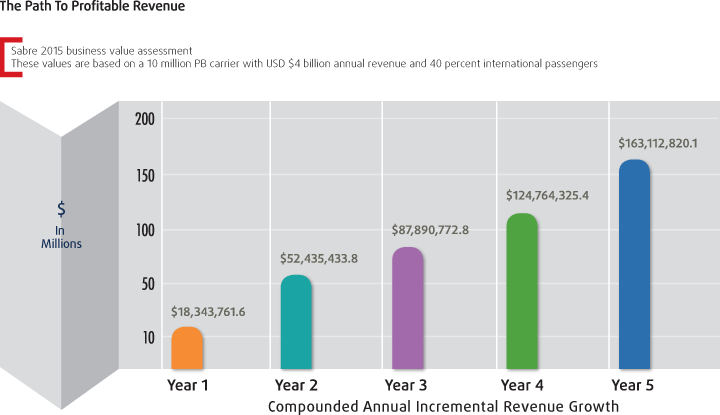 While many airlines claim to be "customer focused," most retain a "product-centric" modus operandi. High performing airlines of the future will be fiercely focused on creating a customer-centric experience as a conduit to delivering a differentiated engagement. In fact, 66 percent of airline CEOs are developing future strategies or have concrete plans for changes to their customer-growth and retention strategies, and 23 percent already have programs underway or completed. (PwC) This transformation will impact almost all elements of an airline including talent, organizational structure, business process and enabling technologies. Properly executed, these new capabilities will drive increased customer loyalty, better operating performance, increased revenues and lower costs.
To read the rest of the story, download the full whitepaper!