This article is part 1 in a 4 part series on the digital business traveler. As technology embeds itself further, travel manages must listen to their travelers. The aim is to and support them with a cohesive tech-forward travel policy. This series explores the expectations of today's digital business traveler around the world.
Self-serving business travelers
Travelers have been trending towards self-service for many years. Just as grocery stores put in self-checkouts, airlines, airports and hotels installed self-check-in kiosks. Self-service enhanced convenience and reduced costs. It also increased expectations, as travelers seek faster service with fewer disruptions.
Self-service is essential for all corporate travel managers to consider as they determine where to evolve their programs. Today's digital business travelers want control. They want to be able to change itineraries on the fly without talking to someone. They want proactive monitoring of potential disruptions. They want real-time travel updates, safety tools and simple expense management.
Technology serves each of these wants, primarily through apps. Today's digital business traveler is mobile-first but not mobile-only. The managed traveler is on the go, moving from a laptop in the lounge to apps at the gate. The most valuable player is the smartphone, the consistent thread throughout these experiences.
For travel managers, this means adjusting the approach.
Technology gives #travelers more control. This doesn't make the travel manager irrelevant. Far from it!

Share
The manager can now step into more strategic initiatives often neglected by more tactical day-to-day operations. There's more time for important value-adds like building out travel policy, evaluating new technologies, diving into travel program data and analytics, internal coordination with senior leadership, and negotiating with suppliers.
What does this mean for travel management companies?
On the surface, self-service may seem counter to what TMCs offer today. However self-service is a trend that many travel management companies themselves support. While not new today, online booking tools were one of the initial pushes towards self-service in the travel industry 20 years ago.
TMCs can focus on self-service as a key differentiator by offering the tools that travelers use to service their own trips. It's not just the lowest common denominator technology or reducing costs through eliminating agents. It's about technology amplifying and enhancing the traveler experience.
If the traveler wants to update an itinerary without talking to someone, then the technology is there. When the technology is not enough, a real human is ready with a smile. In many cases, those human touch points can now become even more impactful, allowing agents to focus on solving more complex problems for travelers.
Self-service doesn't have to be defined as "not having to talk to a human."

Share
Self-service is also about empowering the traveler to choose. For certain queries, the traveler chooses a human. For others, the traveler is confident in her own abilities. Technology must be supportive in each of those cases, either by transferring a traveler to an agent or in helping a traveler re-route on her own.
The global data says: personalize!
Beyond greater control, self-service technology makes it possible to hyper-personalize the travel experience. Technology creates opportunities for delivering true customer delight. For example, a robust customer profile can connect an upcoming journey to a can't-miss event. So when a traveler's favorite band happens to be in town, tickets are automatically flagged and an opportunity to delight is leveraged.
Travelers in nearly all the surveyed countries see personalized travel offers as "very important." So it's no longer just nice to have the ability to personalize offers, it's imperative.
Travel suppliers that miss out on personalization not only risk missing traveler expectations but they also lose out on enhanced retailing opportunities personalization provides.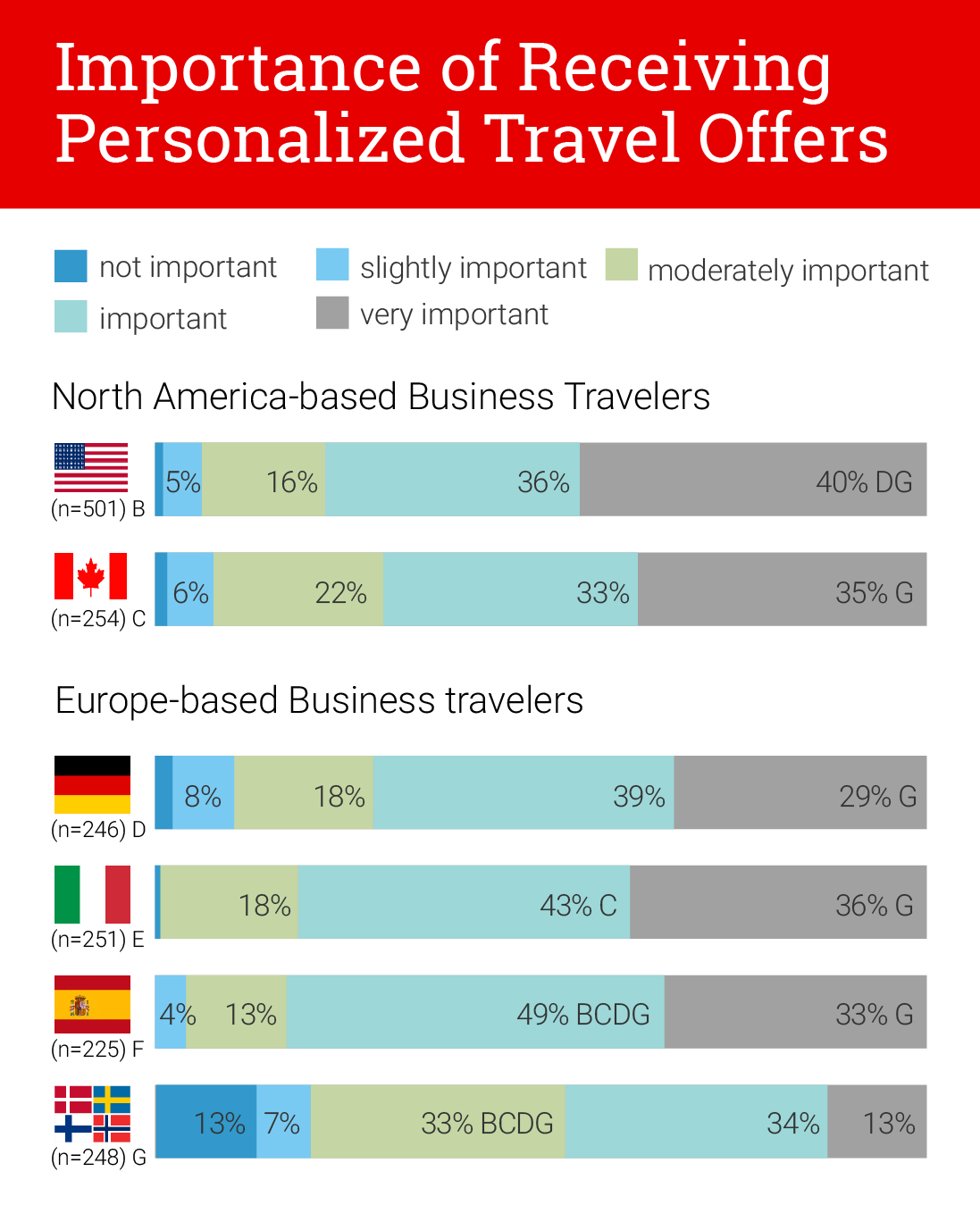 Unsurprisingly, the preferences diverge at the country level. Travelers in each country have certain limits when it comes to sharing the information required to personalize. At the basic level, most travelers across the board are willing to share travel preferences. Yet a clear reluctance to share private information exists. Many are not comfortable sharing their travel history, personal calendar, or preferred activities.
Change agents, country by country
Managers and TMCs should consider their clients to understand their cultural preferences. Travel policy should be flexible enough to make room for each culture's perceived norms. Yet the policy should also clearly benefit the traveler. By showcasing how sharing information helps the traveler, the travel manager improves traveler compliance.
When information flows through recommended tech tools, self-service becomes less of a minefield. The travel manager can see all actions while the traveler can take care of themselves for certain requests. As that personalization improves their experience, it positively reinforces the traveler behavior. This reinforcement is driven by personalization – and is changing the game for travel managers all across the map.
 Register below to be one of the first to receive the full collection of articles and research. It's everything you need to know about today's digital business traveler!