The mobile phone has triggered an evolution of the Latin American traveler, creating new — and effective — channels of engagement for travel brands. A recent analysis of data from Sabre's TripCase reveals  how Spanish-speaking travelers in Latin America engage with in-app messages when compared to English speaking travelers.
Through trip management in 9 languages, TripCase has a unique perspective on connected travelers in the region. In 2015, the region moved past the global average of mobile adoption to land at 52.3% of the population owning mobile phones. And this growth is set to steadily continue: GSMA predicts a 58.6% share in the region by 2020.
While these trends mimic global growth figures in smartphone adoption, regional trends in technology usage help travel suppliers to understand travelers and target their product offerings.
The connected traveler
For TripCase, Latin America accounts for higher App Store conversion rates, advertising click-through rates and App Store rankings.  Argentina, Mexico, and Brazil are in top 10 countries of total users globally with the app installed on at least one Android device.  On iOS, Mexico, Argentina, Brazil and Colombia all land in the top 10 in total sessions lasting 2 seconds or more. The region also has the highest click-through rates for display ads, up to three times the global average.
This shows that the growing connectivity of Latin American travelers is having a measurable impact. In fact, TripAdvisor's latest Trip Barometer study confirms that the region has the most connected travelers — 57% more than any other region.
Given that many smartphones users rely solely on the mobile connection for access to the internet — 52% of Brazilians without home internet rely on mobile access — it's a necessity for travel suppliers, agents and brands to offer mobile-first solutions to regional travelers. By 2018, eMarketer predicts that 73% of all mobile phones in Latin America will be connected to the mobile web.
The engaged traveler
The most revealing stats come from the engagement rates of both Spanish and English app installs. The user base of Spanish speakers is generally 2 to 4 times more engaged with the in-app messaging when compared with their English counterparts.
For example, Mexico has the highest engagement rate of active devices the within the top countries, coming in at 3.43% compared to 3% in the US and 2.62% in the UK.
An analysis of TripCase data confirms this hyper-engagement when compared with app users interacting in English: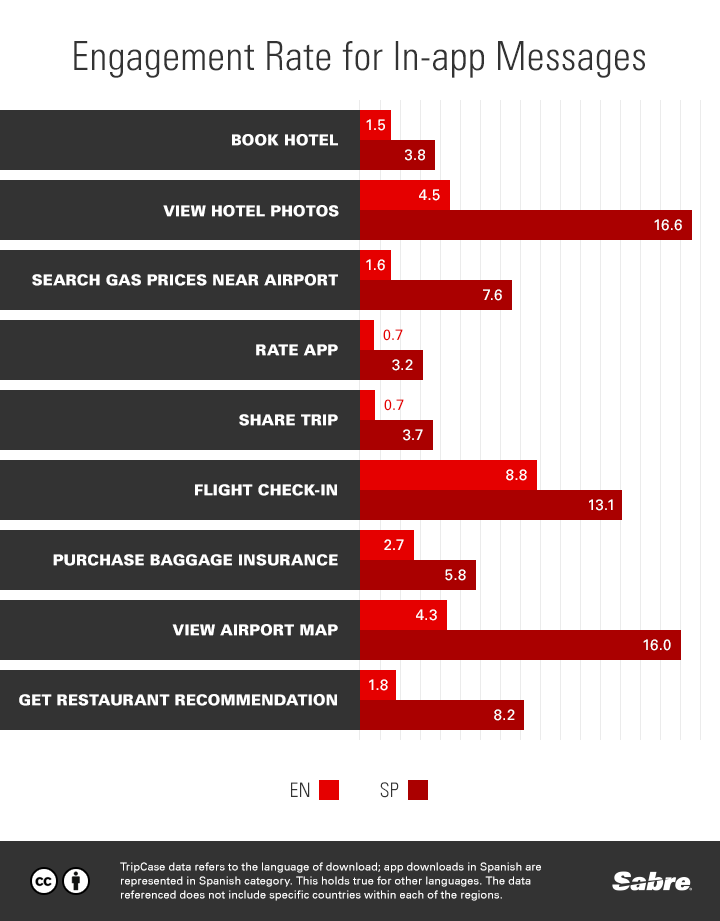 The engagement rates highlight the visual focus of Spanish users, who are nearly 4 times as likely to view photos of a hotel as their counterparts, with a similar increase in viewing an airport map. Restaurant recommendations are also popular among Spanish users, who are 4.5 times more likely to browse the app for restaurant tips. Gas prices, sharing, baggage insurance, flight check-ins and hotel bookings are all also more popular.
These stats offer a clear indication to travel companies to fine-tune products for this market by directly addressing the needs of these travelers and devoting resources to the high-engagement areas. The hunger for mobile-first engagement — especially for the convenience of "one app to rule them all" — proves significant in Latin America. The next step for travel companies is to start leveraging channels to further nurture the connected experience Latin American travelers crave.
TripCase is now available in 9 languages, including Spanish and Portuguese. To learn more about this data, come visit with Sabre at ANATO from  24-26 February.